Test Your Poker Skills at SkillBet.com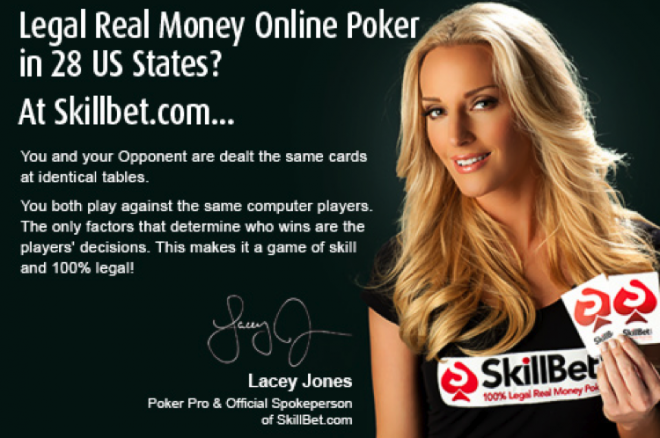 This is a promotion
Fans of online poker have seen little but dark clouds of late. Now there's quite a silver lining — at least if you are lucky enough to live in the 28 U.S. states where SkillBet.com is legal.
At SkillBet.com, you and your opponent are dealt the same hand and play the same computer players on two identical tables. The question isn't if you will win with your pocket aces, but rather will you win more than your opponent who has the same hand!
In most U.S. States, gambling is defined as risking something of value on the outcome of a contest predominantly of chance. Since SkillBet enhances the skill element of the game, it is currently legal in 28 states. SkillBet's legal opinion was written by Marc Zwillinger, the Harvard lawyer who was previously the head of Internet gaming enforcement for the Department of Justice.
Gambling law expert Chuck Humphrey agrees with the view. "It can be done if it's done right," said Humphrey, operator of gambling-law-us.com, one of the leading sites on gambling law. "In my judgment, it's not poker… it is a game of skill."
SkillBet players can deposit safely and easily with any credit card, and withdrawals are easy.
Now, players can challenge their friends to 30 free hands of SkillBet Poker. The winner of the challenge will get $10 — no deposit necessary — and you can challenge as many of your friends you like.
Here's a fun introductory video of how it works:
If you are new to SkillBet, you can win a free starting bankroll by playing against poker pro and fashion model Lacey Jones. She'll explain how to play, and you will win a free bankroll of $3 to $12 free (with no deposit). Currently SkillBet is offering a 200% sign up bonus match (up to $600).