The Nightly Turbo: Chad Elie Calls Out Lederer, Online Poker Bill Opposition, and More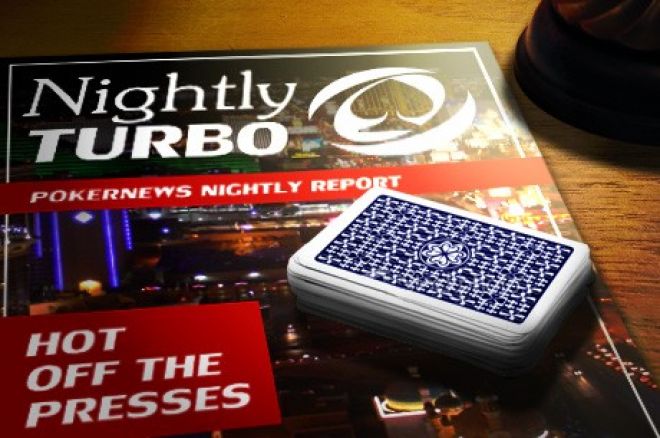 In early October, former online poker payment processor Chad Elie was sentenced to five months in prison. On Friday, Elie tweeted using the handle "BlackFridayChad." Find out what he tweeted in tonight's Nightly Turbo.
In Case You Missed It
Max "$kill Game" Weinberg took down the PokerStars Sunday Warm-Up II. Find out who else had success on Double Vision Sunday in this week's Sunday Briefing.
Dan Cates took down the PokerStars All-Star Showdown. Find out who he defeated en route to the title here.
Lillian Chan finished Day 1c of the 2012-13 World Series of Poker Circuit River Rock Main Event as chip leader. Find out who else survived to make Day 2 here.
The Seat Open series continues with WSOP bracelet winner Jonathan Aguiar. Find out about his early days and more here.
DraftKings.com is linking up with PokerNews to bring you some great same-day fantasy sweats. Find out how to get in the action here.
Chad Elie Tweets Torpedoes of Truth
On Friday, Chad Elie, who was recently sentenced to five months in prison after pleading guilty to conspiring to commit bank fraud and operating an illegal gambling business in the United States, tweeted the following:
"I never met with a payment processor"-Howard Lederer. Interesting Howard,do you not remember the MEETINGS we had?What about NYE?5hr meeting

— Chad Elie (@BlackFridayChad)
Elie followed his first tweet up with a picture of a memorandum letter from Tom Goldstein, creator of the SCOTUSblog, which explicitly says that "Transfers of funds related to on-line poker that are conducted accurately and transparently (including through accurate credit card coding), and pursuant to any license required for transferring money, are lawful."
Over the weekend, Elie interacted with various new Twitter followers, and agreed to do an exclusive interview with independent poker journalist Diamond Flush. His main target was Howard Lederer, who stated in The Lederer Files that he never met with a payment processor.
Last one for the night. Reid, Bitar & Lederer! But seriously Howard, you never met with a processor? #igotpics http://t.co/DY9UEjVx

— Chad Elie (@BlackFridayChad)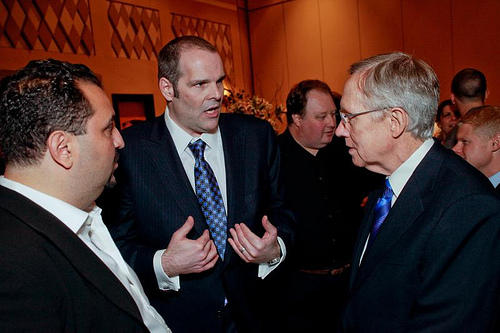 There's a thread on TwoPlusTwo.com titled "Chad Elie on Twitter," in which "BFChad" has made a few posts. There is no confirmation yet that this is actually Elie, but a moderator will surely confirm or deny the user's identity soon.
Elie is due to report to prison on January 3rd. You can read all of his tweets here.
Antigua's Against Reid-Kyl Bill
According to the Las Vegas Review-Journal, the Caribbean nation of Antigua and Barbuda is strongly opposed to legalized and regulated online poker in the United States. In 2004, Antigua filed a complaint with the World Trade Organiztion (WTO), claiming that U.S. laws against online gambling violated an international trade treaty. Antigua won, but the two countries never agreed on a settlement package, and the small island nation has yet to be compensated.
If the current online gambling bill being scripted by Sens. Harry Reid (D-Nev) and Jon Kyl (R-Arz), passes, Antiguans wouldn't be able to gain a license. Mark Mendel, an attorney representing Antigua, believes that passage of the Reid-Kyl bill would worsen trade relations between the countries. The U.S. government has stated that it never intended to include online gaming in its commitments to the WTO.
The Reid-Kyl bill actually makes mention of the WTO ruling, calling it "erroneous."
Antigua wishes to receive $3.4 billion in countermeasures. The U.S. argues that it should be less, and in 2007, an arbitrator ruled that Antigua as entitled to no more than $21 million annually.
If passed, the Reid-Kyl bill would give the U.S. 180 days to resolve the dispute with Antigua and bring a close to a decade-long trade dispute. Antiguan representatives are encouraged that there's a timeframe in place, but is displeased about being stonewalled.
The LVRJ has more.
Nuclear Blast Poker
Love metal music? Play poker? Well, let us introduce you to Nuclear Blast Poker.
In cooperation with kuuluu AG, Nuclear Blast has launched Nuclear Blast Poker, a free-to-play social platform integrated with online poker. Metal fans can interact, style their avatar, and listen to the newest music releases all while playing poker with their friends.
Players can play both tournaments and ring games (with virtual chips), and compete for experience points. Metal fans can also compete against some of the biggest artists in the industry, including Scott Ian of ANTHRAX and Damian Wilson of THRESHOLD.
Said Ian, "I love poker and I love music. Putting the two together is like introducing girlfriends. Could be heavenly or may be all out war."
As a welcome gift, players who sign up before the end of December will be placed in a "registration lottery" to win a signed artwork on canvas from NIGHTWISH's latest album and upcoming movie Imaginaerum.
Check out Blabbermouth for more.
Ante Up Magazine Analyzes The Lederer Files
Love it or hate it, The Lederer Files had an impact on the poker world and instantly became one of the most-watched interviews in poker history. Debate and analysis of the seven-hour interview continues still today, nearly two months after airing. The latest to take a look at The Lederer Files is Ante Up Magazine, which has devoted a significant portion of its November 2012 issue dissecting the interview.
In the issue, Brian Fons, an attorney with Corporate Creations Chicago LLC, offers an analysis of PokerNews' The Lederer Files, while simultaneously exploring the legal issues associated with California LLCs and segregated accounts.
"There's generally no liability to the members of a California manager-managed LLC," Fons explained. "However, the managers must make decisions on large issues to protect the members. They could be liable if they approved distributions when the company was short on cash. This is called a 'fraudulent transfer.' Fraud seems to indicate some criminal behavior, but no criminal charges have been levied against Lederer or Ferguson. That may still happen as the DOJ gets more information. They also can be liable if they made reckless or extremely bad decisions that would knowingly hurt the owners. This type of criminal and civil charge was brought against the board of directors in the Enron collapse."
What's more, Ante Up columnist Joel Gatlin looked at the impact of The Lederer Files on the online poker scene. "The new Full Tilt site is scheduled to be up and running this month and Gus Hansen has been tagged as the new face for the company," Gatlin said. "This is great timing for Gus and Full Tilt, because Lederer also mentioned Hansen in his interview, saying he was the most vocal member of the old Full Tilt when it came to protecting the players."
Both articles can be found in the November 2012 issue of Ante Up Magazine, which is on stands now. You can also read the issue online.
I Bet My Life
The series premiere of I Bet My Life, which documents Liv Boeree and Kevin MacPhee on the tournament circuit, aired last night in the United States. Here's the trailer if you missed it:
Follow PokerNews on Twitter for up-to-the-minute news.