Play DraftKings.com's Daily Fantasy Sports Games with Poker's World Champ Greg Merson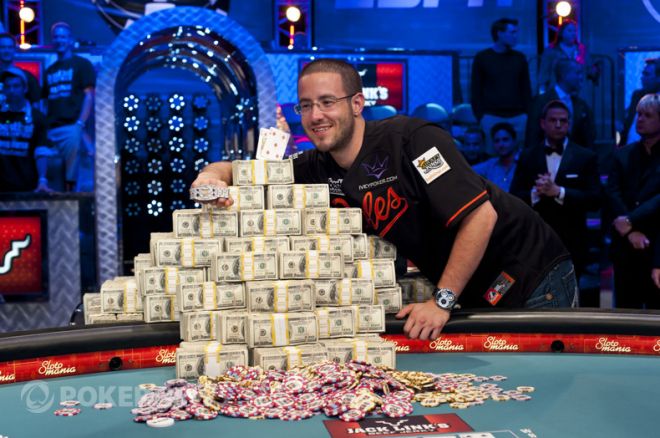 It seems fitting that the new king of the poker world loves DraftKings.com.
Poker's latest wunderkind, Greg Merson, dazzled onlookers and the millions watching on television with his calculated, methodical victory at the 2012 WSOP Main Event. Not only did the win earn Merson more than $8.5 million, he also snared WSOP Player of the Year honors. DraftKings is very proud to be Greg's exclusive daily fantasy sports sponsor.
DraftKings is 100% legal. In 2006 the United States Federal Government specifically defined fantasy sports as a game of skill and therefore made it 100% legal to play. The earning potential is both unlimited and straightforward, and the payouts are instantaneous. DraftKings is venture capital backed and based in the USA. These guys have deep pockets and are absolutely committed to providing users the best gaming experience on the web. The legality and venture funds ensure that under no circumstances will your money be at risk.
For high dollar guaranteed cash tournaments, DraftKings is number one in the industry. Users can play for free (and still earn real money) or enter high stakes games for huge cash prizes. One user will walk away with $100,000 after the mammoth season ending NFL contest. What's more, DraftKings is set up on a daily cycle, raising the level of excitement while reducing the player's risk.
Simply visit DraftKings, select members of your team, and register to play. College and pro football, along with pro basketball, are currently live on the site. Each player has a cost value, and your goal is to draft the best fantasy team possible while staying under the universal $50,000 cap. Once the games start, DraftKings has easy-to-follow live scoring so you can easily follow your players, watch your team accrue points, and see where you land by contest's end. If you win, you're paid out — it's that simple.
Here's the other feature fans really love: Once the contests end, all of the player rankings for the coming week are readjusted and you are eligible to start picking a new team. It can contain the same players as before, be completely different, or a mix of the two.
DraftKings has:

No need to worry about commitments — DraftKings understands you already have enough of those in life that you need to honor. With DraftKings, all options are at your fingertips. You can play once, you can play once a week, or you can play every day.
So, if you love sports and earning cash, why not put your skills to work?
Click here to build your team and try DraftKings for free.