Onnit Labs CEO Aubrey Marcus Discusses Supplement Line and Aligning with Poker Players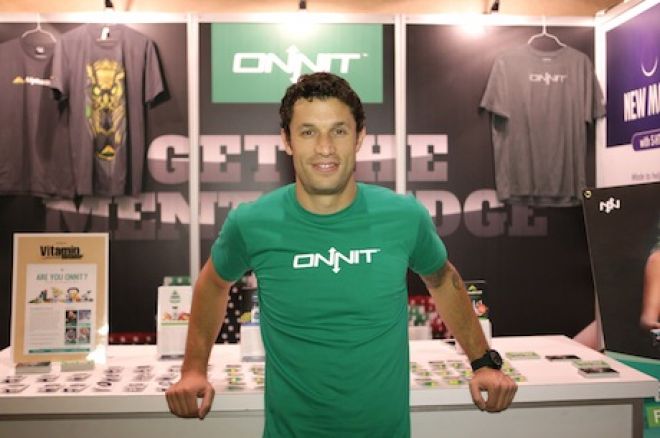 While at the 2012 World Series of Poker, you may have noticed the Onnit Labs booth in the hallway of the Rio Convention Center. Among the mixed martial artists and other athletes on the Onnit Honor Roll, are two poker players — Sorel Mizzi and Matt Vengrin. We know what you're thinking, poker players aren't overly active, so what can these supplements do for them? We decided to speak with Onnit CEO Aubrey Marcus to find out.
Tell us a little bit about how Onnit began?
Onnit started after I realized how bad I was at taking the dozen or so supplements that I knew would have a positive effect on me each day. I had a whole vitamin cabinet full of products that were all good, but I hardly ever got around to taking them because I never carved out the time. I knew that there could be a better way, and by combining supplements together in unique ways and around specific purposes, we could create powerful and efficacious formulas that people would actually take.
Break down for us the ideal way to integrate Onnit products in one's everyday life?
Our products can either be taken for a specific purpose, such as Alpha Brain for cognitive enhancement, New Mood for mood and relaxation, etc. Or optimally they can be taken as part of a regimen to raise all of your major health and wellness markers. Sometime in Q4 we expect to launch our vitamin packs, combining proprietary formulas with essential nutrients to make the whole process even easier.
How did you guys come up with the idea for Alpha Brain, and why do you think it's so effective?
The key to Alpha Brain is raising levels of your major neurotransmitters in balance. Most formulas just focus on one thing: raising your acetylcholine. This will make you sharper and more focused but also has a tendency to create irritability. However, when you raise other neurotransmitter levels to match, as well as provide powerful anti-stress herbs, you can boost acetylcholine levels even higher, getting stronger positive effects without having any of the negatives.
The key to the formula is how well everything works together and also the potency of our ingredients. Alpha Brain is one of the most expensive natural supplements per pill that has been formulated, and we are fortunate to be able to sell the product direct to consumers so that we can keep the price reasonable.
Obviously you guys are tied heavily to mixed martial arts, working with Joe Rogan, but what inspired you to get involved in poker?
Of all the sports that depend on mental acuity, poker is the game with the highest stakes. It was just a great natural fit, and we are excited to be so well-accepted by the poker community.
Have you played poker yourself?
I am a player myself, however, finding the time to carve out and dig into a good game has been hard this past year. The last tournament I entered was a $40 no-limit hold'em tournament in old Vegas at the Fitz, and I ended up winning the tourney, so I am riding that one out for now!
What can a poker player expect from taking Alpha Brain, and why is it so effective?
A player can expect increased focus, less distraction, better memory, and a reservoir of mental energy and stamina without the jitters of a stimulant like Adderall. It really makes you feel like you have an edge, in life, and on the felt.
You guys have signed a few pros like Sorel Mizzi, and Matt Vengrin — can you tell me a bit about those signings, and how they fit into the Onnit Brand?
We only like working with people who first and foremost love the products they are taking. Matt and Sorel fit in that category and have been great ambassadors for us thus far.
Do you see Onnit continuing to focus on poker players? And what can we expect in the near future?
Poker is one of the best games/sports in the world, and we believe Alpha Brain is one of the best nutritional supplements. The two are a natural fit, and we look forward to a long synergistic relationship between Onnit and Poker!
Find out more about Onnit Labs, it's "Honor Roll," that includes poker players Sorel Mizzi and Matt Vengrin, as well as Joe Rogan and others; and all the supplements offered, at Onnit.com.
Follow PokerNews on Twitter for up-to-the-minute news.