How Can Onnit Labs' Alpha BRAIN™ Help Your Focus at the Poker Table?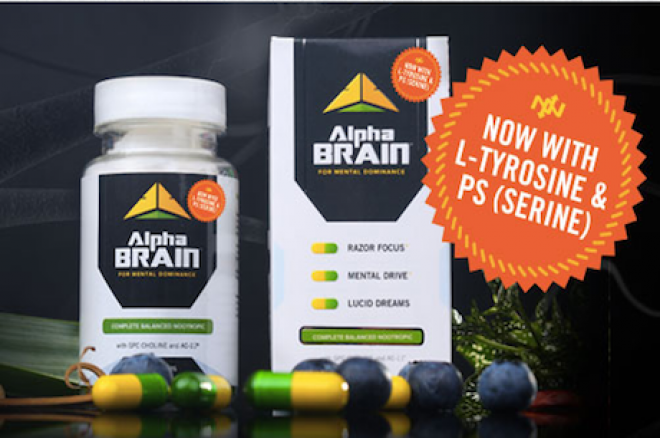 *This is an advertisement
Every poker player knows what it feels like when to be in the zone, but it can become difficult during long, arduous poker sessions to produce the focus and motivation to maintain that advantage. That is where Alpha BRAIN™ comes in — to give you that mental edge.
Onnit Labs, the makers of Alpha BRAIN™, aims to "create revolutionary nutritional products that change your life for the better." Onnit Labs has a number of supplements to to "help real people adapt and thrive in situations," including ShroomTech™ Sport for clean ATP energy and better oxygen utilization; New Mood to improve mood and relaxation, and ShroomTech™ Immune to boost the body's immune system.
Alpha BRAIN™ delivers highly concentrated and completely natural extracts that are formulated to improve cognitive function and neurological health. It fuels the brain alongside the brain's neurotransmitters to clear away fog and induce total clarity.
To balance this influx of brain activity, Alpha BRAIN™ is also full of antioxidants and anxiolytics. These ingredients have been proven to reduce stress and have a noticeable calming effect.
Each constituent of Alpha BRAIN™ has been independently tested and published in peer-reviewed scientific journals to have positive effects on memory, learning, attention, alertness and mood. With the highest quality ingredients backed by years of scientific research, Alpha BRAIN™ delivers a powerful cognitive enhancing supplement essential to anyone concerned with top mental performance.
Some of the high quality ingredients include:
GBC Choline, which boosts sharpness and mental speed, so you don't miss a thing or waste a moment at the table.
AC-11®, an ingredient that clears mental fog and enhances well being. Just because you didn't sleep well before the final table, doesn't mean you can't bring your A-game. This Rainforest plant is an absolute miracle, proven to repair DNA!
Bacopa is a brain-enhancing nutrient, that can help you access and easily recall all of your knowledge of poker and of your opponents.
Mucana Pruriens, which contains raw component of Dopamine to keep your mood elevated regardless of taking a bad beat.
GABA, an amino acid that promotes calm and balance, so you can peacefully ignore the guy trying to tilt you at the other end of the table.
OAT Straw(10:1), which is an anti-anxiety remedy, which can help you keep your cool in every tough spot.
Alpha BRAIN™ gives a mental boost without inducing jitters or the anxiety that many other nootropics create. Plus, it has the added bonus of helping produce lucid dreams when you finally leave the poker room and rest your mind and body. Let Alpha BRAIN™ lead you to victory on the felt and everywhere else.
Find out more about Onnit Labs, it's "Honor Roll," that includes poker players Sorel Mizzi and Matt Vengrin, as well as Joe Rogan and others; and all the supplements offered, at Onnit.com.
Follow PokerNews on Twitter for up-to-the-minute news.