InsuredPlay Makes Online Poker More Fun
InsuredPlay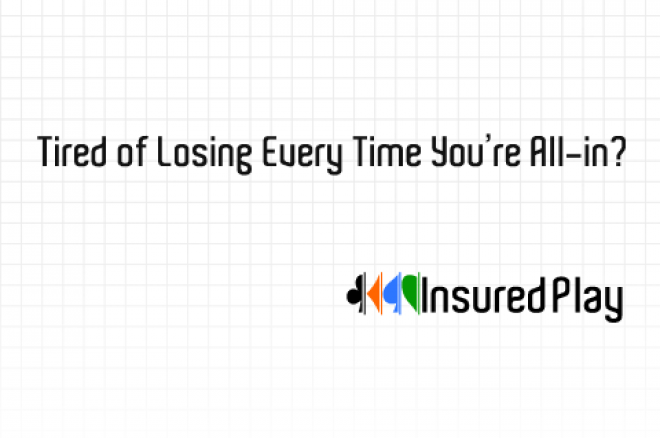 *Advertorial
Tired of losing money to inferior hands? Is losing with pocket aces over and over getting old? Have you ever folded a good hand because your opponent was so lucky and you didn't want to lose, AGAIN? InsuredPlay has a great way to put the fun back in the game by reducing the negative effects of having to endure the runs of bad luck that often occur at the poker table.
InsuredPlay offers a clever product that ensures that whenever you are all-in in a hand, you always win your fair share of the pot minus a small fee. InsuredPlay works for cash games and tournaments in Pot-Limit and No-Limit variants of Texas Hold'em and Omaha.
To get this protection just download and configure the small application, make a real-money deposit, choose which hands to insure, and play at a site on one of the supported networks including: PokerStars, PartyPoker, iPoker, WPT Poker and Full Tilt Poker. It also supports Zoom Poker, Speed Poker and Fast Forward Poker.
You can even test this product without using real money. Just register your play-money account at InsuredPlay to see how it works. An odds calculator on the website will show you the premium you would have paid for specific hands.
It's super easy and puts the fun back into online poker.
Cash Games
InsuredPlay lets you decide which hands you will insure. Some players will only want insurance in close hands but will want to let it ride when they have AA. Others will do the opposite. You can also configure InsuredPlay to insure only big pots or even limit the amount of insurance you want to pay. It's all up to you.
Figuring out the cost is easy, too. Take the percentage of times you will lose a particular hand (for example, if you have AA vs. 77 you would lose about 20% of the time), multiply that percentage by the amount in the pot and add a small fee.
When you make your first deposit at InsuredPlay, the fee starts out at 0.25% for the first month. To keep it that low, all you have to do is play 300 insured hands in a 30 day period. If the pot contained $100 in the example above, your cost would be $20.25, and if you lost with your AA to 77, InsuredPlay would deposit $100 into your InsuredPlay account.
Tournaments
InsuredPlay offers Bubble Insurance for tournaments. It covers those times when you don't quite make the money. When you use InsuredPlay, you get your tournament buy-in back if you bubble an event.
Online tournaments pay a certain percentage of the players that register. InsuredPlay's Bubble Insurance adds up to 20% more paid places where you will get your buy-in back if you finish just outside the money.
In a typical tournament with 1,000 entries, about 125 will make the money. If you buy 20% bubble insurance, InsuredPlay will pay you the equivalent of your buy-in if you finish anywhere from 126th to 325th. Insurance at this level for a $20 tournament will cost $4 plus $0.20 for the fee.
Luck is part of the game, but don't let bad luck get you down. Use InsuredPlay and make your poker playing experience more enjoyable. Sign up and try it today.
For more information, check out these links:
InsuredPlay.com | FAQ | Blog | Odds Calculator | Bubble Insurance