The Railbird: Phil "Polarizing" Ivey Up $736,844 in 48 Hours on FTP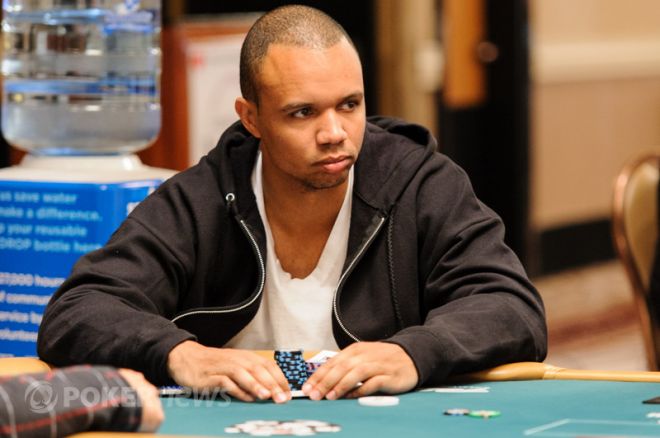 In our last edition of the Online Railbird Report, Phil "Polarizing" Ivey was up $274,075 on the week. Over the last 48 hours, Ivey has smashed that number and brought his profit up to $736,844 on Full Tilt Poker, which has come from 1,126 hands spread across 16 sessions of games that include pot-limit Omaha, no-limit hold'em and fixed-limit Omaha hi-low.
According to HighStakesDB.com, Ivey's good fortune began on Wednesday, March 27, when he finished as the day's biggest winner with $244,100 in profit. It started with a $19,000 win at the $500/$1,000 NLHE tables in a 25-minute match against "NiklasHeinecker" followed by a $90,000 win against Viktor Isildur1" Blom in 18 minutes at the $500/$1,000 CAP PLO tables.
The short sessions proved profitable for Ivey but didn't sit too well with high-stakes regular "SallyWoo", who declined to start a game of FLO8:
Polarizing: quit when u want
Polarizing: i may play 2 min
SallyWoo: nah, u too nitty
Polarizing: ha
SallyWoo: we play another time
Polarizing: play 8 games
SallyWoo: well when i played u lhe u said play other games, i moved to 08, now here u wont really givve action, so ill move to another game will it happen again at plo?
SallyWoo: will you quit me at horse if i play that? or can we battle?
SallyWoo: like in future
Polarizing: what are u talking about
Polarizing: i have no idea what your talking about
Polarizing: u have issues
SallyWoo: issues?
Polarizing: i will play i just quit when i want
Polarizing: simple as that
SallyWoo: u lose 2bb and quit 9 out of 10 times and i have issues gotcha
Polarizing: ha
Despite being denied action by "SallyWoo," Ivey found a taker in Kyle "KPR16" Ray, whom he promptly relieved of $161,000 in a 165-hand FLO8 session.
Ivey continued winning on Thursday, March 28, adding $492,700 to his bankroll and bringing his two-day total to $736,844. Not surprisingly, Ivey's big win came courtesy of Ray at the FLO8 tables. Their first match began early in the morning and lasted 194 hands during whichIvey managed to win $293,000.
A couple of hours later, Ivey dropped $55,000 to "RookieNFL" playing $500/$1,000 CAP NLHE and then returned to the $2,000/$4,000 FLO8 tables later that night for more action against Ray. Once again, Ivey dismantled Ray, this time to the tune of $137,000 in two and a half hours. Ray took an hour breather before returning, but it didn't do him any good--he dropped another $126,000 in just 45 minutes and called it quits after that.
Here's a look at Ivey's largest tracked hand from Thursday's action:
Here's a look at the biggest online cash-game winners from Wednesday and Thursday according to HighStakesDB.com:
| Rank | Player | Sessions | Hands | Winnings |
| --- | --- | --- | --- | --- |
| 1 | Phil "Polarizing" Ivey | 16 | 1,126 | $736,844 |
| 2 | "Sanlker" | 5 | 1,126 | $218,522 |
| 3 | "WCGlRider" | 15 | 1,988 | $202,447* |
| 4 | "Trueteller" | 28 | 497 | $164,332* |
| 5 | Alex "Kanu7" Millar | 28 | 617 | $122,671* |
*Denotes PokerStars
Read more at HighStakesDB.com.
Get all the latest PokerNews updates on your social media outlets. Follow us on Twitter and find us both Facebook and Google+!
Executive Editor US, PokerNews Podcast co-host & 2013 WSOP Bracelet Winner.