Phil Galfond and Ben "Sauce123" Sulsky Discuss Marathon Heads-Up Match at the WSOP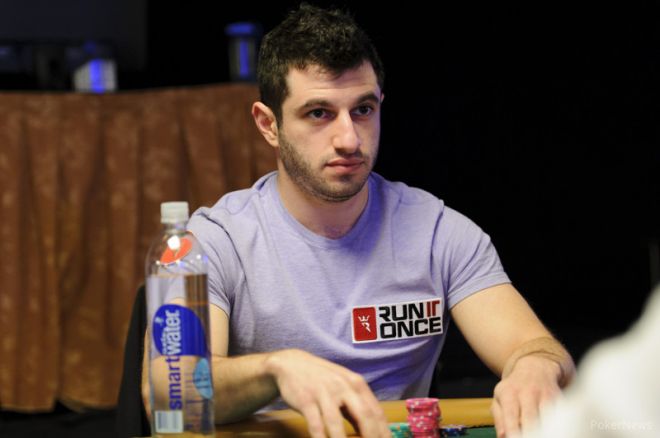 Two of the greatest online cash game players in the world faced off for the first time in a live setting on Saturday. Phil "OMGClayAiken" Galfond and Ben "Sauce123" Sulsky have played hundreds of thousands of hands against each other online but finally had the opportunity to play face to face in Round 5 of the $10,000 buy-in No-Limit Hold'em Heads-Up event at the 2013 World Series of Poker.
The duel ended up being a marathon, and it wasn't surprising that they were the last match running in the round. After exchanging the lead several times, Sulsky finally defeated Galfond when the chips in the middle with Galfond holding
against Sulsky's
. Sulsky took the pot and the match with king-high. As a result, Galfond finished in ninth place for $26,237, a significantly small amount compared to what Galfond and Sulsky are used to playing online — but still a return on his investment.
Because it was such a rare occurrence to see Sulsky and Galfond go to battle on the live felt, we spoke with both after their match.
Ben "Sauce123" Sulsky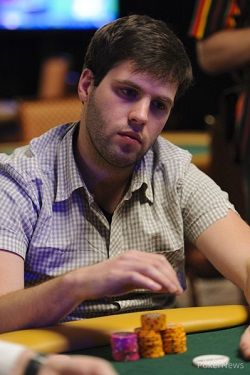 PokerNews: You continue to fly out to the WSOP year after year for the heads-up event. What's the appeal to this heads-up live tournament?
Sulsky: Well, it's not boring. That's a big part of it. It's one of my best games, which is nice, but it's mostly just a lot of fun. Plus it's a lot of money. The payout is pretty good for winning the event.
How often do you play live and where?
I almost never play live. I think I haven't played live in about a year. Yes, last year's WSOP was the last time I played live.
Will you stick around Vegas this summer and play cash games?
Yes, I plan on playing in some other events. I've been learning the mixed-games so I'm going to play most of the 200-or-less entry fields and just try to win a bracelet. I'll definitely be playing in the Main Event as well.
How do you attack a heads-up sit-n-go format compared to a high-stakes cash game?
You pretty much just have to go crazy and get your money in a lot. Even if you have a lot invested in the tournament and it feels a little awkward, I think it's just best to just get it in. A good example is from the last hand between Galfond and myself. Galfond limped in and I shoved 425,000 with
and got called by
. So as a player, you have to not be scared to take the risks.
How big of an edge do you feel you have on this field?
I don't know actually. It's hard to say because it's a sit-n-go format, which isn't really my specialty. I feel pretty confident against most of the people I play against but this field is extremely tough.
Who are your toughest opponents heads-up online?
For no-limit, Isaac Haxton is really good. Viktor Blom is good sometimes. Alex "Kanu7" Millar is a tough opponent. Some of the German guys play really well. Doug "WCGRider" Polk is also on that list of good players, too.
How important is game selection online? Is there anyone you won't play?
For me, I just look for the best game. If I'm playing heads-up no limit and I see a good pot-limit Omaha game, then I'll switch to that. If I'm feeling good then I'll play really anyone for at least a good while to see what happens.
You and Phil Galfond have so much history. Can you talk about the relationship you two have?
We chat a little bit for sure. I've even enjoyed posting on Galfond's site, RunItOnce.com. So through that we've talked some strategy and have exchanged hands. Generally, you know, were just really friendly both on and off the tables.
Phil "OMGClayAiken" Galfond
PokerNews: What's the dynamic between you and Ben Sulsky?
Galfond: I mean we've played a ton of hands together. Our exchange has been mostly at pot-limit Omaha; we've pretty much never played no-limit against each other. We both have a lot of respect for one another so it was funny to see the match take a long time. We like to see turns and rivers rather than just get it in early like a lot of tournament players will.
Do you have an idea of how many hands you've played against each other?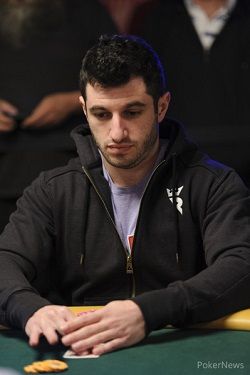 Oh wow. If I had to guess I'd say around 50,000 hands heads-up. In general and in other games; probably closer to 500,000 hands exchanged. It's a huge number but it's so much easier online playing so many more hands per hour.
What the turning point for you in this match?
It was a lot of back and forth for sure. We both had each other against the ropes, though. First I had him all in with
against
. He was short-stacked and won that. Then he had me all in with
versus
and I won that. The big hand towards the end that cost me was when he check-raised the river on a
. I bet 40,000 on the flop, and we both checked the turn. He checked the river and I bet 105,000 before he shoved on me. So I bet-folded the river and felt pretty good about my fold actually, but that dropped my stack to almost 2-to-1.
In another hand, Sulsky three-bet you on a
board with
for an open-ended straight draw and hit on the turn, while you flopped two pair. Can you talk a little about that hand?
It's funny because it's a big-action hand. I ended up getting it in pretty far ahead but I think the way it played out was pretty standard actually for us. I would always expect him to check-raise that and always expect him to shove because he needs some semi-bluffs to shove if I three-bet the flop. Once he check-raises, I think he has no choice but to shove because I am going to be re-bluffing there. I was lucky to get it in ahead there. I was okay with seeing four-five, but it just didn't work out.
I saw you staring at Sulsky pretty intensely at times. Was that you trying to pick up any tells?
That's exactly what that was. We've never once played against each other live so I was just trying to learn and see what I could pick up, if anything. I didn't pick up anything significant. I may have picked up a couple of things but who knows if I was right.
Would you say the format of the event takes away from the strategy a bit?
I'm okay with how fast it goes because they do have to keep the matches in check. I mean, some of these can run three hours; I don't want to be playing a six-hour live heads-up match. So I'm fully okay with the blinds going up as much as they do. I dislike the re-buy chips. I dislike it for any structure but especially one like this where it's heads-up and a sit-n-go format. I would rather just start with a full stack;A that way the cash-game players have a chance at a full shot. Cash-game players like us will know how to play as it gets shorts but not as well as the full tournament guys, which is fair of course but I mean most tournaments start 200 or 300 big-blinds deep when this event starts at only 50. If somebody wants to short-stack and never get over 50 then they kind of have the option to.
Follow PokerNews on Twitter for up-to-the-minute news.