WPT on FSN L.A. Poker Classic Part I: Is Squeaky the Most Annoying Man in Poker?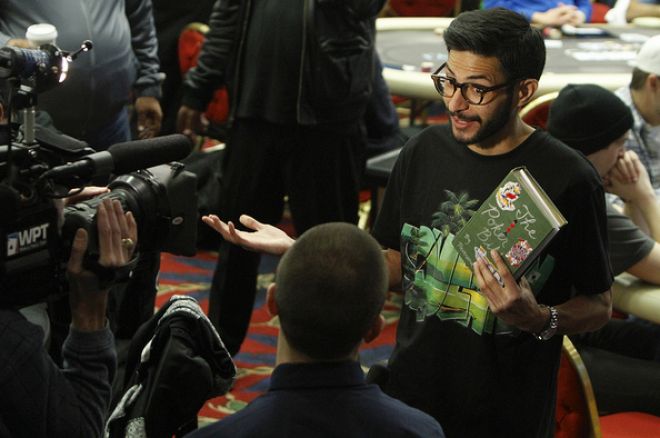 On Sunday night, the World Poker Tour Season XI continued with a new episode on Fox Sports Network. The first of three episodes from the L.A. Poker Classic, a $10,000 Main Event that took place at the Commerce Casino in Los Angeles from February 23 through 28, 2013. The event attracted 517 entries to create a prize pool of $4,963,200 (the biggest of Season XI), and the coverage began with action leading up to the final table.
Last Longer: On Day 1, a last longer bet was made between members of the WPT Season X Ones to Watch (Matt Affleck and Dan O'Brien) and those from Season XI (Amanda Musumeci, AP Phahurat, etc.). The Season X Ones to Watch proved the better contingent in this tournament, with Affleck and O'Brien the only two remaining on Day 3. O'Brien would ultimately win the bet as the last man standing, though he failed to make the money in the tournament.
Squeaky Wheel Gets the Grease: If you've watched the WPT on FSN the past two seasons, you've no doubt been subjected to Michael "Squeaky" Winnett. The WPT has an affinity for highlighting the loudmouth, despite the fact that his biggest cash up to that point was $8,786 for a 16th-place finish in a World Series of Poker event (granted, he did go on to finish 16th in the LAPC event for $49,630).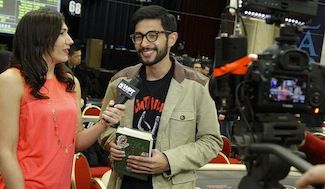 Winnett, who was described by Noah Schwartz as the "Spanish Urkel," is a polarizing figure because some people find his antics—which includes non-stop talking and reading scripture from a "poker bible"—amusing. Others, like his tablemates Dan O'Brien and Bruce Buffer, find it excruciating.
As someone who had reported on "Squeaky" a time or two, I can tell you I'm in the latter camp. In fact, I think he could very well be the most annoying man in poker. It's alright to ham it up for the cameras, but there comes a point at which you cross the line and become annoying. If the WPT is going to feature a character like that, at least pick someone* who has an impressive résumé to back it up (maybe that's why they don't feature him as a member of Ones to Watch).
With all that said, kudos to "Squeaky" if it throws his opponents off their games and allows him to take advantage. I just don't want to see it on TV every week.
*I realize the irony of writing about "Squeaky" and further fueling his fire.
The Bubble Boy: Watching someone win a poker tournament is a great thing. Seeing a player's dream come true is quite powerful, and the WPT shares that moment with millions of viewers around the world. That said, there are many more heartbreaking moments in each tournament, with the most notable being the bubble boy(or girl). This applies to the money bubble, but on the WPT more so to the seventh-place finisher, who becomes the TV bubble boy.
At the LAPC, that distinction went to Garrett Greer after his
failed to improve against Paul Volpe's
when the board ran out
. His $161,300 payday was no doubt little consolation to missing out on a WPT final table.
Here's how things stacked up at the start of the final table, which began with the blinds at 25,000/50,000/5,000.
WPT Season XI L.A. Poker Classic Final Table

| Seat | Player | Chips |
| --- | --- | --- |
| 1 | Paul Volpe | 4,400,000 (88 BBs) |
| 2 | Paul Klann | 3,345,000 (66 BBs) |
| 3 | Danny Fuhs | 3,170,000 (63 BBs) |
| 4 | David Fong | 2,290,000 (45 BBs) |
| 5 | Jesse Yaginuma | 1,230,000 (24 BBs) |
| 6 | Toby Lewis | 1,070,000 (21 BBs) |
The Final Table Fashion Report: Mike Sexton has always said it's good for the game when players dress up for the TV final table. So how did the L.A. Poker Classic Season XI finalists fare? Here's my take on each player's wardrobe.
Jesse Yaginuma: A light violet button-up with rolled-up sleeves and some fancy pockets seemed to work well for the 27-year-old. It didn't make him look too young or too old. It was surprisingly age appropriate and a solid choice for a final table. Grade: B+
Danny Fuhs: He's a well-known high-stakes cash-game player, and to me, his outfit reflected that. His long-sleeve button-up was nothing special, but his designer shades, expensive watch and three-day stubble gave him that cash-game player look. Not quite a Sammy Farha, but definitely cut from the same cloth. Grade: B-
Paul Volpe: It's not fancy, but Paul Volpe has cultivated a look. For me, that's important in the poker industry. A consistent look helps people recognize and relate, which is important to a brand. With that said, Volpe's T-shirt over a white long-sleeve shirt, sunglasses and baseball cap was spot on for him. Unfortunately, he wasn't able to wear his trademark Phillies hat because the WPT forbids certain logos. That's not Volpe's fault, and I know for a fact he was unhappy about it. Grade: B-
Paul Klann: I know he is Canadian and a family man who plays part time, but Klann could definitely have used a stylist. His green cap and black polo with some sort of logo (maybe a Canadian campground) wasn't too appealing. Despite not seeing a single hand, my first impression was that this was the fish at the table. Grade: F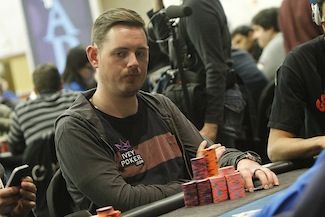 Toby Lewis: A navy blue polo, carefully styled hair and a Team Ivey patch wasn't loud, but it was right on cue for an English lad like Lewis. Grade: C+
David Fong: It was essentially the same as Yaginuma's outfit except that it was gray and not quite as swanky. I guess it was a step up from what Fong usually wears. I won't give him an "A" for effort, but I will give him… Grade: C
Sent Back Across the Pond: After Danny Fuhs opened for 100,000 with the
and chip leader Paul Klann called from the small blind holding the
, a short-stacked Toby Lewis moved all in from the big for 1,015,000 with the
. Fuhs thought long and hard before making the call, Klann got out of the way, and Lewis was primed to double.
According to the PokerNews Odds Calculator, Lewis was a 64.34% favorite to win the hand while Fuhs had just a 26.04% chance of taking it down. Lewis had to be confident, but that all changed on the
flop. Fuhs spiked a nine to become a huge 85.45% favorite while Lewis dropped to 14.04%. That dropped to just 6.82% on the
turn, meaning Lewis needed either a ten on the river to win or the case six to chop. Unfortunately for Lewis, he'd find neither as the useless
peeled off. The Brit took home $193,560 for his sixth-place finish.
The WPT Foundation: As I've mentioned many times before, the WPT Foundation works hand in hand with local charities at each of its stops. This week, the Royal Flush Girls participated in Beverly Hills at the Vahagn Setian Annual Memorial Run/Walk, which was named after a young man who was killed in a DUI crash six years ago. Have a look:
Tune in Next Week: Part II of the L.A. Poker Classic is set to air on Sunday, June 16 on FSN, so be sure to check your local listings. If by chance you miss it, check back next week for the latest recap of all the action here on PokerNews.
Who will be the next player to add his name to this prestigious list of champions?
Past WPT L.A. Poker Classic Champions
| Season | Player | Entrants | Earnings |
| --- | --- | --- | --- |
| 1 | Gus Hansen | 136 | $532,490 |
| 2 | Antonio Esfandiari | 382 | $1,399,135 |
| 3 | Michael Mizrachi | 538 | $1,859,909 |
| 4 | Alan Goehring | 692 | $2,391,550 |
| 5 | Eric Hershler | 791 | $2,429,970 |
| 6 | Phil Ivey | 665 | $1,596,100 |
| 7 | Cornel Andrew Cimpan | 696 | $1,686,760 |
| 8 | Andras Koroknai | 745 | $1,788,001 |
| 9 | Greg Brooks | 681 | $1,654,120 |
| 10 | Sean Jazayeri | 549 | $1,370,240 |
| 11 | ??? | 517 | $1,004,090 |
*Pictures courtesy of World Poker Tour.
Get all the latest PokerNews updates on your social media outlets. Follow us on Twitter and find us both Facebook and Google+!