Inside Gaming: New York Votes to Expand Casino Gambling; Two Proposals Rejected in Mass.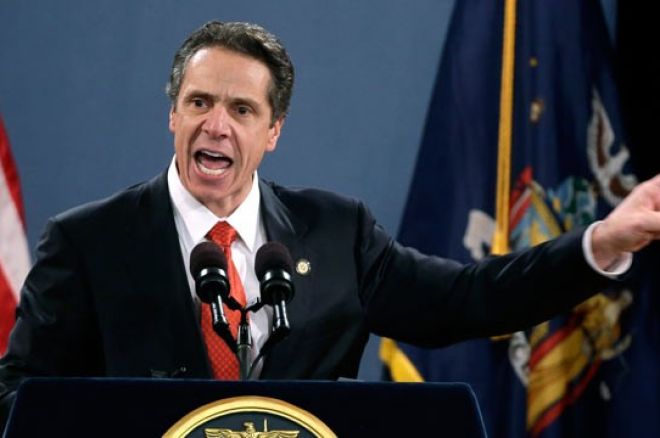 This week's edition of Inside Gaming looks at casino expansion in the state of New York, casino rejections in Massachusetts, the value of Atlantic City casinos, and Robert Melendres' resignation.
New York Votes "Yes"
On Tuesday, New York votes approved a constitutional amendment to expand casino gambling, which could result in up to seven full-scale casinos. The expansion is meant to bring jobs to the upstate region of the state.
With most precincts reporting, the proposal, championed by Gov. Andrew M. Cuomo, was supported by 57 percent of voters.
New York has five Indian-run casinos upstate, and nine slot-machine parlors at racetracks. This is seen as a massive victory for the gaming industry, as land-based casino companies have fought for decades, spending tens of millions of dollars to try and develop casinos in the Empire State.
Per Gov. Cuomo's request, the State Legislature will require that at first, only four new casinos will be permitted, and they may only be constructed upstate. The three proposed areas are the Albany area, the Catskills-Hudson Valley region, and the Southern Tier, an area along the northern border of Pennsylvania.
"We literally hemorrhage people from the borders who go to casinos," said Gov. Cuomo, who says the casino development will also create jobs and lure tourists. "I think it will keep the money in the state, and I think it's a major economic development vehicle for the Hudson Valley especially and for upstate New York."
The casino amendment was promoted by a coalition called New York Jobs Now, a lobbyist group funded by gambling operators, racetrack slot-machine parlors, and unions. The coalition raised more than $4 million for the cause, and ran a series of television ads promoting the economic benefits of casino development.
Some argue that the wording on the ballot had a direct influence on the vote, because it positively described the referendum. Gov. Cuomo consulted with the State Board of Elections on the wording, but a lawsuit challenging it was unsuccessful.
The law takes effect on Jan. 1, and the next step in the process is for the state Gaming Commission to name a Facilities Location Board, which will dictate where the casinos go. The five-member board should be set by the start of 2014, but once a three-person majority is named, the Location Board has 90 days to issue a request for applications from potential casino operators.
Despite nearly 54 percent of voters voting against gambling expansion, Saratoga County is considered a favorite because of the Saratoga Casino & Raceway.
"I'm not concerned," said Rita Cox, the racetrack's vice president of marketing, regarding the vote. "It passed, and we'll be working with community leaders to make sure that any concerns are addressed."
Three main areas will be critiqued during the application process: economic activity (70 percent), local impact (20 percent), and workforce enhancement (10 percent). Other criteria includes number of jobs created, amount of capital investment, tax revenue generated for state and local government, local support, customer services and amenities, regional tourism enhancement, financing availability, developing approach with local business, gaming development, and more.
For more information, check out the New York Times and Saratogian.
East Boston Rejects Casino at Suffolk Downs; Palmer Rejects Mohegan Sun
On Tuesday, East Boston voters rejected the $1 billion Suffolk Downs resort proposal. The project won a majority of support in Revere, Massachusetts, and Chip Tuttle, the track's chief operating officer, told the Boston Globe that Suffolk Downs will explore moving the entire development onto the Revere side of the city line.
On the same day, Mohegan Sun's billion-dollar proposal was also voted down in Palmer, but by only 93 votes. Mohegan is currently pushing for a recount to ensure that the results are accurate.
Casino executives and insiders question the scrutiny Massachusetts regulators have put on the state's applicants, particularly after Caesars Entertainment dropped out of the Suffolk Downs bid because of concerns regarding their background check. Caesars CEO Gary Loveman, who lives in the Boston suburbs, called the requirements, "arbitrary, unreasonable, and inconsistent with those that exist in every other jurisdiction."
The failed casino proposal leaves the future of New England's last thoroughbred racetrack in doubt. The 78-year-old property has been losing money for years, according to the Globe, and the owners were spending good money with the hopes of adding a profitable casino.
The proposal lost by a vote of 4,281 to 3,353 — neighborhood voter turnout was about 47 percent, according to unofficial results. Despite supporting the Suffolk Downs proposal, Mayor Thomas M. Menino believes the political system has worked.
"The mayor always said the people of East Boston should decide what happens in their neighborhood — and they did," said Dot Joyce, Menino's spokeswoman.
As for Mohegan Sun's proposal, we will have to wait to see if a recount is authorized. The company cites a malfunction in one of the voting machines in Precinct 2.
If the vote is confirmed, MGM Resorts will become an overwhelming favorite to win the region's bid in Springfield, Massachusetts.
The Boston Glob and Mass Live have more.
Atlantic City Casino Values Drop
A couple hundred miles south of upstate New York and Boston, Atlantic City, New Jersey continues to suffer. As a collective, the 13 casinos say that their properties are worth billions of dollars less than they were just a few years ago, and they want to lower taxes to compensate for their losses.
Last month, a New Jersey tax court ruled that the city owes Borgata Hotel Casino & Spa an approximately $50 million refund on property taxes from 2009 and 2010. That's roughly 20 percent of the city's annual revenue, according to Moody's Investor Services.
Judge Patrick DeAlmeida, who presides over the Tax Court of New Jersey, says that Atlantic City casinos have crumbled since neighboring states began opening up their own gaming facilities.
"The gaming market had been reset and the economic prospects for Atlantic City's casino-hotels dimmed for the foreseeable future," he wrote in his Oct. 18 ruling.
State Sen. Jim Whelan, a Democrat and former mayor of Atlantic City, believes this is a multi-layered issue.
"There is no one single silver bullet that is going to solve this problem," he said. "The value of the casinos is down. That's the reality."
The city's property-tax base has decreased 30 percent, to just above $14 billion from about $20.5 billion, over the last three years. This plummet is due to property-tax appeals from casinos, including Atlantic Club, Caesars, Tropicana, and Trump Entertainment Resorts Inc., which owns both the Trump Taj Mahal, and Trump Plaza.
The Golden Nugget also plans to appeal their tax assessments.
For the time being, the city plans to borrow money and raise taxes on local businesses and residential properties to make up for declining revenues from casinos. Residential property taxes have already increased 20 percent from 2012 to 2013.
For more, check out the Wall Street Journal.
IGT Head of I-Gaming Steps Down
On Wednesday, it was announced that Robert Melendres, vice president of "emerging" business at International Game Technology (IGT), has stepped down and will leave the company on Jan. 1.
Chief financial officer John Vandemore has been named executive vice president for emerging business. Melendres will report to Vandemore.
Melendres joined the company in 2009 as chief legal officer and corporate secretary. He became head of interactive in Jan. 2012.
This past summer, Melendres talked about the growth of social casinos, saying that the, "Best content, continually refreshed and going global 24/7 service, across all devices and screens seamlessly is what wins."
For more, check out intergameonline.com.
Photo courtesy of http://www.nationalrighttolifenews.org
Get all the latest PokerNews updates on your social media outlets. Follow us on Twitter and find us on both Facebook and Google+![/I]