Congrats to Skrill EPT Freeroll Winner Marcin Wysocki!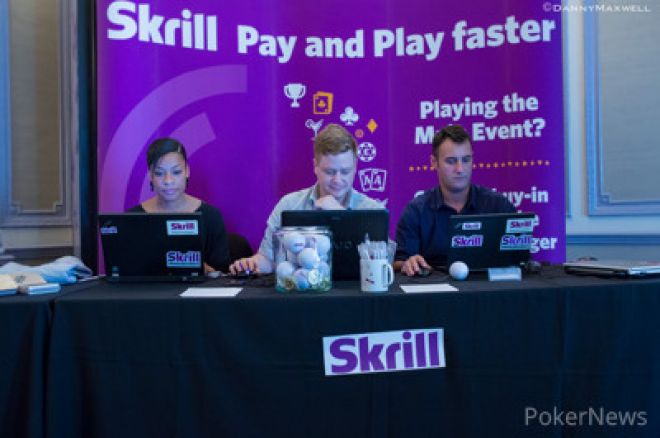 Marcin Wysocki knew that the ball was in his court. When he reached heads up in the Skrill EPT Freeroll tournament, he had outlasted 1,038 other combatants, and all that stood between him and the prize was one final opponent. It was late in Denmark, but he had fought strong and hard throughout the event. He knew what needed to be done.
Marcin has agreed to be interviewed by PokerNews about his recent tournament adventure. "I knew this was this kind of tournament that you had to win, there was only one prize in my mind.", explained Marcin. The prize that he was fighting for was an all-expenses paid trip to Monte Carlo for the EPT Grand Final, courtesy of Skrill.
Marcin is a regular poker player, "I have been playing poker for about 2-3 years. In the beginning I was playing fixed-limit tables, then micro tournaments, I played mostly on weekends and without any preparation so very often I had to rebuild my bankroll. Since starting, I have spent a lot of time on science and strategy, analyzing hands and my mind-set. I continued to treat the game as a hobby, but I hope it does not take long and it will change so that my poker game becomes an additional source of income, and later the only source. Winning this tournament is so far my biggest success, I have previously won a few tournaments with small buy-ins, so the wins were not large."
For those of you who are not aware, Skrill is the leading online E-Wallet for poker players. Skrill facilitates secure and instant deposits to your favorite poker sites and acts as a platform for cash outs. Users can apply for the Skrill Mastercard, which allows people to withdraw cash from their Skrill accounts at any cashpoint across the world and has no withdrawal fees and also houses a VIP program, for extra value to the user.
Marcin is fully aware of what Skrill can offer, " Skrill is quite a big advantage for me , I can easily manage my bankroll with Skrill" he went on to explain that Skrill offers " Security and easy access to money". He finds it useful for moving money around accounts too.
When Marcin was heads up against his opponent, he had a dominating lead "Playing heads-up I had a very large advantage over my rival, from what I remember my stack was a lot more than 1,000, 000 chips and my opponent was probably less than 100,000 so everything happened very quickly. When I played the final table, there were times when I could have been eliminated, but on this day, luck was with me, and I was concentrating more on making good plays". Marcin's hard work paid off and he crushed his opponent very quickly. When the dust settled, Marcin walked away with the prize package. His prize consisted of; return flights for two to Monte Carlo, accommodation for two in Monte Carlo, spending money, a chance to meet some PokerStars pros and a seat at The Skrill EPT Final table, where ten players compete for the first prize of €5,000.
The prize is something that Marcin is really looking forward to "I've never took part in any EPT event, or even attended a live event, so this will be my debut in the game live . I expect most of all to have fun and meet the best players in the world." The EPT is certainly a fantastic introduction to the live arena and Marcin will get to meet some of his heroes "For several years I have lived in Denmark, so one of the players whose game I was watching with great interest is Theo Jørgensen, but I really like the game also played by Daniel Negreanu, so if I were to ask someone for advice I would choose one of these two players." Marcin is also a big tennis fan and would like to see Boris Becker and Rafael Nadal in action in Prague.
Marcin describes to us his favourite hands; "I like to play with medium and low pairs, I do not get involved pre-flop with a large part of my stack and if I hit a set on the flop, I can win a big pot!".
Marcin will be taking his fiancée Anetka with him to Monte Carlo, he describes her as his biggest fan, who has supported him voraciously from the outset. Marcin loved the Skrill event and thinks that Freerolls have great value; "I believe that freerolls are great for beginners who can win events and see how the world of a professional poker players is lived."
In order to get a ticket for the tournament, all Marcin had to do was make a minimum qualifying deposit on PokerStars, of €10 via Skrill, using the bonus code "SKRILLEPT". You can view more on the terms and conditions here: [http://www.pokerstars.com/poker/promotions/skrill-freeroll/ ]
There are eight more packages available and the next Skrill EPT Freeroll is to be held on 15/12/13, with the deposit period open from 01/12/13 to 14/12/13. Grab your ticket today and you could win one of the remaining six packages that remain, thanks to Skrill.
Boost your Holiday spending budget with $20 for free from Skrill today!
PokerNews and Skrill have come together to bring to you a special promotion where you can receive a free $20! All you need to do in order to get your hands onto that risk-free $20 is follow the four steps below.
Upload funds to your new Skrill account or go to a poker room directly and choose Skrill to make your deposit.
Make a deposit of at least $20 onto your online poker room of choice.
Wait for Skrill to add $20 to your Skrill account, usually within one business day.
Get all the latest PokerNews updates on your social media outlets. Follow us on Twitter and find us on both Facebook and Google+!