Pigskin Diaries Presented by DraftKings Championship Weekend: Get Ya Popcorn Ready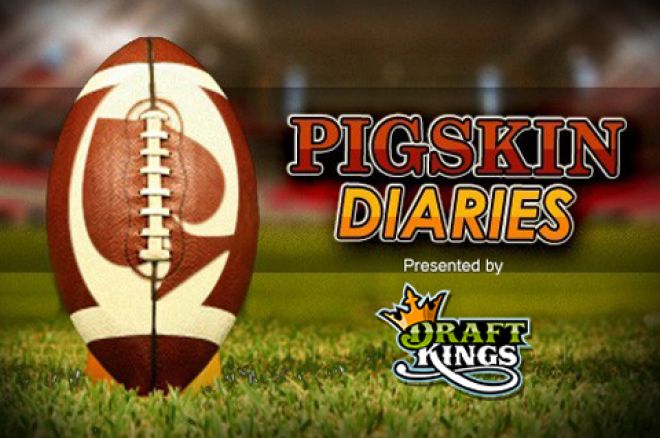 If you're a casual fan of the NFL, then the upcoming AFC and NFC Conference Championship games are sure to be a treat. Peyton Manning and Tom Brady will meet for the 15th time – the third time in the AFC Championship Game – and the winner will be a step closer to inking a new chapter in NFL lore. In the Pacific Northwest, two division rivals are set to meet for a third time this season, this time with a trip to the Super Bowl on the line.
For both the Patriots and the Niners, this is their third straight trip to their respective Conference Championship games. Neither team has won the Super Bowl the last two years, going 1-1 in the penultimate week and 0-1 on Super Sunday. This will be the first road playoff game for the Patriots since 2007, when they lost in the AFC Championship game to Manning and the Indianapolis Colts.
The Broncos and Seahawks might not have "experience" in the big game like their opponents, but they have dominated the NFL over the past two seasons. According to Football Outsiders, they were the most efficient teams in both 2012 and 2013, yet both teams exited in the Divisional Round of the playoffs last year. Despite a great effort from Wilson, the Hawks couldn't keep up with the Atlanta Falcons in the Georgia Dome, and we all know how Raheem "The Dream" Moore blew the Broncos first and only playoff game against the Baltimore Ravens.
Combined, the four remaining teams were 50-14 in the regular season. No combination of teams can yield more victories – the Carolina Panthers had as many wins (12) as the Niners in the regular season.
Aaron Schatz of Football Outsiders made a very salient point on the B.S. Report with Bill Simmons last week about variance, saying that playoff results have consistently yielded results that are either way too high above expectation or way too low below expectation. In layman's terms, there was a period of time where teams with great records in the regular season won the Super Bowl more often than they should, and over the past few years, teams with great records in the regular season haven't won the Super Bowl often enough.
Combined, the two bare out a more reasonable projection, where good and great teams tend to do better than teams that sneak into the second wild card.
We discussed variance in the first playoff edition of the Pigskin Diaries, and the dangers of picking all chalk, but last week all four favorites won outright. If you teased any of the favorites with another favorite, you won your bet without a real sweat. Entering Wildcard Weekend, there was a 17 percent chance that Denver and Seattle would meet in the Super Bowl. That number has increased significantly, but it's still far from a lock. The Niners and Pats are both playing extremely well, and none of the four Super Bowl combinations would surprise me at all.
As fans, we are very fortunate to still have four great teams competing for the Lombardi Trophy, and I have a feeling that this weekend's slate will be thoroughly entertaining.
The regular season is over, but DraftKings.com is still running daily fantasy football games this weekend. Players can chose from mega buy-ins as high as $1,060, while beginners can take a stab at the $2 buy-in, $15,000 guarantee Play Action.
As always, my picks include the number and all advanced statistics are courtesy of Football Outsiders.
New England (+5.5) @ Denver
Here's how they match up in DVOA:
| Team | Total DVOA | Rank | Offense DVOA | Rank | Defense DVOA | Rank | Special Teams | Rank |
| --- | --- | --- | --- | --- | --- | --- | --- | --- |
| Denver | 32.8% | 2nd | 33.7% | 1st | -.2% | 15th | -1.1% | 21st |
| New England | 19% | 5th | 16.4% | 4th | 4.1% | 21st | 6.7% | 2nd |
It's rather incredible that, despite being just three spots below the Broncos, the Patriots defense was nearly half as efficient during the regular season. This is a testament to how amazing Manning and his receivers performed over the first 17 weeks, and how much Brady struggled without Aaron Hernandez and Rob Gronkowski.
When these two teams met back in Week 12, they played an extremely bizarre game that included 11 fumbles. Denver got out to a big, seeming insurmountable lead, but New England stormed back to win the game in dramatic fashion. Gronkowski was healthy in the game, and played a key role, while Broncos tight end Julius Thomas was sidelined with an injury. This week those roles are reversed, and Julius – who sealed the deal with a big third-down catch against the San Diego Chargers last week – will do his best to attack New England's subpar coverage linebackers.
Denver has a big injury concern of their own though, as cornerback Chris Harris tore his ACL during last week's win against San Diego. When he exited the contest and Quintin Jammer was asked to fill in as an outside cornerback (Champ Bailey was playing exclusively in the slot), the Denver secondary was absolutely torched. Keenan Allen scored two touchdowns in the second half of the game, and finished with six catches for 142 yards.
I don't think the Broncos will move Bailey outside, despite Jammer's struggles. New England, like Denver, is known for running several pick plays and drag routes underneath coverage to create mismatches against linebackers and nickelbacks. Bailey will be much more useful on the inside against Julian Edelman than he will be on the outside against Danny Amendola, but Bill Belichick will find a way to attack Jammer.
The most important unit in this game is Denver's defense. The Broncos held the Chargers, who reached the playoffs thanks to their running game, to 65 rushing yards on 18 carries. Without Von Miller at linebacker, they were forced to play as a unit and did a tremendous job filling gaps and fulfilling assignments. No player on Denver's defense had more than four tackles.
This game opened at Denver (-7), and I would feel really good if I had a full touchdown with New England, but I am still going to take the points. I don't know if Denver's defense can replicate what they did last week, and Belichick's ability to mold his team into whatever they need to be at any given time is very impressive. I will admit that I am rooting for Denver – partially because I believe Manning is the greatest quarterback of all time and I want his narrative to get a boost, but mainly because I despise the Patriots – so there is a small chance that this is just some Freudian, subliminal, emotional hedge.
DraftKings Value Plays
With only two games this weekend, we're going to pick a full team once again. As you can see, we're avoiding the late game like it's the plague.
| Position | Player | Opponent | Salary |
| --- | --- | --- | --- |
| QB | Tom Brady | Denver | $7,900 |
| RB | Knowshon Moreno | New England | $7,400 |
| RB | Frank Gore | Seattle | $5,200 |
| WR | Julian Edelman | Denver | $6,900 |
| WR | Eric Decker | New England | $6,500 |
| TE | Zach Miller | San Francisco | $3,000 |
| FLEX | Julius Thomas | New England | $5,600 |
| K | Stephen Gostkowski | Denver | $3,400 |
| DST | San Francisco | Seattle | $3,800 |
Knowshon Moreno only ran for 100 yards in one game this season, rumbling for 224 yards and a touchdown against the Patriots on Sunday Night Football. Frank Gore at $5,200 is my favorite player on this roster. In two of his last four games against the Seahawks, Gore has ran for over 100 yards.
San Francisco @ Seattle (-3.5)
Again, here's the DVOA:
| Team | Total DVOA | Rank | Offense DVOA | Rank | Defense DVOA | Rank | Special Teams | Rank |
| --- | --- | --- | --- | --- | --- | --- | --- | --- |
| Seattle | 40.1% | 1st | 9.4% | 7th | -25.8% | 1st | 4.8% | 5th |
| San Francisco | 17.4% | 6th | 9.1% | 8th | -4.6% | 13th | 3.7% | 7th |
I've touted the Seattle Seahawks as the best team in the NFL for the better part of two years, and there's no way I'm turning back now.
Don't let Drew Brees' 309 passing yards deceive you, Seattle completely dominated the Saints passing game once again. If that crazy, 52-yard play to Robert Meachem resulted in an interception (as it should've), Brees may have thrown for under 200 yards and the Hawks would've covered. Instead, New Orleans snuck away with a push.
Seattle took Jimmy Graham completely out of the game. His first five targets resulted in incompletions, and the one and only pass he caught was for eight yards with less than a minute remaining in the game. Without always double-teaming or exclusively using Richard Sherman, Pete Carroll and company are able to scheme and move guys around so that the Legion of Boom can work as a unit. This will be key against Michael Crabtree, Anquan Boldin, and Vernon Davis.
Up front, Michael Bennett played like a man possessed. He came up with a big fumble recovery during the first quarter, and was one of only two players on the Hawks to get a hit on Brees during the game.
The biggest concern for the Seahawks heading into the NFC Championship game is stopping the run. They are still a little undersized up front, and the Saints had 108 rushing yards on 26 carries. If Pierre Thomas was healthy for the game, I think New Orleans would've had even more success on the ground.
The Niners can certainly run the football. Frank Gore is one of the more patient runners in the league, which has allowed him to sustain a long career despite several knee injuries, and he rumbled for 84 yards against a staunch Carolina front seven last week. Add in Kendall Hunter, a very capable spell, and Kaepernick into the mix, and you have a very dynamic rushing attack.
I'm not sure the read option is a viable strategy for San Francisco, however, because Seattle's defense is lightning quick. What they lack in size they make up in foot speed, and running laterally against them isn't as effective as going north-south.
Wilson didn't look great last week, and hasn't look great since Seattle's Week 15 win against the New York Giants, but I don't think the Hawks need to score a lot of points to win this game by more than a field goal. I think the most likely scenario in this game is a Seattle win by a field goal or more – the hook is really killing me, and I don't think I will bet this game unless it falls to an even field goal.
I will say that there is a scenario where the Niners win decidedly – if Kap can put together a legendary performance against the No. 1 pass defense in the toughest, loudest stadium in the league, then I don't know if Wilson and company can keep up.
Last Week: 1-2-1
Playoffs: 4-3-1
Regular Season: 109-140-7
Lines courtesy of Covers.com, and are accurate as of 12:00 p.m. on Thursday
Get all the latest PokerNews updates on your social media outlets. Follow us on Twitter and find us on both Facebook and Google+!