Pigskin Diaries Presented by DraftKings Divisional Round: Big Favorites Fall Hard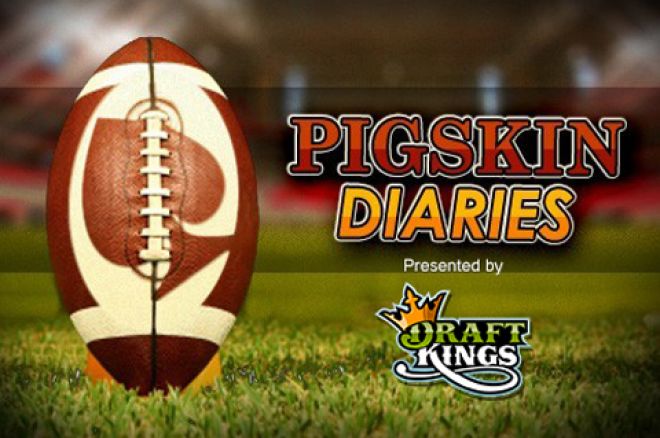 Timing is everything.
During Wildcard Weekend, three of the four games were decided by a total of six points. Thankfully, because the Pigskin Diaries publishes on Thursdays, we were on the right side of two critical line changes.
The first game of the weekend between the Kansas City Chiefs and the Indianapolis Colts featured the largest line movement. The Colts opened as 2.5-point favorites, but by kickoff the Chiefs were slight favorites. We grabbed them as dogs, making T.Y. Hilton's game-winning touchdown a little less painful.
In the final game of the weekend, on the Polar Vortex of Lambeau Field, the San Francisco 49ers took on the Green Bay Packers. The Niners bounced back and forth between -3 and -2.5, and depending upon when you made your wager, you were either a winner, a loser, or you pushed. Again, we were lucky enough to grab the hook, giving us the W.
The other two games were more straightforward. If you took the points, you won. Plain and simple. The Philadelphia Eagles were more or less punched in the mouth by the New Orleans Saints, and Andy Dalton threw the Cincinnati Bengals out of the playoffs (and possibly out of his own job).
With three road teams advancing, and a touchdown underdog winning outright on the road, the playoffs have started off predictably unpredictable. So, with three teams favored by a touchdown or more in the Divisional Round, take precautions. That three-team money line parlay that seems too obvious probably is.
The regular season is over, but DraftKings.com is still running daily fantasy football games this weekend. All eyes are set on the massive, $200 buy-in $400,000 guaranteed Divisional Clash. Up to 2,240 entries will battle for the $100,000 top prize, and the top 400 finishers will "double up" to $400.
As always, my picks include the number and all advanced statistics are courtesy of Football Outsiders.
New Orleans @ Seattle (-8)
Remember that time I lectured you guys about picking big favorites in "obvious" spots and then picked a big favorite in an "obvious" spot?
Before we hop back on the "Drew Brees and the Saints Struggle on the Road" trend, we have to give credit to New Orleans for how well they played in Philly. There are very few scenarios where Brees could throw two first-half interceptions and still win the game, but the Saints found a way to pull it out. Without Pierre Thomas, who missed the game with a chest injury, New Orleans ran for 185 yards. Mark Ingram somehow ran for 97 yards and a touchdown.
The victory was the first road playoff win in Saints history, and Rob Ryan's first playoff victory as a defensive coordinator.
The Seattle Seahawks are a completely different beast, however, especially at home. For the second consecutive year, Seattle finished the season ranked No. 1 in total DVOA (40.1 percent). According to Aaron Schatz, it's the first time a team has topped the ranks in back-to-back years since the Packers in 1996-1997. The Seahawks are also 7-1 straight up at home, and in Week 13 they handled the Saints at CenturyLink Field 34-7.
During that Monday Night tilt, the Saints fell behind early and had little hope of catching up. According to Pro-Football Reference, the Seahawks were 95-percent favorites to win the game with four minutes remaining in the first quarter. That's why I'm comfortable laying more than a touchdown with Seattle – when they get out to an early lead, they're capable of suffocating teams and forcing mistakes.
In their 13 wins this season, Seattle outscored their opponents by an average of 15.5 points. If you remove their two highest margins of victory and their two lowest margins of victory, that number remains at 15.5.
Indianapolis (+7) @ New England
If Alex Smith can throw for 378 yards and four touchdowns against the Colts defense, I shudder to think what Tom Brady can do to that secondary. Unfortunately for the Pats, their best receiver is 5'10" Wes Welker wannabe Julian Edelman, and Brady finished the year ranked 21st in completion percentage – one spot below the aforementioned Smith.
Stevan Ridley should play a big role in this game – LeGarrette Blount isn't going to go off for 300 all-purpose yards again – but Bill Belichick's doghouse is more secure than Fort Knox. Ridley hasn't fumbled in four weeks, but is only averaging 10 carries per game since the last time he put the ball on the ground.
In the four games Ridley only had single-digit carries, the Pats went 3-1 and only outscored their opponents by a total of two points.
Even if the Patriots are able to put up points, that doesn't mean they're going to simply outscore Andrew Luck and the Colts. New England finished the regular season ranked 21st in total defense DVOA (4.1 percent), and they were particularly poor against the run (27th, 4.3 percent). This doesn't mean that Trent Richardson is going to scamper for a 100 yards, but Luck is a very athletic quarterback who's capable of making big plays, especially against man-to-man defense.
My biggest concern for the Colts is their 0-5 ATS record in losses. Indy was smoked twice on the road this year, losing 42-28 to the Bengals in Week 14 and 40-11 to the Arizona Cardinals in Week 12. They were favorites in their three other losses to the San Diego Chargers, Miami Dolphins, and St. Louis Rams.
In the 11 games they won, Indy was 10-0-1 ATS. The moneyline wager just became a bit more enticing.
DraftKings Value Plays
We're going to make another full roster this week rather than list a series of value plays. Roster construction is just as important as finding undervalued players, and saving money at certain positions can allow you to splurge on stars at others.
| Position | Player | Opponent | Price |
| --- | --- | --- | --- |
| QB | Philip Rivers | Denver | $7,700 |
| RB | Shane Vereen | Indianapolis | $7,000 |
| RB | Danny Woodhead | Denver | $5,700 |
| WR | Demaryius Thomas | San Diego | $8,000 |
| WR | Julian Edelman | Indianapolis | $6,900 |
| TE | Ladarius Green | Denver | $3,600 |
| FLEX | Stevan Ridley | Indianapolis | $4,200 |
| K | Graham Gano | San Francisco | $3,000 |
| DST | Carolina | San Francisco | $3,800 |
As you can see, I think there will be a lot of points scored in the two AFC games. My favorite player this weekend is Ridley, because I have a feeling Belichick is going to unleash him against the Colts. Even without Jamaal Charles, the Chiefs were able to rush for 150 yards and a touchdown. Shane Vereen will still get his in the passing game, which is why we selected him as well.
San Francisco @ Carolina (PK)
The Niners are the NFL's flavor of the week. After seven consecutive wins, including a thriller in Green Bay, they are a very trendy sleeper pick. This week, you will hear things like "San Francisco has more experience than Carolina" or the Niners are a team "nobody wants to play in the playoffs."
Bookmakers tried to take advantage of this, opening with the Niners as 3-point favorites on the road, but that line was quickly bet down to a pick'em.
These two teams met in Week 10, and the Panthers won a 10-9 slobberknocker in Candlestick Park. Colin Kaepernick was held to just 91 yards passing and 16 yards rushing, and Cam Newton didn't fare any better with 169 passing yards and 15 yards on the ground.
Carolina enters the game ranked second among playoff teams in defense DVOA (-15.7 percent), and first against the run (-16.3 percent). While they struggle to pass the ball (14th in the NFL in pass offense DVOA, 11.5 percent), the Panthers finished the season ranked No. 4 in rushing (9.4 percent).
The Panthers are built to win close defensive games, so if this is a low-scoring affair, then I expect they will be off to Seattle to play in the NFC Championship Game. If Kaepernick and Michael Crabtree start making plays in the passing game, then Carolina could be in trouble. Newton's numbers in the last eight games were very pedestrian; 1,578 passing yards, 334 rushing yards, 11 passing touchdowns, two rushing touchdowns, and six interceptions.
If you grabbed Carolina and the points, then pat yourself on the back. That's really nice value. As we stated above, timing is everything with sports betting.
San Diego (+9.5) @ Denver
This, like SEA/NO and CAR/SF, is a rematch from the regular season, but as division rivals these two teams played twice. In the first meeting, the Broncos won 28-20 in San Diego, covering by one point, and the Chargers won the second meeting 27-20 in Denver.
Including the playoffs, the Chargers are 7-1-1 ATS as underdogs this season. In games where they are getting a touchdown or more, they are 3-1 straight up. Philip Rivers is now the most popular bolo tie-wearing man in the land, but like the Saints, their game plan was to run the football. Against the Bengals, Rivers completed just 16 passes, six in the first half, and ran the ball 40 (!) times for 196 yards.
The Broncos obviously led the NFL in offense DVOA (33.7 percent) in the regular season, but their defense finished at No. 15 (-.2 percent). Because they held so many leads, their run defense was fine (9th, -14.4 percent), but they certainly struggled against the pass (21st, 10.2 percent). Chargers head coach Mike McCoy might zig when we expect him to zag and stick to the ground game, but I've got a feeling Rivers will be airing it out a bit to Keenan Allen and company on Sunday.
San Diego's biggest concern remains on the defensive side of the ball. Dalton gifted them with two interceptions last week, but they were still rated as the worst defense in the NFL in the regular season (17.5 percent), and 31st against the pass (23.9 percent). The Peyton Manning killers, led by Dave Dameshek, are ready to bury Manning if he exits from the playoffs prior to the Super Bowl, but if the Broncos fail to make the AFC Championship game then I doubt the blame will rest on his shoulders alone.
This line is too large for my liking. San Diego is too strong offensively and Denver's defense is too depleted.
Playoffs: 3-1
Regular Season: 109-140-7
Lines courtesy of Covers.com, and are accurate as of 12:00 p.m. on Thursday
Get all the latest PokerNews updates on your social media outlets. Follow us on Twitter and find us on both Facebook and Google+!