Pigskin Diaries Presented by DraftKings Week 16: The Biggest Fantasy Weekend of 2013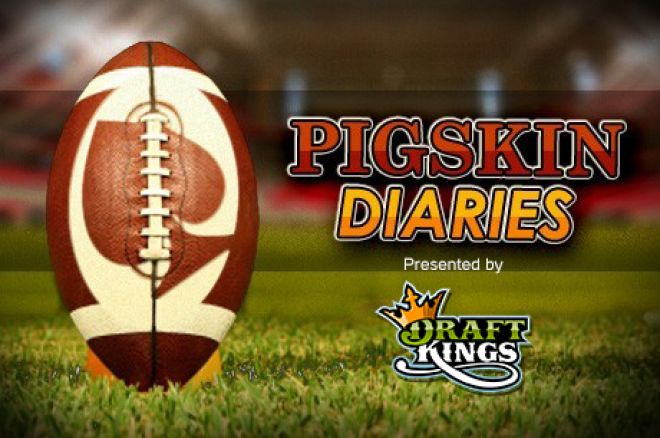 Are you ready for the biggest fantasy football weekend of 2013?
Right off the bat, DraftKings.com is awarding a million-dollar top prize in their Fantasy Millionaire Grand Final. There are still nearly 900 spots available in the historical, $1,500 buy-in event, and DraftKings is guaranteeing a $3.1 million prize pool!
The top four finishers are all guaranteed at least six figures, and the top 300 finishers will double their buy-in. If you don't want to buy in directly, then you can still satellite in by playing daily fantasy hockey or basketball.
Beyond the massive prize awaiting someone at DraftKings this weekend, Week 16 of the NFL season marks the fantasy Super Bowl for a large percentage of season-long leagues. If you're championship game is in Week 17, when several starters could be sitting because their team is already in the playoffs, then you're doing it wrong.
This year I really wanted to get my fiancé Jenna involved in fantasy football. She enjoys watching the games on Sundays, and already has a favorite team (the Green Bay Packers), but I wanted to take her pigskin fandom to another level. I posted an inquiry about a possible wives and girlfriends (WAG) fantasy football league on Facebook, and quickly received several positive responses. In a matter of days, the league was born.
The 10-team WAG League got off to a rough start, however, because I stupidly screwed up the league settings. The initial idea was to split the league into two divisions so that one male and one female could make the final, but I didn't give myself enough power as the commissioner. Thus, there was one female in the Mars Division and one male in the Venus Division. Oops.
Things got even worse when Jenna couldn't load the draft client on draft day. At the time, due to work constraints, I was stuck in the United States while she was in our apartment in Trinidad and Tobago. She missed the first three rounds of the draft and was very upset that she didn't get to pick some of her players. Fortunately two of those players were LeSean McCoy and Peyton Manning.
Jackpot.
Manning's early dominance propelled her team to the top of the standings, but injuries to Danny Amendola and others stalled her in the middle of the season. Entering the final week of the season, she was 6-5 and in a must-win game with McCoy on bye.
Looking at McCoy's fantasy playoff schedule, I thought he was an upgrade over Jamaal Charles, and since I was already a lock to make the playoffs, I offered to trade Charles for McCoy. She accepted, but despite Charles' 30-point game, she still lost.
Luckily, her 6-6 record was still good enough for her to make the playoffs.
She dominated her first two-week playoff matchup by 60 points, and I was crushed by Jelly Beans – the only female in the Mars Division!
The owner of Jelly Beans, like Jenna, is playing fantasy football for the very first time, and now we are guaranteed to have a first-timer win the championship.
After the first leg of the two-week playoff, and a Hall of Fame performance by Charles, Jenna leads 160.4-138.3. A 20-point lead can be erased very quickly when you're playing against Josh Gordon, Jimmy Graham, and Vincent Jackson, but hopefully Manning can light the Texans up like a Christmas tree.
Good luck to everyone in their fantasy championship games, and everyone competing in the DraftKings Fantasy Millionaire Grand Final.
As always, my picks include the number and all advanced statistics are courtesy of Football Outsiders. We are skipping the Green Bay game once again because of Aaron Rodgers' ambiguity. Check back for our pick on Sunday.
Miami @ Buffalo (+2.5)
THAD LEWIS ALERT!!!!!!
Forget the fact that the Bills are 5-1 ATS in Buffalo (3-3 straight up), and the Dolphins lost the only game they were favored on the road this season, former Duke signal caller Thaddeus Lewis will start at quarterback on Sunday for the Bills.
The Bills are just 1-2 in games where Lewis was the starter, but he took the Cincinnati Bengals to overtime and his sole victory came against the Dolphins. Lewis wasn't really the reason Buffalo won the game in Miami though – Nickell Robey intercepted a Ryan Tannehill pass in the first quarter and took it to the house.
With Lewis or EJ Manuel at quarterback, Buffalo will have an edge running the football. Miami ranks 29th in rush defense DVOA (4.2 percent), and both Dannell Ellerbe and Philip Wheeler are very underwhelming players on the second level. C.J. Spiller and Fred Jackson were kept in check the first time these teams met, but they could be the difference for the Bills on Sunday.
Miami will look for another good effort from Tannehill, whose thrown for 300 yards or three touchdowns in four consecutive games. During the team's three-game winning streak, he's only thrown two interceptions. In the previous 11 games, he threw 12.
Fantasy: The Bills (second in pass defense DVOA, -17.9 percent) have given up the fourth-most fantasy points (24.9) to opposing wide receivers this season, but in the last six games they've only given up an average of 14.5 points. That would make them the third-best defense against wide receivers for the season. Mike Wallace is an obvious play, but I'm not touching Brian Hartline.
New Orleans @ Carolina (-3)
With a loss in St. Louis last week, the Saints fell to 1-5 on the road since Week 6. The franchise is 36-27 on the road with Drew Brees at quarterback. Outdoors, the team is 25-20.
When getting three or fewer points outdoors, New Orleans is 3-5-1 ATS since 2006.
Cutting Garrett Hartley isn't going to suddenly jumpstart this team when they have to play away from the Superdome. Choosing them to cover a 10-point spread last week on the road was a huge mistake, even if they were in a dome – Jeff Fisher-coached teams are just too damn frisky, and the Saints hate playing well away from New Orleans.
Carolina is ranked third in total DVOA (25.2 percent), and the only home game they lost this season was to the Seattle Seahawks in Week 1. Since then, they've defeated their opponents by an average of 18.67 points.
My money is on them to win the next two games and lock up the No. 2 seed in the NFC.
Fantasy: I think this game is pretty cut and dry, unless you're still clinging on to Steve Smith. There are several wide receivers I prefer over him this week, including Cordarrelle Patterson and Doug Baldwin.
Dallas (-2.5) @ Washington
Cleveland @ New York Jets (+2.5)
The Redskins are 3-4 ATS in games where they aren't getting a field goal or more these season. One of those games was a Week 13 tilt against the Oakland Raiders, who rank 31st in total DVOA (-33.3 percent).
Washington ranks 30th (-27.1 percent) in total DVOA, and while Kirk Cousins should be able to move the ball against Dallas' 31st ranked defense DVOA (14.1 percent), I can't imagine Big D blowing this game. Their Week 17 game against Philadelphia has to be for the division, right Roger Goodell?
A couple hundred miles north on I-95, the Jets take on the Browns at MetLife Stadium. Gang Green is 5-2 ATS at home, while the Browns are 3-3 ATS on the road. This is the first time all season Cleveland is getting less than 5.5 points on the road, and the first time since October of 2012 that they are getting less than a field goal away from home.
In the last decade, the Browns have been underdogs 76 times. In the seven games where they've received less than a field goal, they are 1-6 ATS.
Fantasy: Cousins' same-day fantasy value is gone after his big performance in Atlanta, so don't go chasing points.
DraftKings Value Plays
Each week in the Pigskin Diaries, I bring you 10 players who I think have value on DraftKings. These players may not be the best at their position on a week-to-week basis, but because of their match up and their price this week, I think they're solid selections. Picking these value plays will save you money for other positions if you wish to purchase a few stud players.
As always, these players are ranked by price.
| Position | Player | Opponent | Salary |
| --- | --- | --- | --- |
| RB | DeMarco Murray | Washington | $7,600 |
| WR | Alshon Jeffrey | Philadelphia | $7,500 |
| QB | Andy Dalton | Minnesota | $7,400 |
| WR | Kendall Wright | Jacksonville | $6,000 |
| RB | Rashad Jennings | San Diego | $5,400 |
| QB | Thad Lewis | Miami | $5,000 |
| TE | Tyler Eifert | Minnesota | $3,900 |
| K | Dan Carpenter | Miami | $3,100 |
| DST | Detroit | New York Giants | $3,000 |
| WR | Mo Sanu | Minnesota | $3,000 |
DeMarco Murray: Murray ranks No. 1 in DYAR and DVOA. Washington ranks 24th in defense DVOA.
Alshon Jeffrey: The Eagles give up the most fantasy points to opposing wide receivers, and Jeffrey is $500 cheaper than Brandon Marshall. He's equal in talent.
Andy Dalton: The Vikings give up the second most points to opposing quarterbacks, and rank 25th in pass defense DVOA. Dalton is less expensive than Alex Smith, Tannehill, and Cousins.
Kendall Wright: Including the Week 14 game he was injured in, Wright has 26 catches for 347 yards the past three weeks. In Jacksonville's last three games, they've given up 651 yards and five touchdowns to opposing wide receivers.
Rashad Jennings: Jennings ranks second in DVOA and fourth in DYAR. San Diego ranks last in rush defense DVOA (10.1 percent).
Thad Lewis: The only thing better than winning a million dollars is winning a million dollars with a Duke quarterback on your team.
Tyler Eifert: This is the game that Eifert breaks out. He's played without Jermaine Gresham in the lineup before, but I really have a feeling this is the game where the rookie tight end makes a big splash.
Dan Carpenter: Thad Lewis is great and all, but he might leave the Bills a bit short on a few drives.
Detroit: Eli Manning has thrown 25 interceptions in 14 games. That's not very good.
Mo Sanu: If you're looking to hit a homerun, Sanu is the No. 2 receiver on a team facing the Vikings, who have given up the second most fantasy points to opposing receivers. Minnesota has given up a touchdown to opposing receivers in every single game except Week 1, and rank 27th and 30th in DVOA against No. 2 receivers and "other" receivers respectively.
Tampa Bay (+5) @ St. Louis
Am I missing something here? The Bucs have won four out of their last six games, losing only to the 10-4 Panthers and the 10-4 Niners. The Rams recorded a big win against the Saints last week, but are still only 6-8 ATS and 3-4 ATS at home.
The Rams have been home favorites just twice this season, covering an 11-point spread against the Jaguars in Week 5, and losing as 3.5-point favorites against the Cardinals in Week 1.
This line is simply too high.
Fantasy: Bobby Rainey and Zac Stacy owners must be very pleased with their mid-season finds, but this isn't a great week to own either back. Rainey faces off against the fifth-ranked rush defense DVOA (-17 percent), while Stacy faces No. 8 (-14.8 percent).
Indianapolis @ Kansas City (-1)
Minnesota @ Cincinnati (-1.5)
I am teasing these two home teams. Why? Because it's my column. I'm close to 30 games below .500. DEAL WITH IT.
If the teaser doesn't come through, I'll take two losses. If it does, which I think it will, I'll take two wins. In reality, you'd have to lay (-110) like a normal bet in order to bring both of these spreads down by six points.
I don't trust the Colts (14th in total DVOA, 2.5 percent) at all, especially on the road, and the Bengals have to come out like gangbusters after laying an absolute stinker on Sunday Night Football. Minnesota ranks 24th in total DVOA (-10.6 percent), and is 0-6-1 on the road.
Fantasy: It's nearly impossible for Charles to top what he did in Week 15, but the Colts rank 24th in run defense DVOA (-1.4 percent). Since their Week 8 bye, Indy has given up 117 yards and just under one touchdown per game to opposing running backs.
Tennessee @ Jacksonville (+5.5)
I had a feeling we jumped on the Jags bandwagon a week too late, but after a touchdown loss at home, it's time to jump back on!
Tennessee is a frisky team that can play a bit of defense, but with Ryan Fitzpatrick at quarterback they should've be sizable road favorites over any team in the NFL. In fact, the Titans have only been road favorites three teams in the last two season, and never by more than 3.5 points.
In Week 12 of the 2012 season, they were 3.5-point favorites in Jacksonville and lost 24-19.
Fantasy: Cecil Shorts is out for the season, making Ace Sanders an interesting play in same-day fantasy. Sanders has averaged nearly seven targets a game the last five weeks, and has enough speed to make defenses pay if he gets the ball in space.
Denver @ Houston (+10.5)
Arizona (+10.5) @ Seattle
New York Giants (+10) @ Detroit
Oakland (+10) @ San Diego
In 2013, teams getting 10 or more points are 14-10-1 ATS (60.41 percent). In the last decade, these teams are 203-152-6 ATS (57.06 percent).
Home teams getting 10 points or more at home, like Houston is this week, are 39-19 (67.24 percent) since 2003.
Will I bet on all four of these games? No, but Arizona and New York are very intriguing. Despite their home dominance, the Seahawks are an even 3-3 ATS at home as double-digit favorites over the past two years, and the Lions haven't been double-digit favorites at home since December of 2011. They lost that game outright.
Fantasy: If you're in a two-week playoff matchup and need to swing for the fences, how about Andre Holmes? Holmes broke out on Thanksgiving with seven catches for 136 yards, and in his next two games he's caught seven passes on 14 targets for 121 yards and a touchdown. The Chargers rank last in pass defense DVOA (27.1 percent).
Atlanta @ San Francisco (-13)
There's always an exception to the rule.
Since Jim Harbaugh became the head coach in San Francisco in 2011, the Niners are 5-3 ATS as double-digit favorites.
In 2013, the Falcons are 2-5 ATS on the road, and one of the two games they covered was in Toronto against the Bills. Had Buffalo played the game with a true home-field advantage, the outcome may have been very different.
In their seven road games, the Falcons have been outscored by an average of 8.42 points.
Depending upon Sunday's games, San Francisco could be slotted into the five seed or possibly playing for a shot at the division title if the Hawks somehow stumble. If Seattle does lose, this line will rocket above two touchdowns.
Fantasy: The Falcons rank 31st in pass defense DVOA (25.8 percent). This is good news for Vernon Davis owners, and folks who have enough gamble to play Michael Crabtree.
New England @ Baltimore (-2.5)
The Ravens are 5-2 ATS at home in 2013, and if Mike Tomlin didn't do the Thriller dance during a Jacoby Jones kick return on Thanksgiving, they could be 6-1.
Since Joe Flacco became the quarterback in 2008, Baltimore is 39-8 (!) at home and 26-20-1 ATSA (56.38 percent).
It's nearly impossible to pick against Baltimore at home when they're giving less than a field goal, and I think New England's 21st-ranked defense DVOA (3.8 percent) will help Flacco and company bounce back offensively.
If not, I'm sure Justin Tucker has six more field goals in him.
Fantasy: Torrey Smith only has three touchdowns since September, and hasn't crossed the 100-yard threshold since October, but in the last six weeks the Patriots have given up 190 yards per game and nine touchdowns to opposing receivers. Smith is a solid WR2 this week.
Chicago (+3) @ Philadelphia
I wouldn't place a dime on this game unless you think the Cowboys are definitely going to beat the Redskins. I think it's highly likely that Dallas wins, and if they do then this game is meaningless for the Eagles. No matter what the outcome is, they have to beat the Cowboys in Week 17 in order to win the division and get into the playoffs.
This game is extremely important to the Bears, who are still vying for the NFC North, and while Chip Kelly says he won't bench his players, that doesn't mean he won't take them out in the second half.
There are too many funky variables going against the Eagles for me to pick them in this game, even though the Bears defense is horrific (31st in run defense DVOA, 7.2 percent).
Fantasy: That being said, don't you dare bench McCoy. One half of Shady against Chicago is much better than a full 60 minutes with most backs.
Last Week: 5-11
Season: 97-120-7
Spreads are courtesy of Pinnacle and accurate as of 10:00 a.m. EST on Thursday
Get all the latest PokerNews updates on your social media outlets. Follow us on Twitter and find us on both Facebook and Google+!