Pigskin Diaries Presented by DraftKings Week 10: A Crazy Week in a Crazy Season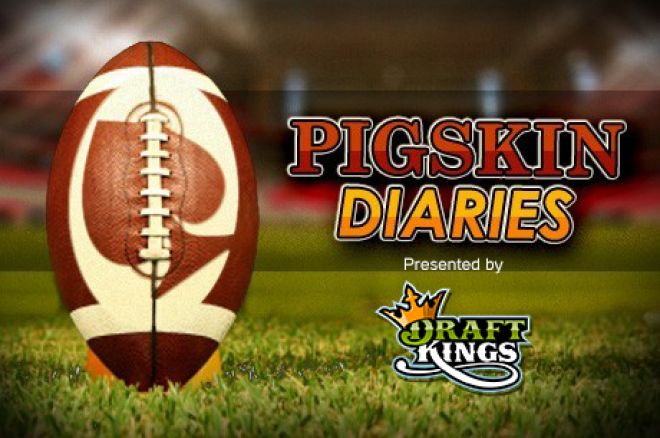 When the Cincinnati Bengals lost Geno Atkins, arguably the most valuable defender in the entire NFL, on Thursday Night Football, I had a feeling we were going to have a bad week.
When the Kansas City Chiefs scored two defensive touchdowns, including a 100-yard interception return by Sean Smith, I was certain we were going to have a bad week.
When Robert Griffin III led the Washington Redskins to a last-second tie and an overtime win, I was still on an emotional high because I just watched my beloved New York Jets take down the New Orleans Saints in person, but I also knew we were having a terrible week.
When Andrew Luck and T.Y. Hilton went absolutely bonkers on Sunday Night Football, all I could do was laugh.
When Aaron Rodgers broke his collarbone on the first possession of Monday Night Football, I was already over the entire slate of games.
I was also enjoying my front row seat to the greatest final table in all of poker.
The bottom line is a week like this happens, although it seems like there are more off-the-wall occurrences in 2013 than ever before. Just look at all of the crazy stories off the field like Justin Blackmon's second suspension for violating the league's substance policy, the sudden illnesses for John Fox and Gary Kubiak, and the Richie Incognito/Jonathan Martin fiasco in Miami. All of these things combined with the regular variance that comes with picking NFL spreads is certainly a nightmare.
This week's slate looks a little friendlier, and I think there are even a couple of no-brainer, slam-dunk plays.
DraftKings.com is introducing NFL Beginner Games that offer smaller player pools, lower entry fees (as low as $1), and are only eligible for players with less than 50 games under their belts. There are also five-player tournaments available, which are the equivalent of a fantasy sit-n-go. If you're sick of getting beat by daily fantasy grinders that have a big enough bankroll to enter tournaments dozens of times, or you're just trying to get your feet wet, these new variants on DraftKings are definitely for you.
As always, my picks include the number and all advanced statistics are courtesy of Football Outsiders.
Washington @ Minnesota (+2.5)
Detroit (-2.5) @ Chicago
The reason I lumped these two games together is I feel like the bookmakers are begging people to take the favorite. The "sharp" money will most likely land on the home dog in both of these games, and the books will be able to offset those big bets by selling a high volume of smaller tickets to public bettors, who probably think both favorites will win by a touchdown.
The Thursday Night Football tilt is a clearer matchup for me. The Redskins are coming off of an exciting overtime win at home that everybody saw on NFL RedZone, but they still stink, ranking 28th in total DVOA (-18.4 percent). They are also 28th in rush defense DVOA (3.3 percent).
The Minnesota Vikings (25th in total DVOA, -11.7 percent) have a man named Adrian Peterson, who could potentially dominate this game.
In Chicago, the Bears aren't certain whether or not Jay Cutler will be available for Sunday. For that reason, I wouldn't bet on this game, but I have to pick every game for the Pigskin Diaries. Thus, I will assume that Cutler doesn't play and lay the points with the Detroit Lions (13th in total DVOA, 6.3 percent). Again, it looks like the bookmakers are begging me to take the home dog, but I like Detroit coming off of a bye against an overrated (10th in DVOA) Bears defense coming off of a short week.
The reason I think Chicago is overrated is their adjustments against Green Bay (second in offense DVOA) are skewed because Rodgers wasn't in the game.
Fantasy: Pierre Garçon looked like a breakout WR1 before getting hurt in 2012, and he's returned to that status in 2013. If you drafted him as your WR2, you're probably in great shape right about now.
Oakland (+7) @ New York Giants
St. Louis (+9.5) @ Indianapolis
Jacksonville @ Tennessee (-11.5)
The Giants (30th in total DVOA, -22.6 percent) win two games and all of a sudden they're laying a touchdown at home? Am I missing something? I know Andre Brown is returning, but this is still a very bad football team, especially on defense. Even with Darren McFadden likely to miss the game with a hamstring (shocker) injury, I don't know how Big Blue's nonexistent linebackers are going to be able to stop Terrelle Pryor and the read option.
Just like Washington, Indianapolis is coming off of a big, emotional win, but there were even more eyeballs on them because it's in primetime. Luck and Hilton were tremendous, but Houston's first half wasn't a fluke. I still don't believe in the Colts defense (20th in DVOA, 1.7 percent), and under Jeff Fisher, the Rams are 3-0 ATS when getting nine points or more on the road.
Indy is 0-1 ATS at home this season when favored by nine points or more, defeating the Raiders 21-17 in Week 1.
Meanwhile, the Jaguars continue to be one of the worst football teams of all time, and Scott Kacsmar of Football Outsiders provided this fun stat on Twitter:
Jaguars have had 4 leads this season: 2-0 vs. KC (1st QT), 7-0 vs. STL (1st QT), 10-7 vs. STL (1st/2nd QT), 3-0 vs. IND (1-2 QT). That's it.

— Scott Kacsmar (@FO_ScottKacsmar)
Fantasy: Hilton isn't going to have three touchdowns every week (and the winner for the most obvious sentence of the week is...), but his production will be well above his previous average in the absence of Reggie Wayne. Despite being a second-year pro, his skills are much more polished than Darrius Heyward-Bey's.
Seattle (-6) @ Atlanta
You already know I think the Seahawks are one of the best teams in the league. You already know I think the Falcons are one of the most overrated teams in the league. What do you think the line would be if it was Denver, and not Seattle? This one's pretty easy to me.
Fantasy: The Seahawks run defense (15th in DVOA, -8.8 percent) isn't as great as people think. The defensive tackles on the roster are smaller than average, allowing centers and guards the ability to create some space. Steven Jackson is actually a nice play here.
Buffalo (+3) @ Pittsburgh
While Mike Tomlin is running out of things to take away from his players, Thad Lewis returned to practice this week for the Bills. Thad Lewis. You know your football game doesn't matter at all when the return of Thad Lewis is paramount.
Fantasy: Funny enough, Lewis really helps C.J. Spiller's value, which can only go up at this point.
DraftKings Value Plays
Each week in the Pigskin Diaries, I bring you 10 players who I think are undervalued in DraftKings. These players may not be the best at their position on a week-to-week basis, but because of their match up and their price this week, I think they're solid selections. Picking these value plays will save you money for other positions if you wish to purchase a few stud players.
As always, these players are ranked by price.
| Position | Player | Opponent | Salary |
| --- | --- | --- | --- |
| TE | Jimmy Graham | Dallas | $8,100 |
| QB | Ryan Tannehill | Tampa Bay | $6,500 |
| QB | Terrelle Pryor | New York Giants | $6,500 |
| RB | Steven Jackson | Seattle | $5,200 |
| WR | Kendall Wright | Jacksonville | $5,000 |
| RB | Rashad Jennings | New York Giants | $4,400 |
| TE | Garrett Graham | Arizona | $4,000 |
| WR | Brian Hartline | Tampa Bay | $3,900 |
| RB | Dennis Johnson | Arizona | $3,000 |
| DST | Buffalo | Pittsburgh | $2,700 |
Jimmy Graham: Graham is by far the best player in fantasy at his position. Also, the Cowboys are giving up the second-most fantasy points per game to opposing tight ends in ESPN standard scoring.
Ryan Tannehill: This is a total gut-call. The Bucs are 22nd in pass defense DVOA, and I think Philbin wants to win this game handily.
Terrelle Pryor:
Steven Jackson: Mike James' 100-yard game against the Seahawks wasn't a fluke. The way to attack Seattle is up the middle, and Jackson can do that for Atlanta.
Kendall Wright: The Jags rank last in pass defense DVOA, and Wright is the most talented receiver on the Titans. I also have a strange affinity for Jake Locker.
Rashad Jennings: Run DMC will likely be sidelined, and a starting NFL running back at this price is hard to pass up.
Garrett Graham: The Cardinals give up the most points per game to opposing tight ends in ESPN standard scoring.
Brian Hartline: If I think Tannehill is going to have a big game, someone has to be on the receiving end of his passes. Hartline is a much better value than Mike Wallace.
Dennis Johnson: Don't just throw Johnson in your lineup on Thursday and forget about him. If Tate suffers some kind of set back before Sunday, or it looks like Johnson is going to get a lot of touches, then go ahead and try to hit a grand slam.
Buffalo: The Bills defense ranks seventh in DVOA, which makes them a great value at less than $3,000.
Cincinnati @ Baltimore (+1.5)
The Ravens are a perfect 2-0 ATS as home dogs in 2013, and I think the Atkins and Leon Hall injuries are a huge problem for the Bengals. I want to see them play a full 60 minutes without those two players before laying points with them on the road against a team that historically plays very well at home.
This also feels like an opportunity for Ray Rice and the Ravens run game to get something going. The Dolphins ripped off 5.2 yards per clip on Thursday night without the aforementioned Incognito or Martin on the offensive line.
Fantasy: This might be a good opportunity to sell high on Rice if he does have a big game. I don't think we'll ever see the explosive back that put up huge numbers from 2010-12 ever again.
Philadelphia @ Green Bay (-1.5)
Miami (-2.5) @ Tampa Bay
There is no better time to wager on an NFL football team than when the panic meter is on DEFCON 5.
The Packers don't have Aaron Rodgers! They're done! Take them out of the playoff race! They'll lose every game without him!
Everybody do me a favor and take a deep breath. Now let it out slowly, and click this box score.
Matt Flynn threw for 480 yards and six touchdowns in this offense, and since that game we've learned that he is a terrible NFL quarterback. Seneca Wallace will be fine. He won't be Rodgers, but he will be fine, especially against the 30th-ranked defense DVOA (13.4 percent).
Meanwhile, in Miami…
They've lost all control! Fire Joe Philbin! Fire John Ireland! Fire the offensive line coaches who no one knew existed before this crazy story leaked! Fire the equipment manager!
There are more layers to this story than a nacho dip on Super Bowl Sunday. As people who have never played NFL football, we will never understand what goes on in an NFL locker room, and that's probably for the better. Likewise, I don't think we'll ever learn the full story here, and innocent people like Philbin (it seems like he is the monkey in the middle) are going through hell.
The Dolphins are going to win this game. Handily. The Bucs are a horrendous football team that just had their hearts ripped out on the West Coast, and are deservedly 0-8.
Fantasy: Ryan Tannehill is a really sneaky play this week if you're desperate. The Bucs are 22nd in pass defense DVOA (10.9 percent), and I think Philbin wants to win this game by double digits.
Carolina (+6.5) @ San Francisco
Denver (-7) @ San Diego
The Panthers (3rd, 26 percent) rank three spots higher in total DVOA than the Niners (6th, 17.3 percent) in total DVOA, which leads me to believe this line should be closer to a field goal. The public bettors want to see Carolina beat a "real team" before they trust them though, but we know that it's important to stay ahead of the curve.
Carolina's defense (3rd in DVOA, -13.6 percent) is fantastic, and if they played in a major city we would hear about them every week on NFL Sunday Countdown. I'm glad that they've stayed under the radar, because it's allowed them to go 5-3 ATS, and 3-1 ATS on the road.
Denver remains the best team in the league (1st in total DVOA, 41.1 percent), while San Diego ranks 15th (-1.5 percent) and 32nd on defense (22.2 percent). I'm not sure how the temporary loss of John Fox will affect the Broncos, but I am very confident that Peyton Manning can beat any team with two weeks of preparation, let alone the worst defense in the league.
Fantasy: Mario Manningham was activated this week for the Niners. I don't believe he will have an immediate impact, but if you have a deep bench then he could be an interesting stash for the playoffs.
Houston @ Arizona (-3)
My thoughts and prayers are with Gary Kubiak and his family. His sudden illness appears to have had adverse affects on the Texans, but with respect to the situation I'd like to just leave it at that for now.
Fantasy: Am I the only one that got really excited when Dennis Johnson was in the backfield on Sunday night? I thought Johnson looked really explosive, and if Ben Tate suffers some kind of injury, he could be a really useful fantasy plug-in.
Dallas @ New Orleans (-7)
Since 2009, in seasons where New Orleans made the playoffs, the Saints have been favored by a touchdown or more at home six times against opposing teams that also ended up making the playoffs. In those games, the Saints are 5-1 ATS, outscoring their opponents by a total of 200-110.
Drew Brees and the Saints were punched right in the mouth last week by my Jets, and I'm confident that they will bounce back against the 18th-ranked defense DVOA (0.9 percent). Darren Sproles, who was knocked out of the Jets game in the first quarter with a concussion, has been cleared to play against America's team, and he gives the Saints a much-needed lift on running downs because he can move the ball in a variety of ways.
Mark Ingram on the other hand is just wasting a roster spot.
Fantasy: At the end of the year, I wouldn't be surprised if Jimmy Graham was the most popular player among teams that win fantasy championships. Graham is on pace to catch 98 passes for 1,492 yards and 20 touchdowns. That's simply ridiculous.
Last Week: 5-8
Season: 58-71-4
Teams on Bye: New York Jets, New England Patriots, Kansas City, Cleveland
Get all the latest PokerNews updates on your social media outlets. Follow us on Twitter and find us on both Facebook and Google+!