Pigskin Diaries Presented by DraftKings Week 7: Winner Winner Chicken Dinner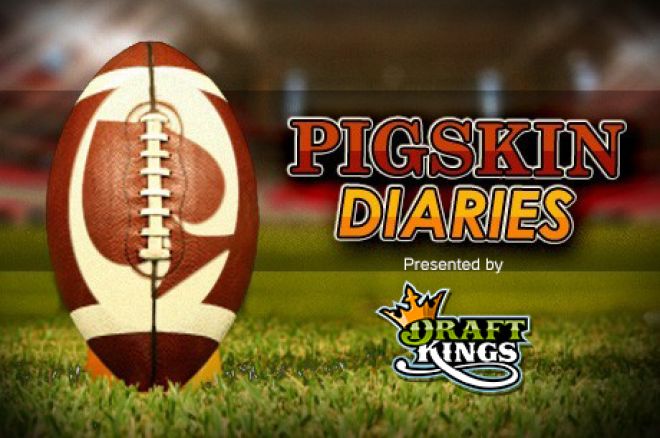 We did it! We booked our first winning week of the season! The sixth time's the charm!
In last week's edition of the Pigskin Diaries I told you that I was confident about our selections, and if the Patriots didn't put together a miracle comeback, we would've won one more game. Such is life.
The Week 7 slate isn't as friendly as last week, but the more information we receive from the teams, the more we learn about them. Carolina's defense continues to look impressive (third in DVOA), and if Ron Rivera remains aggressive, then the Panthers will perform very well against the spread in the weeks to come.
San Diego and Philadelphia both won outright in Week 6, and are similarly unique squads. Both teams sport a very strong offense (the Chargers rank fourth in DVOA, the Eagles second), but both teams also struggle mightily on defense (the Chargers rank 32nd in DVOA, the Eagles 30th). Against teams that struggle to move the ball, San Diego and Philadelphia are interesting plays. On Monday Night Football, when the Colts refused to challenge the Chargers vertically, San Diego was able to sneak away with a win. In Tampa Bay, against a rookie quarterback, the Eagles were totally in control.
As for teams to avoid, the winning team with the worst total DVOA is the 5-1 New England Patriots (13th, 8.8 percent). The other four teams with one loss or fewer all rank in the top four:
| Rank | Team | Total DVOA |
| --- | --- | --- |
| 1 | Denver | 46.6% |
| 2 | Seattle | 34.3% |
| 3 | Kansas City | 25.6% |
| 4 | New Orleans | 19.5% |
All DVOA statistics are courtesy of Football Outsiders
New England's offense hasn't rounded into form yet, and until they have a fully healthy Rob Gronkowski, they will be a team to fade.
Satellites for the DraftKings.com[/b] Football Millionaire Grand Final are still running. The winner of this incredible event will take home $1 million of the $3.1 million prize pool, and you can qualify for as little as $2. Most of the regularly scheduled events, like the weekly $250,000 guarantee, also give away tickets to the Grand Final to the top finishers. If you're like me and are struggling with injuries in season-long leagues, or you're just looking for another sweat on Sunday, DraftKings is definitely the place to be.
As always, my picks include the number and all advanced statistics are courtesy of Football Outsiders.
Seattle (-6) @ Arizona
St. Louis @ Carolina (-6)
Can somebody say two-team tease?
It pains me to lay a combined 12 points right off the bat, but I really like Seattle and Carolina. The Titans threw the kitchen sink at the Seahawks last week, and were even gifted a fluky scoop-and-score when backup holder Chris Maragos (who's actually a free safety) dropped the snap on a field goal attempt, but Seattle still won by a touchdown. The Cardinals' 24th-ranked offense DVOA should be in for a long evening against the Legion of Boom, and unless Patrick Peterson and company force some turnovers, the Seahawks should roll.
The Rams rolled over the Texans in Houston last week, winning 38-13, but take away the 98-yard interception return for a touchdown by Alec Ogletree and the 11-yard fumble return for a touchdown by Daren Bates, and you get a more reasonable 24-13 result. If you examine the box score even further, you'll see that the Rams only had 216 yards of total offense and only 117 passing yards. This type of offensive production isn't uncommon for St. Louis (23rd in offense DVOA), and it will be a deterring factor for them against Carolina.
Also, despite scoring twice on defense in Week 6, the Rams still have the 22nd-ranked defense DVOA. Limiting Killa Cam will be an issue.
Fantasy: The Panthers are the best team in the league against opposing quarterbacks in ESPN standard leagues, so if you've been using Sam Bradford, you might want to look elsewhere.
Cincinnati @ Detroit (-2.5)
How can an offense with A.J. Green, Giovanni Bernard, Mo Sanu, Jermaine Greisham, and Tyler Eifert rank 15th in offense DVOA? Stick Andy Dalton at quarterback.
It is so frustrating to watch the Red Rifle limit the potential of this offense on a week-to-week basis, especially when Cincy's defense (sixth in DVOA) is capable of stopping anybody.
The Bengals defense will have to put in some extra work this week to stop the Lions offense (11th in DVOA). Reggie Bush is back and fully healthy, and so too is Calvin Johnson, but who needs those guys when you have Joseph Fauria scoring three touchdowns a week.
Fantasy: On a serious note, Fauria isn't relevant in fantasy. If you have him on your roster, trade him. If he's a free agent, don't blow your FAAB on him. He's the 2013 version of Scott Chandler or Marcedes Lewis.
Buffalo (+8) @ Miami
San Diego @ Jacksonville (+7.5)
Tampa Bay (+7) @ Atlanta
So we have a 3-3 team ranked 16th in total DVOA, a 3-2 team ranked 25th in total DVOA, and 1-4 team ranked 19th in total DVOA favored by a combined 22.5 points.
Buffalo ranks nine spots higher than Miami in total DVOA, and Thad Lewis looked very competent last week. If his foot sprain is a minor injury – he says it won't limit him – then his speed and ability to run read option plays will create holes for Fred Jackson and CJ Spiller. The Dolphins rank 28th in defense DVOA and 26th in rush defense DVOA.
The Jaguars remain the worst team in the league, ranking 32nd in total DVOA (they are 29 percentage points below the 31st-ranked Giants), but this game has "trap" written all over. The Chargers just won a big home game on Monday Night Football, and now have to travel three hours ahead on a short week. In the last decade, San Diego is 4-9 ATS when favored on the East Coast.
As for the Falcons, you all know how I feel about them. With the 31st-ranked defense DVOA, they shouldn't be touchdown favorites against anyone not named the Jacksonville Jaguars.
Fantasy: I hope you snagged Justin Blackmon when I told you to. The Jags will continue to feed him going forward, and hopefully it will open up opportunities for Cecil Shorts as well. Spiller owners who remained patient are welcome as well.
Chicago (+1) @ Washington
Washington ranks 30th in total DVOA, and 26th in defense DVOA, while Chicago is sixth in total DVOA and ninth in offense DVOA. This line is mind-boggling to say the least – did Robert Griffin III reinsert the read option into the offense during the bye week?
The Bears defense isn't the dominant force it was in 2012-13, and the team is still too reliant on turnovers, but the offense is taking off under new head coach Marc Trestman. I can't wait to see DeAngelo Hall try and cover Brandon Marshall.
Fantasy: With Jay Cutler throwing the ball all over the yard, Alshon Jeffrey and Martellus Bennett are becoming more and more valuable. Don't let Jeffrey's one-catch performance deter you – Cutler missed him on two long throws that both could've resulted in touchdowns.
DraftKings Value Plays
Each week in the Pigskin Diaries, I bring you 10 players who I think are undervalued in DraftKings. These players may not be the best at their position on a week-to-week basis, but because of their match up and their price this week, I think they're solid selections. Picking these value plays will save you money for other positions if you wish to purchase a few stud players.
As always, these players are ranked by price.
| Position | Player | Opponent | Salary |
| --- | --- | --- | --- |
| RB | Matt Forte | Washington | $7,600 |
| QB | Eli Manning | Minnesota | $6,600 |
| WR | Alshon Jeffrey | Washington | $5,800 |
| QB | Mike Glennon | Atlanta | $5,400 |
| RB | Maurice Jones-Drew | San Diego | $5,300 |
| TE | Jordan Cameron | Green Bay | $4,900 |
| TE | Charles Clay | Buffalo | $4,500 |
| WR | Rueben Randle | Minnesota | $4,300 |
| WR | Jerome Simpson | New York Giants | $3,300 |
| DST | Buffalo | Miami | $3,000 |
Matt Forte: The Redskins have given up the third most points per game to apposing running backs in ESPN standard scoring and rank 25th in rush defense DVOA. Grabbing Forte will give you elite production while saving you $1,000 to spend elsewhere.
Eli Manning: The younger Manning has scored more points per game on DraftKings this season than Colin Kaepernick, Tom Brady, and Dalton. The Vikings have given up the sixth-most points to opposing quarterbacks in ESPN standard scoring leagues.
Alshon Jeffrey: Jeffrey nearly missed two long touchdowns last week, and with Marshall opposite of him, the second-year man out of Auburn will continue to see softer coverage.
Mike Glennon: Glennon is the cheapest starting QB available, and he's playing against the 32nd-ranked pass defense DVOA.
Maurice Jones-Drew: If there was ever a week for Jones-Drew to get his mojo back, it would we Week 7. San Diego ranks 32nd in defense DVOA and 29th in rush defense DVOA.
Jordan Cameron: Cameron has been an absolute beast, and I don't think the quarterback situation in Cleveland should negatively affect him.
Charles Clay: If you don't trust Cameron without Brian Hoyer, then Clay is an excellent buy at this value.
Rueben Randle: This might be the last week you can snag Randle for less than $5,000. Next week, his hype may be through the roof and/or Hakeem Nicks may be on another team.
Jerome Simpson: When he's good he's great, and when he's bad he disappears. If you're looking for a Hail Mary, Simpson is you guy.
New England @ New York Jets (+4.5)
The Patriots will not be able to rely on their running backs to carry them in this game. Gang Green ranks No. 1 in rush defense DVOA, while they are only 16th in pass defense DVOA. In the first meeting between these two teams, New England struggled to move the ball, but the Jets gave up a long touchdown to Aaron Dobson thanks to broken coverage.
The biggest X-factor in the game was Geno Smith, who threw three interceptions. If he players like he did in that Thursday night game, or like he did last week against Pittsburgh, then the Patriots could win by two touchdowns. If he plays like he did against Atlanta or Buffalo, then the Jets could win outright.
Fantasy: Mike Goodson's injured his knee last week and is out for the season, which is bad news for the Jets. For fantasy owners, they now have a little more clarity with regards to the New York backfield. Bilal Powell will continue to receive the majority of the carries, while Chris Ivory will be used as a spell back.
Dallas @ Philadelphia (-2.5)
Don't look now, but if the Eagles win this game they'll be in first place in the NFC East. Yes, I still believe in Chip Kelly, even with Nick Foles at quarterback.
Fantasy: Start everybody. The Cowboys have given up the most points to opposing quarterbacks in ESPN standard scoring leagues and the Eagles have given up the most points to apposing wide receivers. Again, start everybody.
Houston (+6.5) @ Kansas City
Cleveland (+10) @ Green Bay
The Packers have the 25th-ranked defense DVOA, while the Browns come in at No. 16. Cleveland has scored an average of 25.5 points per game since Week 2, and I think 20 points will be enough to stay within 10 of Green Bay, who have only averaged 20.5 points per game since their Week 4 bye and no longer have Randall Cobb at their disposure.
Additionally, the better Eddie Lacy looks the more balanced the Packers offense will become. Mike McCarthy isn't worried about beating teams by double digits, he's more focused on keeping his defense off of the field and simply winning games.
The Houston pick is purely a gut feel, nothing more and nothing less. Neither T.J. Yates nor Case Keenum are much of a downgrade from Matt Schaub, and the Texans defense (15th in DVOA) is more than capable of creating a few turnovers against Mr. Check Down Alex Smith. Don't forget that this Houston team took Seattle to overtime two weeks ago.
This has all the makings of a classic 'We Wrote That Team Off Too Early' game, and I wouldn't be shocked if Houston won outright.
Fantasy: I've never been a big Josh Gordon fan, but in his four games this season he's averaging 6.25 catches, 107.25 yards and .5 touchdowns. Cleveland will most likely be playing from behind, giving Gordon even more opportunities to make some noise.
San Francisco @ Tennessee (+4)
Baltimore (+1) @ Pittsburgh
The Titans are scrappy, and I love scrappy home dogs. With the 11th-ranked defense DVOA, Tennessee should be able to hold their own against Colin Kaepernick, so it will be up to Ryan Fitzpatrick to make some plays on the other side of the ball. In two games he has four interceptions and only one touchdown, but those two games were against Kansas City (first in defense DVOA) and Seattle (second in defense DVOA).
The Niners are still tough (10th in defense DVOA), but I expect Fitzpatrick will have a better game this week.
As for the second game, the Steelers are a terrible football team. They finally snuck out a win against a rookie quarterback, but that doesn't mean they should be favored at home against anybody. Are we already forgetting that they gave up 74 points in consecutive weeks to Chicago and Minnesota before their bye?
Fantasy: With that being said, Antonio Brown will continue to have nice value, especially in PPR formats. Brown is averaging 8.2 catches per game on 10.6 targets per game, but he hasn't reached the end zone since Week 3.
Denver (-6.5) @ Indianapolis
This game is already overhyped, but what a cool matchup. According to ESPN's Trey Wingo, it's the first time in the common draft era that two quarterbacks taken with the first overall pick by the same team will play against one another. Denver remains the No. 1 team in total DVOA with an incredible rating of 46.6 percent, and they are clearly the No. 1 team in offense DVOA at 46.7 percent. On defense they are a bit shaky, ranking 23rd in DVOA.
The Colts need to become more aggressive on offense. They currently rank fifth in offense DVOA, but they are tied with the Titans for the 23rd-most pass attempts in the NFL (189). Rookie Geno Smith has attempted more passes than Andrew Luck. That's poor managing.
Against the Broncos, Luck will need to pass the ball downfield because A) that's Denver's weakness and B) Peyton Manning is going to score a lot of points. The Colts can't play conservatively against Denver and expect to eek out a victory.
It will be interesting to see how Manning will be welcomed back. The Indy faithful should shower him with love and affection, but with Jim Irsay at the helm, you never know what's going to happen.
Fantasy: If you can, now is the time to buy low on T.Y. Hilton. If the Indy offense begins to expand, he will be their number one downfield playmaker.
Minnesota @ New York Giants (-3.5)
THE 1-4 MINNESOTA VIKINGS COME TO TOWN TO FACE THE 0-6 NEW YORK GIANTS! IT'S A CLASH OF TERRIBLE TEAMS ON MONDAY NIGHT FOOTBALL! DUH DUH DUH DUHHHHHHHHHHH!!!
Fantasy: I mentioned this in the value plays section, and I'll say it again: Eli Manning is a sneaky play this week against Minnesota's 27th-ranked defense DVOA.
All spreads are courtesy of Covers.com, and are accurate as of 12:00 p.m. EDT on Thursday Oct. 17
Last Week: 8-7
Season: 40-48-4
Bye: Oakland, New Orleans
Get all the latest PokerNews updates on your social media outlets. Follow us on Twitter and find us on both Facebook and Google+!