Pigskin Diaries Presented by DraftKings Week 3: Dog Days of Summer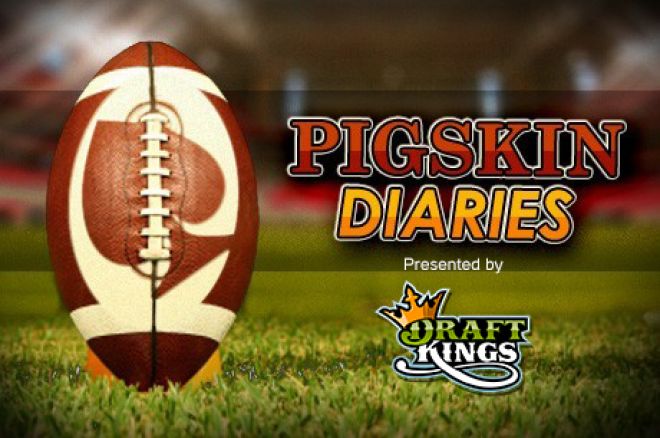 Fall officially starts on Sunday, Sept. 22, and in the first two weeks of the NFL season — the last two weeks of summer — underdogs are 17-14-1 (54.7%) against the spread (ATS). In 2012, underdogs were 132-118-4 (52.8%) ATS.
Now, we're not going to go willy-nilly picking every underdog on the slate — in fact, we're split 50/50 this week — but dogs continue to perform well and the public tends to dislike betting underdogs. We all love the Brady's, Manning's, and Rodgers' of the world.
This week there are two massive underdogs, which are pretty obvious mistakes, yet the public won't bet on them because they are very bad teams. They also play two very good, public teams that might meet in the Super Bowl.
As always, the advanced statistics are courtesy of Football Outsiders. All ATS statistics are courtesy of Pro Football Reference and use closing lines.
Don't forget to head on over to DraftKings.com to play in great daily fantasy games like the $109 entry NFL Sunday 2nd Chance. The 2nd Chance offers a $250,000 guaranteed prize pool and a first place prize of $100,000, and your's truly cashed last week. The winner also receives entry into the Football Millionaire Grand Final, where the winner will take home $1 million of the $3.1 million prize pool.
Kansas City (+3) @ Philadelphia
I continue to be all in on Chip Kelly, but I am officially all out on Eagles defensive coordinator Bill Davis. After Philly kicked the game-tying field goal last week with just less than two minutes remaining, there was no doubt in my mind that the Chargers would walk down the field and win the game. Around 100 seconds later, Nick Novak drilled a game-winning 36-yard field goal.
Philly has given up 60 points in two games, and while it's fair to say Washington's offensive production came in "garbage time," San Diego could've scored 50. The Chargers fumbled the ball twice in the red zone (once on the Philadelphia 24-yard line, the second on the eight-yard line) and the Eagles recovered both times. Defensive back Carey Williams is a huge problem in the secondary, and is a major reason why Philip Rivers and company were 10-for-15 on third down.
The Chiefs have gotten off to a slow start offensively, but their defense has played awesome thanks to guys like nose tackle Dontari Poe, and Andy Reid should know a thing or two about exploiting this terrible Philly defense.
Fantasy: Vick owners should look to move him immediately. He took a vicious hit near the end of the game, forcing Nick Foles to take a snap, and there are only more shots to come.
Green Bay @ Cincinnati (+3)
Since drafting Andy Dalton, the Bengals are 2-2 ATS at home when getting a field goal or more. In the two games they covered, they won outright.
Since 2009, the Packers are 5-4 ATS on the road when laying 3-4 points, and one of those games featured the infamous "Fail Mary."
None of those stats wowed me either, so I searched Pro Football Reference for games in the last decade featuring two playoff teams - I think it's a fairly safe assumption that both Cincy and Green Bay will make the playoffs — where the home team was getting three points. Underdogs are 14-11 ATS. If you change the spread to 3-4 points, the record increases to 21-13 ATS.
I'm not in love with this pick, and won't have action on it unless it moves, but give me the home dog.
Fantasy: James Starks will be a nice plugin for the concussed Eddie Lacy, but Starks has a history of injuries as well. Don't expect him to be carrying your team to the playoffs unless you're in a really deep league.
St. Louis (+4) @ Dallas
Under Jeff Fisher the Rams are 11-4 ATS as underdogs. If you use the opening line from last week's Atlanta game and not the closing line, they are 11-3-1 ATS as underdogs.
Somehow, Chris Long is no longer the best pass rusher on St. Louis, as Robert Quinn has been an absolute beast in the first two games of the season. Football Outsiders rank him as the 10th-best defensive end in terms of yards per play, and the 19th-best defensive end in terms of stop rate (91%). Rookie linebacker Alec Ogletree is also playing at a high level, and seems to have transitioned nicely from the University of Georgia to the NFL.
I still have my questions about Sam Bradford, but the overall idea of having small quick receivers who can catch the ball in space and make things happen is interesting. I also suspect Jared Cook, who had one more catch than I did last week, will contribute much more in Big D.
Moreover, prior to their Week 1 slop-fest with the Giants, the Cowboys hadn't covered as home favorites since November of 2011. America's Team is 3-12 ATS in their last 15 attempts.
Fantasy: Was that Fisher "unleashing" Tavon Austin, or two lucky red zone targets? I love Austin's athleticism and Bradford wants to get him the ball, targeting him 12 times against Atlanta. Austin is a FLEX for me in PPR leagues and a WR3 in standard leagues, but he has the potential to be a WR2 in both by season's end.
Tampa Bay (+7) @ New England
Ten days of preparation aren't going to magically heal Danny Amendola's groin, and even if Rob Gronkowski plays, he won't be at full strength. These two players are very valuable to Tom Brady, especially on third down where he was 4-for-18 against Gang Green last week.
According to Grantland NFL writer and all-around football whiz Bill Barnwell, Brady was 7-for-8 on third downs in week one when targeting the aforementioned Amendola. Say what you want about the oft-injured pass catcher, but he is paramount to the Patriots attack.
New England should have a little more success running the ball this week (the Jets rank number one in rush defense DVOA), but not much. Tampa Bay has a stout front seven, with backers like Mason Foster and Lavonte David able to move from sideline to sideline effectively.
Josh Freeman is a concern, but Doug Martin should be able to make some plays against an average New England rush defense and Vincent Jackson can make things look easy for any signal caller.
Fantasy: My rankings of Patriots receivers for the rest of the season in both PPR and non-PPR leagues: Julian Edelman, Aaron Dobson, Amendola, and Kenbrell Thompkins. Thompkins may finish with more points because of Amendola's injury, but his upside is worth owning him over Thompkins. By all accounts, outside of the Thursday night game, Dobson has excellent hands. When he's not on national television he'll do just fine.
Cleveland @ Minnesota (-6.5)
Despite his struggles, this downfield offense is going to really help Brandon Weeden in the long run. So too will the return of receiver Josh Gordon from suspension.
Wait, what's that you say? They benched Weeden for career backup Brian Hoyer?
Oh, well at least they have Trent Richardson to help control the clock and matriculate the ball up field. The second-year back has struggled in these first two games, but he had three 100-yard performances last year, including one against the Super Bowl champion Ravens.
What's that you say? The Browns traded Richardson, the guy they spent a third overall draft pick on, for a first-round pick in 2014 that is likely to be in the 16-22 range?
Well then. Um. Jordan Cameron is pretty good, right?
Fantasy: Willis McGahee is 31 years old and far from flashy, but a starting running back is a starting running back. Roster him if you can and we will evaluate it going forward.
Houston (-2.5) @ Baltimore
The Texans are 0-2 ATS thus far, and had to really scrap to get their two wins, but I still believe in their talent on both sides of the ball. Even though this is a passing league, Houston needs to focus more on their running attack for the simple reason that it's that damn good. Arian Foster is only averaging 3.7 yards per carry, but thanks to a few long runs, Ben Tate is sitting at 8.2 yards per clip. If Houston always has a fresh back in the game, they can rip off meaningful yards at will. Foster and Tate also create more opportunities for play action, which helps Matt Schaub tremendously.
In the preseason, I thought that Gary Kubiak might try to incorporate more of a downfield attack to modernize the offense, but from the first two games it's clear that the team needs to run the ball. Schaub isn't terrible, and the pick-six wasn't his fault (rookie DeAndre Hopkins made the wrong pre-snap read then made up for it with the game-winning touchdown), but he's not a guy you want throwing the ball 50 times a game.
Against lesser offenses, Houston will be fine, and Baltimore has a below average attack.
According to Football Outsiders, the Ravens rank 20th in offense DVOA and, even worse, 25th in rush offense DVOA. If they are without Ray Rice (didn't practice on Wednesday), the offense will struggle even more. This feels like a classic Houston grind fest with a 28-10 final score.
Fantasy: If Bernard Pierce wasn't drafted, please sent me an invite to your league for next season. Then pick him up. Houston's run defense is strong, but if Rice's injury lingers, Pierce has top 15 potential based purely on opportunity.
New York Giants (+1) @ Carolina
That should probably read "Eli Manning's Seven Interceptions (+1) @ Ron Rivera's Terrible Coaching Decisions."
While people are freaking out about Peyton Manning and Eddie Royal breaking the touchdown record at their respective positions, the countdown is on for Eli to break the all-time interception record. In 1962, 35-year old George Blanda threw 42 interceptions during a 14-game season (three per game). Inexplicably, the Houston Oilers still went 11-4 and made the playoffs, where they lost 20-17 against the Dallas Texans in double overtime. No other player has ever thrown for more than 34 interceptions in a single season, and the last player to throw 20 or more was, you guessed it, Eli Manning (25 in 2010).
From this point forward, Eli has to average 2.5 interceptions a game to match the record, but I doubt he'll throw many this week.
Carolina safety Charles Godfrey is out for the season with a torn Achilles and fellow safety Quintin Mikell and cornerbacks DJ Moore, Josh Norman, and Josh Thomas could all miss Sunday's game. This spells trouble for Carolina's already depleted secondary, and after the team's collapse last week in Buffalo, team morale can't be too high.
I suspect that the Giants might make a mockery of the Panthers and leave Rivera jobless after Carolina's Week 4 bye.
Fantasy: Cam Newton owners must stay patient. You're getting no value for him if you trade him now, and playing from behind against the Giants is a good formula for racking up points.
Detroit (-2.5) @ Washington
Robert Griffin III has put up two fantastic garbage time performances, while the Redskins offense has scored zero points in the first half this year. Zero.
That kind of performance might fly against the Eagles and Packers, two teams without a great front four, but the Lions front four are effective against both the pass and the run, ranking third in adjusted line yards. The Washington offensive line ranks 30th in adjusted line yards.
The Lions looked awesome in the first half of their Week 2 game against Arizona, but the Cardinals defense, which is better than average, made some key second half adjustments and were able to come back. I have high hopes for Matthew Stafford and friends, who should have no problem slicing and dicing Washington's 32nd-ranked defense DVOA.
Fantasy: Barring his own injury, Joique Bell is a FLEX start for the rest of the season with RB2 upside.
Top 10 DraftKings Value Plays
Two of my top 10 value plays last week, Vick and McCoy, helped me cash in the $250,000 guarantee. Ace Sanders and Maurice Jones-Drew did not. Let's see if we can find a few more diamonds in the rough this week.
| Player | Position | Opponent | Price |
| --- | --- | --- | --- |
| Colin Kaepernick | QB | Indianapolis | $8,800 |
| Eli Manning | QB | Carolina | $8,100 |
| Frank Gore | RB | Indianapolis | $5,400 |
| Kendall Wright | WR | San Diego | $4,600 |
| Andre Roberts | WR | New Orleans | $4,400 |
| David Wilson | RB | Carolina | $4,500 |
| Charles Clay | TE | Atlanta | $4,200 |
| Jordan Reed | TE | Detroit | $3,500 |
| Jets | DST | Buffalo | $3,000 |
| Willis McGahee | RB | Minnesota | $3,000 |
Colin Kaepernick: Arguably the best dual threat quarterback in the NFL against a below average rush defense traveling across the country. He may not have a performance like he did in Week 1, but Kap is has the potentially to ball out this weekend.
Eli Manning: For all of the reasons listed above. Carolina's secondary is in trouble.
Frank Gore: Gore is the 20th-most expensive player with arguably the best match up. He will be on all of my teams on DraftKings this weekend.
Kendall Wright: I believe in the talent, and with Britt fading, the opportunity is there. The Chargers giving up points in bunches thus far.
Andre Roberts: The Cardinals may be playing catch up in this one, and Roberts has more targets (17) this year than Reggie Wayne ($6,900), Miles Austin ($5,000), Mike Wallace ($5,800), and Stevie Johnson ($6,000).
David Wilson: Do the right thing, Tom Coughlin.
Charles Clay: Clay has 13 targets in two games, which he's turned into 10 catches for 163. That's 17.7 points per game in DraftKings scoring.
Jordan Reed: Reed's success is RG3's favorite tight end on the roster, and caught a red zone touchdown in Week 2. This is definitely a homerun, but if you want to spend money elsewhere I can see gambling on Reed.
Jets: Call me a homer, but the Jets DST for the minimum price is crazy.
Willis McGahee: If he plays, he's worth the risk, but I suspect tons of teams will play him.
Arizona (+7) @ New Orleans
Indianapolis @ San Francisco (-10)
Not all big underdogs are the same. The Cardinals have an average to above-average defense and can move the ball when Carson Palmer isn't doing Carson Palmer things. The Colts have a below average defense (30th in rush defense DVOA) and will have to move the ball against a motivated, tough San Francisco defense.
I'm also not sure how much the addition of Trent Richardson will help because he only has two days to practice.
Indy shouldn't be focused on Richardson though, they should be finding ways to double and triple team Aldon Smith. Andrew Luck has already been knocked down 14 times and Colts left tackle Donald Thomas is out for the year after tearing his quadriceps. Luck is a very effective passer, but remaining upright is a major concern for the Colts this week and for the rest of the season.
Also, including the playoffs, the Colts are 1-4 ATS with Luck when getting a touchdown or more. Their offense screams "backdoor cover," but the numbers don't.
I'm still lukewarm on New Orleans, a team that hasn't looked very explosive the past two weeks. Seven points seems a bit too high against a very competent team.
Fantasy: Mark Ingram is more useless as a real life running back than he is as a fantasy running back. You can drop him in all but the deepest of leagues.
Jacksonville (+19) @ Seattle
Oakland (+14.5) @ Denver
Speaking of big underdogs…
Take a deep breath, hold your nose, and take the points. Since the merger, road teams getting 14.5 points or more are 75-53-3 ATS (58.4%). When getting 19 points or more, they're 10-1 ATS (90.9%).
Fantasy: Start your Seahawks. Start your Broncos. Rinse. Repeat.
San Diego @ Tennessee (-3)
Both the Chargers and the Titans are 1-1. If you went into the future, came back, and told me one or both of these teams will finish the season with five wins, I wouldn't be shocked. Likewise, if you told me one or both of these teams will finish the season with 10 wins, I wouldn't be shocker.
During their peaks, Philip Rivers and Jake Locker can be effective NFL quarterbacks. During their valleys, they're awful.
The Titans get the nod because, in the last six quarters of play, San Diego has allowed 54 points. Meanwhile, Tennessee ranks sixth in defense DVOA and seventh in pass defense DVOA. Kendall Wright is shouldering the load at receiver while Kenny Britt continues to disappoint, and Chris Johnson looked like he was one move away from breaking a big one several times last week against a really good defense.
I am personally going to avoid this game and use it for evaluating the two teams going forward.
Fantasy: If Locker remains competent, Wright is a legit WR3 going forward. As for Eddie Royal, tamper your expectations. He's averaging a touchdown for every 2.8 targets, while only Gronkowski averaged less than eight targets per touchdown among players who reached the end zone 10 or more times in 2012. Since ESPN started recording targets in 2006, only Antonio Gates (66) and Reggie Williams (60) have scored double-digit touchdowns with less than 70 targets.
Atlanta @ Miami (-1)
If I were to rank these games with confidence, this would right below the Titans/Chargers game at No. 16.
My negative Falcons bias and my deep-rooted hate for the Dolphins aside, I can't handicap this game for the life of me. Miami played incredible on defense during Week 1, led by a hell of an effort by Cameron Wake, but then he disappeared against a terrible Colts offensive line. I want to believe in their front seven, but if your best pass rusher can't touch Luck, then you might have some problems.
The main reason I am picking the Dolphins is because the Falcons were hit with other key injury. Sean Weatherspoon was placed on the short-term injured reserve, and isn't allowed to return until Week 11. Without him, the Falcons have very little experience at linebacker, and thus far have been unable to generate a pass rush of their own.
Running back Steven Jackson has also been ruled out for Week 3, leaving Jason Snelling and Jacquizz Rodgers to pick up the slack. For an "all-in season," the Falcons aren't off to the best of starts.
Fantasy: In a standard league, I prefer Snelling over Rodgers. In a PPR league, I prefer Rodgers. In Week 3 of the NFL season, I'd prefer not starting either player.
Buffalo @ New York Jets (-2.5)
In 2012, New England ranked fourth in rush offense DVOA and Tampa Bay ranked 10th. In two games in 2013, the Jets have given up a combined 119 yards to these two teams.
Buffalo ranks fourth in the league in rushing yards (285) and fourth in the league in attempts (67). They rank 24th in pass attempts (66). If you are going to beat the Jets, you have to pass the ball effectively, and I don't think that EJ Manuel is ready to throw for 300 yards against a Rex Ryan-coached defense. According to ESPN Stats & Information, rookie quarterbacks who started and finished the game are 5-2 against the Jets since 2009, scoring just 16.6 points per game.
The Jets will continue to try and establish a running game with Bilal Powell, Chris Ivory, and even Geno Smith, which could be very effective against Buffalo's 23rd-ranked rush defense DVOA.
Fantasy: All Stevie Johnson does is produce. He is perhaps the most reliable WR2 in the history of fantasy football. In three years as a starter, he's averaged 79 catches (82, 76, 79) for 1,041 yards (1,073, 1,004, 1,046) and 7.6 touchdowns (10, 7, 6). In 2013, he's on pace to have 88 catches for 1,200 yards and 16 touchdowns. Even with some presumed regression in the latter two categories, it looks like another solid season for Mr. Johnson in Buffalo.
Chicago (-2.5) @ Pittsburgh
This line will probably move to three or higher as the game gets closer. Most people watched the Steelers on Monday Night Football, and very few of them will want to bet on them. The Bengals put on a very mediocre performance, led by Andy Dalton's nothingness, and were still in control for the majority of the game.
Jay Cutler may end up doing Jay Cutler things, but I trust the Bears defense to give Ben Roethlisberger and company nightmares.
Fantasy: Martellus Bennett may not score every week, but he's a big physical target. Cutler loves guys like that, and will keep feeding him the rock.
Last Week: 7-8-1
Season: 13-17-2
All spreads are courtesy of Covers.com, and are accurate as of 12:00 p.m. EDT on Thursday Sep. 19.
Get all the latest PokerNews updates on your social media outlets. Follow us on Twitter and find us on both Facebook and Google+!