Pigskin Diaries Presented by DraftKings Week 1: The National Football League is Back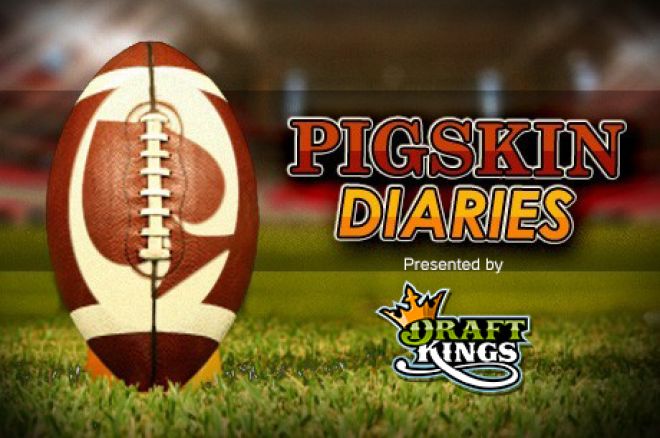 The wait is over.
On Thursday night, the Denver Broncos and the Baltimore Ravens will kick of the 2013-14 National Football League season, the most anticipated season since 2012-13. The NFL has certainly become a year-long sport, but finally, we can stop talking about nonsensical training camp stories and preseason projects. It's time to play the game.
With the regular season upon us, it's time for the Pigskin Diaries to shift its attention upon picking games against the spread (ATS). Last year, our record was 137-115-4 (54.3%), nearly two full points ahead of the 52.4% win rate needed to profit. This year I'm back to try and improve upon that number if we can, using a combination of awesome advanced stats by the geniuses at Football Outsiders and all-22 coaches film. I've always thought that the best analysis was a good mix of film and numbers.
Along with the picks, I will be bringing you fantasy advice. This year we're sponsored by the good folks over at DraftKings.com, who are is blowing the doors off of daily fantasy sports, offering a $1 million guarantee called the Kickoff Million this weekend. The $200 contest features unlimited entries for users who like to submit multiple teams, and the winner will take home $150,000. The top 10 finishers are all guaranteed a minimum of $5,000.
If you can't afford to play in the Kickoff Million, or are unfortunately unable to win your entry fee in one of the many baseball satellites running now, then hop into the $11, $100,000 guarantee Hail Mary or the $2, $30,000 guarantee Play-Action.
I will be putting together a team for the Kickoff Million – which I will tweet on Sunday — and I will list some of my DraftKings value picks in a bit. For now, let's get to the first game of the season between the Broncos and the Ravens.
Baltimore (+7.5) @ Denver
Eat your heart out, Christian Harder, and any other Ravens fan who hates it when I rag on their Muppet of a quarterback Joe Flacco. While I admit that Flacco is better than I tend to give him credit for, he's no Joe Cool or anything. In 2012, Flacco finished the regular season ranked 17th in defense-adjusted yards over average (DYAR) and defense-adjusted value over average, making him a below average quarterback according to Football Outsiders.
Alex Smith and Sam Bradford both finished the season ranked higher in both categories. Flacco has never ranked higher than 15th in DVOA in his whole career.
Let me get off of my Flacco high horse though and focus on the game. The Broncos were 6-2 ATS at home last year, 3-1 ATS when favored by more than a touchdown at Mile High, but lost outright as 9-point favorites against the Ravens in the divisional round of the playoffs thanks to Rahim "The Dream" Moore. Now, while both teams look very different, the line remains heavily in favor of Denver.
I love Baltimore's offseason moves, and not just because they drafted Aaron Mellette, the second player to ever be drafted from my beloved Elon University. Ravens general manager Ozzie Newsome, who has now constructed two Super Bowl winning teams, got rid of the dead weight (Ray Lewis and Ed Reed), avoided resigning overvalued players (Paul Kruger and Dannell Ellerbe), and brought in a wealth of talent on defense (Daryl Smith, Chris Canty, Elvis Dumervil, Matt Elam, and Arthur Brown. That's a lot of turnover for a team that just hoisted the Lombardi Trophy, but Newsome realized that he had an emotional window to start rebuilding and grabbed it. Kudos.
The Broncos added a few players, including Wes Welker, and lost a few, including the aforementioned Dumervil, but their team remains generally intact. Entering the opening game of the season though, they will be without Von Miller (suspension) and Champ Bailey (injury). That hurts.
The Ravens were never touchdown dogs during the 2012 regular season, and in the playoffs they won outright as 9-point dogs in Denver and as 7.5-point dogs in New England. This is too many points for a very capable team.
Fantasy: Is it Ronnie Hillman? Montee Ball? Knowshon Moreno? Are we sure that Mike Shanahan still isn't the coach in Denver? Denver obviously wants Ball to be "the guy," but if he can't pass protect then Moreno will see a good chunk of action. Hillman will be used for a change of pace regardless. None of these guys is a safe bet to give you guaranteed production.
Cincinnati (+3) @ Chicago
Damn you, NFL Films. Damn you and your ability to make us all fall in love with the team featured on HBO's Hard Knocks.
I was very worried that my Hard Knocks bias would cloud my judgment during the first few weeks of the season. That and my passionate love for Geno Atkins, who could very well be a once-in-a-lifetime defensive tackle like Warren Sapp. His ability to provide key run stops while rushing the passer from the inside is incredible.
Thankfully though, the football gods made my decision somewhat easy for Week 1. The Bears were 3-5 ATS at home last year, and one of those covers came in the first week of the season against a greener than green Andrew Luck. It's unlikely that Chicago's defense, which scored eight touchdowns in 2012, is as good as last year. For example, the Bears had 20 fumble recoveries (second most in the NFL), and fumble recoveries tend to regress back to the mean because they are random occurrences. Take away a few touchdowns and turnovers, and suddenly this 10-6 team that spiraled at the end of the season looks a little worse.
The addition of Marc Trestman as head coach is interesting, and I believe that a short West Coast passing game could help Jay Cutler a lot, but he is in for a long day against Cincy's front seven.
Fantasy: Gio Bernard was a sexy preseason sleeper, and could turn into the feature back in Cincinnati quickly, but unless you're playing in a PPR format I wouldn't feel comfortable inserting him into the lineup just yet. BenJarvus Green-Ellis is still a more than serviceable NFL running back who is solid in pass protection, a field that Bernard is still struggling with.
Miami @ Cleveland (PK)
Over the past two seasons, when the Browns weren't getting points at home, they were 2-4-1 ATS. As home dogs, they're 6-3 ATS.
I still don't know if Brandon Weeden can be a competent quarterback (29th in DVOA in 2012), and the absence of Josh Gordon (suspension) will be noticeable, but Trent Richardson and Cleveland's solid defense might be enough to get this one done.
Miami has real concerns on both offensive line and in the secondary. The Dolphins let left tackle Jake Long walk in order to overpay for Ellerbe and Mike Wallace, and hope to plug his gap with Jonathan Martin. While Martin played solid at right tackle during his rookie season, he struggled when filling in for Long at left tackle, registering 7.4 blown blocks in pass protection in just four games.
In the secondary, the Dolphins went from having Sean Smith and Vontae Davis last preseason to now having Richard Marshall and Brent Grimes. Marshall is a 29-year-old coming off of a back injury, and Grimes blew his Achilles heel last season.
The Browns should be favored in this game. Not huge favorites, but favorites nonetheless.
Fantasy: It's finally time to see if the Jordan Cameron hype will come to fruition. He looked great in the preseason, and I was able to snag him late in a few leagues, so hopefully he makes an instant impact.
Seattle (-3.5) @ Carolina
These two teams met in Carolina during Week 5 of the 2012 regular season, resulting in a 16-12 (yes, 12) victory for the Seahawks. The Panthers were favored by two points in the game.
From that point forward, the Seahawks were only dogs four more times in the regular season, going 3-1 ATS. The Panthers were 3-5 ATS at home on the season.
In this spot, the Legion of Boom is favored, and it gives me pause. The Hawks were 2-3 ATS as road favorites in 2012, and one of those covers came against the Buffalo Bills in Toronto. Still, I believe that defense travels, and Seattle sported the fourth-ranked defense according to DVOA (-14.1%) in the league last year.
There are also high expectations for Russell Wilson entering into his second season. He played out of his mind during Seattle's final game of the season in Atlanta for the divisional playoffs, but it wasn't to be as the defense couldn't hold one last time.
For the Panthers, there are so many question marks outside of the quarterback position and the front seven. Who is going to spell DeAngelo Williams while Jonathan Stewart is on the physically-unable-to-perform list? Who is going to catch passes alongside Steve Smith? Can the secondary cover or tackle anybody? Until these questions are answered I have to try and fade Carolina, which hurts because I love me some Cam Newton.
Fantasy: Golden Tate's average draft position never wavered, despite Sidney Rice's mysterious knee surgery. Those of you who snagged him late in your drafts, he could make for an interesting flex play here.
Oakland @ Indianapolis (-9.5)
New England (-9.5) @ Buffalo
Why link these two together, you ask?
We have two very good quarterbacks (yes, Luck is that good) on aggressive offenses playing against horrendous defenses. In 2012, Buffalo and Oakland finished 27th and 29th respectively in defensive DVOA, and neither team has plugged many holes in the offseason. The Bills are still praying for better production from Mario Williams, who played well in 2012 but certainly not well enough to warrant a $100 million deal.
While neither the Pats nor the Colts have particularly great defenses, I think that they can sustain the running attacks that both the Bills and Raiders will throw at then. There is a part of me that is scared to death of both EJ Manuel and Terrelle Pryor, but until I see either of them play at a high level and allow their teams to successfully run the pistol offense, I am going to wager against their horrid defenses.
The points aren't even enough to entice me – when getting 9.5 points or more in 2012, both Buffalo and Oakland were 1-2 ATS.
Fantasy: Ahmad Bradshaw is practicing in full, and is set to start in Week 1. In 2012, the Raiders ranked third on ESPN in most points given up to running backs per game with 18.9.
Minnesota @ Detroit (-5)
The Vikings won 10 games in 2012, 1.2 more than their Pythagorean win total of 8.8. Detroit won four games, 2.4 games less than their Pythagorean win total of 6.4.
One team will likely regress, the other will likely get better. You can guess which is which.
I'm all in on the Lions resurgence, and a lot of it has to do with Reggie Bush. Barring health, which is a very big clause when talking about Bush, he could flirt with 1,300 or 1,400 total yards in this offense and take a huge load off of Matthew Stafford's shoulders. Bush looks two steps faster back on the turf, and after two years on a dismal Miami team, he has to be hungry to perform at a very high level on a potentially great team.
For the Vikings, beyond Adrian Peterson, there isn't much to love. Christian Ponder doesn't excite me, Cordarrelle Patterson is rough around the edges, and Percy Harvin is no more. On defense, Minnesota was ranked 21st in DVOA in 2012, and Jared Allen (31) is getting older and older by the second.
This line should be closer to a touchdown, but I'm happy to lay the five points.
Fantasy: Seriously, in PPR formats, Bush is a top-10 guy this season. Also keep your eyes on Ryan Broyles. If he can wiggle into three wide receiver sets, he could catch a few balls and become Tuesday's most popular waiver claim.
Tennessee @ Pittsburgh (-7)
In the past two seasons, the Steelers are 4-4 ATS at home when favored by a touchdown or more. When favored by 7-7.5 at home, they're 1-1 ATS. During the same time span, the Titans are 1-2 ATS as road underdogs getting a touchdown or more. In the game they covered, they beat the Dolphins 37-3.
Last season, the Titans caught the Steelers on a short week, beating them 26-23 at home during a Thursday night game. As cliché as this sounds, I don't think Mike Tomlin and company have forgotten about that game.
Likewise, Matt Hasselbeck was the quarterback of the Titans at the time, not Jake Locker. Locker, while younger and more athletic than Hasselbeck, isn't as polished, and finished last season ranked 32nd in DVOA.
If Le'Veon Bell was healthy, what would the line in this game be? Nine? Higher? I think the question marks at running back are less important than people think, and I think that Pittsburgh will survive the loss of Mike Wallace.
I'm down on the Steelers a bit in terms of winning the division and making the playoffs, but I have a lot of confidence in them this game.
Top 10 DraftKings Value Plays
We're at the midpoint of this week's picks, so let's take a look at some DraftKings value plays. The following players are listed in order of price from highest to lowest. I will say that this week I am going for homeruns, because I think you'll need to hit a few to win against these huge fields.
| Player | Position | Opponent | Price |
| --- | --- | --- | --- |
| Marshawn Lynch | RB | Panthers | $7,000 |
| Carson Palmer | QB | Rams | $6,600 |
| David Wilson | RB | Cowboys | $5,800 |
| T.Y. Hilton | WR | Raiders | $5,400 |
| Lance Moore | WR | Falcons | $5,200 |
| Terrelle Pryor | QB | Colts | $5,000 |
| Jordan Cameron | TE | Dolphins | $3,700 |
| Buccaneers | DST | Jets | $3,600 |
| Bilal Powell | RB | Buccaneers | $3,300 |
| Zach Sudfeld | TE | Bills | $3,000 |
Marshawn Lynch: Beast mode gets bumped down a bit because DraftKings awards a full point per reception, but he is still a great value as the tenth-rated running back. The Panthers gave up the 11th most points per game to opposing fantasy running backs in ESPN standard scoring leagues last year, and Lynch is an integral part of the Hawks offense.
Carson Palmer: Little bit of a Hail Mary here, but in a tournament like the Kickoff Million, you're going to need to cash in one or two lottery tickets. Bruce Arians will look to drive the ball downfield, and throwing to Larry Fitzgerald helps a lot.
David Wilson: Wilson is the guy in New York, and without Andre Brown (leg) spelling him, he should get a few more looks. The extra work could be detrimental further down in the season, but we're just looking for production this week.
T.Y. Hilton: My love for Hilton is well-documented. I think he's a legitimate WR2 in season-long leagues and a fantastic value this week.
Lance Moore: DraftKings blogger JKD lists Moore as a "longer shot," and I agree. Moore is reliable in this PPR format, so even if he has a bad game he can still get you 10 or so points.
Terrelle Pryor: If the Palmer pick is a Hail Mary, this is the Stanford Band Play. The Colts ranked last in rush defense DVOA in 2012 and seventh in points per game to opposing fantasy running backs in ESPN standard scoring leagues. This is definitely the longest of long shots, but if Pryor works out and you spend the money you saved on him at other positions, your team could post a huge total.
Jordan Cameron: Cameron has a ton of talent and is one of the cheapest starting tight ends available.
Buccaneers: Very good secondary and a very good price against a bad and potentially horrendous offense.
Bilal Powell: Maybe I'm caught up in Powell's season-long value, but I think he could play a starter's roll this week for Gang Green. He's shifty, he's quick, and if he breaks a big one you'll look like a genius.
Zach Sudfeld: Sudfeld is likely to see half of the Pats' offensive snaps on Sunday. That's enough to get me really excited.
Atlanta @ New Orleans (-3)
I don't know if I fully subscribe to an "eff-you" season, as Bill Simmons would put it, for New Orleans, but I do think they have a massive chip on their shoulder. The problem is their defense was very poor last year (last in DVOA), they play in a relatively tough division, and they have to play the NFC West this year.
However, I do believe that the Atlanta Falcons will be the most disappointing team in 2013. Football Outsiders projects them to win 7.6 games, which is shocking, and they're "Super Bowl or bust" mentality is dangerous. Instead of resigning Tyson Clabo, arguably the best player on their below average offense line last year, Atlanta spent money resigning Tony Gonzalez and bringing Steven Jackson aboard.
The Falcons also lack a pass rush, which is almost a necessity for pass-happy teams to protect their leads. Last year a 34-year old John Abraham led the team with 10 sacks. He is now on the Cardinals.
In this game, I like New Orleans to get out to a hot start in pursuit of an NFC South title. While I don't think Rob Ryan's defense will make a leap forward on Sunday, I believe that they can take a few baby steps against Atlanta's porous offense line, and bring Matt Ryan to the ground a few times. A turnover or two could be enough to seal the deal for the Saints.
Fantasy: With the addition of Robert Meachem, the Kenny Stills excitement should tamper a bit. This gives you the opportunity to snag him in drafts (if you haven't drafted yet) or pick him up from waivers if you have a roster spot to burn. Meachem's presence shouldn't eat into Stills' production, as he's younger, quicker, and is important to the development of the offense.
Kansas City @ Jacksonville (+4)
Andy Reid was a great hire. Alex Smith plugged a huge hole at the quarterback position. Jamaal Charles is a top-five talent at running back. Eric Berry is finally healthy again.
THE KANSAS CITY CHIEFS ARE BACK!
While I love these moves, and I think the Chiefs will show a lot of improvement in 2013, this line is Crazy Town, USA. Kansas City hasn't been favored on the road by four or more points since Dec. 23, 2006. In fact, in the last six seasons, they were only road favorites twice.
That's a little more than four percent of road games played.
Wagering on the Jaguars is painful — you'd rather take out the garbage three times a week than wager on the Jaguars — but there is way too much value here to pass up. Don't buy into the hype, hold your nose, and trust that Maurice Jones-Drew is good enough to keep Jacksonville in the game against an overrated team.
Fantasy: While Justin Blackmon serves a four-game suspension, Cecil "Salute Your" Shorts III is going to get a ton of targets, and hopefully you a lot of fantasy points.
Tampa Bay @ New York Jets (+3.5)
Is it fair if I abstain this week from actual Jets analysis? I'm too entrenched with this team to give a fair and balanced point without watching real game film from them, but let me just say that they were ninth in defense DVOA last year.
On a more important note, the folks joining my father and I at MetLife Stadium on Sunday better give Darrelle Revis a standing ovation. Revis played out of his mind for Gang Green, and his 2009-10 season may have been the greatest statistical season in the history of the cornerback position.
Revis is practicing fully, and should start his first game as a non-Jet this Sunday in the Meadowlands, the place where he blossomed into one of the most valuable assets in the entire NFL. It sucks, to say the least.
Again, I need to see more from the Jets to form an actual opinion, but I trust Rex's defense and believe in home underdogs.
Fantasy: One of New York's biggest weakness is a lack of speed at the outside linebacker position, which could mean Doug Martin has a monster day. You have to pay a premium for him on DraftKings, but if you can find value elsewhere, I'd plug him in.
Arizona (+4.5) @ St. Louis
This line is another head scratcher. Since drafting Sam Bradford, the Rams have never been favored by more than four points at home. In the seven games they've been favored, including two that they lost outright in 2012, the team is 2-5 ATS.
I've told you that I believe in Palmer. I've always believed in Fitzgerald. And the Cards ranked sixth in defensive DVOA in 2012. Maybe this line just stinks and the folks in Sin City know something I don't, but until that information comes to fruition there is no way I am laying this many points with Bradford.
Fantasy: Rashard Mendenhall is the starting running back on an NFL team. I feel like I needed to say that because he is still being drafted in the nether regions in most leagues. If you grabbed him and stashed him, you could be fist-pumping this time next week.
Green Bay (+4.5) @ San Francisco
Since Aaron Rodgers became the quarterback of the Green Bay Packers in 2008, the team is 3-1 ATS when getting more than four points. The only time they didn't cover was a Monday Night game in 2009, when Brett Favre threw for 271 yards and three touchdowns, leading the Vikings to a 30-27 victory.
In 2013, the Niners played a single home game against a playoff team where they were favored by more than four points. It was a very sloppy night game against the Seahawks, where the Niners won 13-6 yet failed to cover the 7.5-point spread.
Unless he is playing against the Monstars from Space Jam – and even then there's hope for some of Mike's Secret Stuff – it's really hard for me to pass up getting more than a field goal with Rodgers. He's finished in the top 10 in terms of DVOA and DYAR every year since 2009, and in the top five in the last three seasons. He has a new toy in Eddie Lacy, a very shifty space player like Randall Cobb, and the last game he played in he got his ass kicked at Candlestick Park.
It's hard for me to say anything bad against the Niners, because they're a tremendous football team, I just don't think there's a team in the league that should be favored by more than a field goal against the Packers. Maybe Denver at full strength or Seattle at home, but that's about it.
Fantasy: Jordy Nelson will start Week 1, and barring injury could make up for a lot of production in the absence of Greg Jennings. Lacy's value could skyrocket as well if the Packers depend on him in the red zone.
New York Giants (+3.5) @ Dallas
In the last eight meetings between these two teams, the underdog is 6-2 ATS. Only two of those games were decided by more than a touchdown, and one of them was a 13-point victory by the Cowboys in 2010 when the Giants were 12.5-point favorites.
If there is anything predictable about these two teams, it's that they're unpredictable.
Both teams have their fair share of questions, and most of them come on the defensive side of the ball. The Giants have a very poor linebacking core and will really miss safety Stevie Brown who tore his ACL in the preseason, while the Cowboys signed Brandon Flowers and drafted Morris Claiborne in 2012 to sure up their secondary, only to see it get worse when compared to the previous year.
The two teams can score and both teams have playmakers. I would be lying if I told you I had any confidence in the Giants to win or cover, but the numbers over the last eight years favor the underdog.
This game will be more meaningful on Monday morning when I can check the all-22 film and see the strengths and weaknesses of the two teams. One or both of these teams could be really good going forward, and the loser could have some value in Week 2 after dropping a "critical" game.
Fantasy: Brandon Meyers broke out in Oakland last year and Eli Manning's tight ends have averaged 43 catches and five touchdowns over the last three seasons.
Philadelphia (+3.5) @ Washington
Houston (-3.5) @ San Diego
Back-to-back Monday Night Football games during the opening weekend. A traditional like non other.
As much as I am all in on the Lions' resurgence, I am all in on Chip Kelly. We've heard of head coaches coming from college and "revolutionizing" the game before (*cough, Steve Spurrier, cough*), but Kelly is different. Kelly is an offensive wizard with clock compulsive disorder who is going to turn heads this season. Mike Vick is an injury risk, and the defense is certainly below average, but Kelly can mask some of the team's flaws by turning up the heat and scoring a lot of points.
LeSean McCoy is probably the best back in the NFL to run his system too. Shady broke more tackles than any player not named Adrian Peterson last year, and his shiftiness and downfield speed make him a nightmare in the open. If Kelly can create space for him in the pistol, drawing backers and safeties to Vick or whoever else is under center, then that's one last pair of ankles McCoy has to break en route to the end zone.
For the Redskins, I want to see Robert Griffin III get hit. I know it's a cop out and low hanging fruit, but I can't put my trust in him or that team until I know he can not only take a three-step drop and throw but run the read option.
Over in San Diego, I expect there to be a bloodbath. The Chargers offensive line ranked 23rd in pass protection last year, and all they have to do on Monday is block J.J. Watt. Good luck with that one.
While everyone else thinks the Texans are boring and will go 11-5 only to lose in the playoffs again, I think that they could take a step forward this season. Over the past two seasons they've drafted four wide receivers (DeAndre Hopkins, Alan Bonner, DeVier Posey, and Keshawn Martin) and I think that they are going to finally start taking more shots down the field.
I also believe that, while he may be a shaky fantasy player, Arian Foster will still play a huge role, and Ben Tate will produce in meaningful situations as well.
Fantasy: If you're in a deep PPR league, and for some reason you already need a fill in, Jason Avant really intrigues me. Yes, Philly has a ton of options in the passing game, including three pass-catching tight ends, but Avant is a great route runner and has very good hands. He could be someone who moves the chains for the Eagles in 2013.
All spreads are courtesy of Covers.com, and are accurate as of 12:00 p.m. EDT on Thursday Sep. 5.
Get all the latest PokerNews updates on your social media outlets. Follow us on Twitter and find us on both Facebook and Google+!