Pigskin Diaries: Fantasy Help Part II (Running Backs)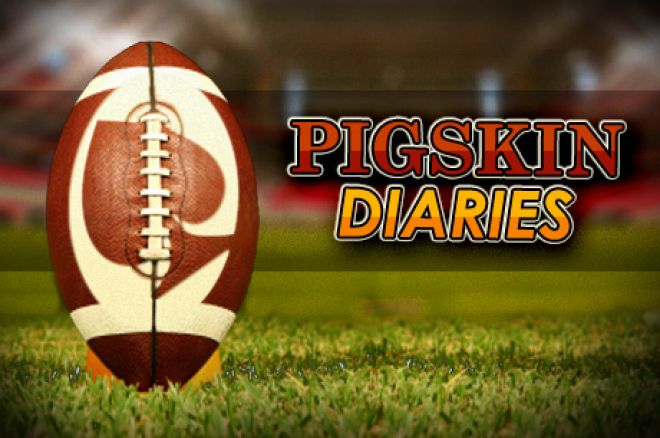 If you play with any old school fantasy football players, you'll notice that they always have one, sometimes even two running backs after the first two rounds of every draft. This is simply because in the early days of fantasy football rankings, running backs dominated for a handful of reasons. First, the majority of NFL teams used a single "feature" back. In his 10-year career with the Detroit Lions, Barry Sanders carried the ball over 3,000 times, averaging about 300 carries per season. Only two players carried the ball more than 300 times last season: Maurice Jones-Drew (343 carries) and Michael Turner (301 carries).
Second, running backs were more valuable because the league was different. Sanders and the rest of the NFC North were known as the "Black and Blue Division" because every team wanted to run the ball. Now the NFC North is known for its prolific passing, and Adrian Peterson is the only ground-and-pound back in the division.
Finally, leagues were scored differently during the first days of fantasy football. To give wide receivers more value, commissioners began assigned points per reception (PPR). This, in turn, changed the value of running backs and made players like Marshall Faulk and other pass-catching backs invaluable.
Today, the NFL is very different. Very few teams depend on one back to get them through the season, and several teams (most notably the New England Patriots, Carolina Panthers, Green Bay Packers, and Washington Redskins) don't even have a defined backfield. Barring injuries, you will most likely never be able to trust a back from one of these teams, so I suggest you avoid them like the plague.
Just like the quarterback position, there are three undeniable studs at running back: Arian Foster, Ray Rice, and LeSean McCoy. All three players are feature backs — although Foster's backup Ben Tate is a stud and should absolutely be handcuffed by Foster owners — and they all catch the ball out of the backfield. The first player we'll examine this week in our undervalued/overvalued piece was a top pick in 2011, but because of a gruesome knee injury in Week 2, he missed the entire season.
+EV
Jamaal Charles (Average Draft Position — Yahoo!: 32.0, ESPN: 24.1, NFL: 31.3)
Charles is among a group of five running backs recovering from major knee surgery heading into the 2012-2013 NFL season. The aforementioned Peterson, Tim Hightower, Knowshon Moreno, and Rashard Mendenhall all suffered ACL injuries, and both Moreno and Mendenhall will miss significant time this season. Leg injuries and running backs certainly don't mix — according to FootballDocs.com the last running back to run for more than 1,000 yards a year after suffering a major leg injury is Deuce McAllister (2006). Most players on this list were never the same after suffering a knee injury, including Cadillac Williams, Kevin Smith, LaMont Jordan, Dominic Rhodes, Olandis Gary, Robert Edwards, and Terell Davis.
Medicine and technology have improved by leaps and bounds since Gary, Edwards, and Davis were injured, however, and Charles has a luxury that Williams, Smith, Jordan, and Rhodes never had — he's the clear number one running back in Kansas City. The Chiefs did bring in Peyton Hillis to limit Charles' touches, but I don't see this as a detractor. In fact, I love that Hillis is going to protect Charles. It makes me want to draft him even more because I'm less afraid that he'll suffer another injury.
Moreover, in Charles' two standout seasons, he only carried the ball 420 times. In Charles' best season (2010), teammate Thomas Jones had 15 more carries. Hillis may eat into Charles' touches a bit, but it shouldn't affect his productivity.
After rehabbing for the better part of a year, Charles looked very healthy in Kansas City's first preseason game. He has a ton of value in the third round, and I'd even snag him in the middle of the second round in a PPR league. Players who are going ahead of Charles that I'd select him over include Victor Cruz, DeMarco Murray, Trent Richardson, Ryan Matthews, Cam Newton and Andre Johnson.
Steven Jackson (ADP – 48.0, 30.5, 35.4)
Steven Jackson is not injury-prone.
Let me say that again.
Steven Jackson is NOT INJURY-PRONE.
OK, that's better.
In Week 1 last year, after sprinting for a 47-yard touchdown, Jackson came up lame. Later reports showed that he had strained quad, and fantasy owners started to moan that Jackson is often hurt. This is factually incorrect.
Since assuming the job as the St. Louis Rams starting running back in 2005, Jackson has started 100 of a possible 112 games. During that time, he has never rushed for under 1,000 yards, caught fewer than 38 passes, or scored fewer than 8 touchdowns.
Jackson's career average per attempt is 4.3 yards. The man is durable and dependable.
There's no reason for Jackson's production to take a hit either — Isaiah Pead isn't a real threat, and since trading Brandon Lloyd, the Rams' passing game has declined dramatically. When no one's open downfield Sam Bradford will look to his two best friends for help underneath: tight end Lance Kendricks and Mr. Jackson.
We mentioned at the beginning of this article the feature backs are a rare find in the NFL, but they're even scarcer in the third or fourth round of a fantasy draft. If Jackson falls to you in either round, and you still need a running back, snag him and thank me later. Players who are going ahead of Jackson whom I'd select over him include Steve Smith (Carolina), Brandon Marshall, Mike Wallace, Michael Turner, and Marques Colston.
-EV
Maurice Jones-Drew (ADP – 8.9, 8.2, 11.9)
Remember that time Chris Johnson held out? His fantasy owners do, and it's going to take them a while to wash the bitter taste out of their mouths. There's nothing like taking a running back in the first round who averages 65 yards per game and scores only four touchdowns.
It's been said time and time again, but it's worth repeating: you can't win your fantasy league in the first round. You can certainly lose it, however.
Maurice Jones-Drew is an absolute beast. His thighs are the size of tree trunks. He's one of the best blocking backs in the league, which in turn makes him one of the best pass-catchers because he plays on passing downs. Since becoming the starter in Jacksonville in 2009, he's never rushed for less than 1,300 yards, and he has averaged 11 total touchdowns per year. Again, Maurice Jones-Drew is an absolute beast.
Unfortunately for the Jaguars, MJD is holding out for a better contract. Will he start Week 1? My guess is yes, but he should still be devalued tremendously. First-year head coach Mike Mularkey runs an entirely different system than former head coach Jack Del Rio. Blaine Gabbert will struggle to progress without his best offensive weapon, and it takes time to adjust to real-time speed. Pre-season games are meaningless, but getting hit a few times helps players get re-acquainted with the war of attrition they're entering.
NFL seasons are long, and without the proper preparation, they're hellish.
I wouldn't be surprised if MJD returns for Week 1, struggles out of the gate, then finds his sea legs and finishes in the top five in yards per scrimmage. However, I wouldn't wager on it, nor will I draft him in any of my leagues unless he drops to the end of the second round or later.
So far, in all of the mock drafts I've participated in, that's never happened.
Players that I'd draft over Jones-Drew that are going after him include Matt Forte, Darren McFadden, Rob Gronkowski, Jimmy Graham Larry Fitzgerald, and Greg Jennings.
Trent Richardson (ADP – 14.2, 36.0, 24.7)
Since 1995, only 14 rookie running backs have rushed for 80 or more yards per game over a minimum of 10 games played. No rookie running back has achieved this feat since 2008, when both Chris Johnson and Steve Slaton ran for over 1,200 yards each.
Rookie running backs continue to disappoint. Knowshon Moreno, Donald Brown, Beanie Wells, C.J. Spiller, Ryan Matthews, Jahvid Best, and Mark Ingram all failed to live up to the hype from a fantasy perspective and can't be trusted as week-to-week starters.
That brings us to Trent Richardson, whose average draft position on Yahoo! is 14.2. Assuming that at least two of the top three quarterbacks are being drafted in the first round, and so, too, is Calvin Johnson, that means that Richardson is being drafted as an RB1. Owners are not only expecting sixteen full games from the rookie running back; they're expecting him to produce at a top-ten level.
This is a huge risk, and a big mistake in my opinion.
With rookie Brandon Weeden at quarterback, Richardson will be expected to do a lot. Not only will he have to carry the ball a ton to balance the offense and control the clock, but he also has to master the playbook, understand protection schemes, and stay healthy in the process.
In February, Richardson underwent minor knee surgery, and was unable to participate in the NFL Combine. Less than two weeks ago, he underwent arthroscopic surgery to remove some cartilage and fragments from his knee. Because of rehabbing, the rookie running back has missed the first two games of the preseason.
The ESPN average draft position is where Richardson should be drafted, and even still, I'm not touching him. Players that are going after Richardson that I'd take ahead of him include Jamaal Charles, A.J. Green, Julio Jones, Hakeem Nicks, Michael Turner, Steven Jackson, Fred Jackson, and Darren Sproles.
Check back next week when we examine wide receivers and tight ends!
Follow PokerNews on Twitter for up-to-the-minute news.