The Nightly Turbo: New Jersey Sued by Sports Leagues, Facebook and Gambling, and More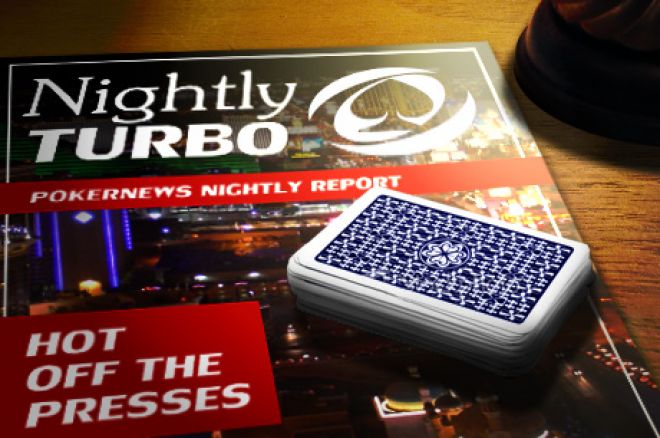 Last week, PokerStars made a move to increase its market share by purchasing Full Tilt Poker. Will the company be competing with Facebook soon? We'll cover that story, plus New Jersey's battle against the four major sports leagues in the U.S., in this edition of the Nightly Turbo.
In Case You Missed It
In May, we showcased our picks for the top rookies at the 2012 World Series of Poker. How did they fare? Find out in the Rookie Roundup Recap.
Four years ago, Kelly Kim secured a seat to the first November Nine final table. PokerNews' Lynn Gilmartin recently caught up with Kim to get some advice on what to do when you find yourself at a tough table.
On Day 3 of the World Poker Tour Merit Cyprus Classic, the 53-player field was whittled to 18. Who is leading the way? Find out in our WPT recap.
Not So Fast, New Jersey
New Jersey's bid to introduce legalized sports betting is being challenged by the NCAA and the four major professional sports leagues in the U.S.
The National Football League, National Basketball Association, National Hockey League, Major League Baseball, and NCAA have filed suit against New Jersey in response to a new state law that would allow sports betting at New Jersey's casinos and racetracks. The lawsuit was filed in Trenton on Tuesday.
The organizations argue that the New Jersey is not permitted to offer sports gambling under the Professional and Amateur Sports Protection Act which was passed in 1992. The law limits betting on collegiate and professional games only to Nevada, Delaware, Oregon and Montana.
New Jersey Governor Chris Christie is expected to fight this battle to the very end. Earlier this year, Christie challenged the federal government, saying in a press conference, "If someone wants to stop us, then let them try to stop us ... Am I expecting there may be legal action taken against us to try to prevent it? Yes. But I have every confidence we're going to be successful."
The Associated Press has more.
Facebook Launches Real-Money Gambling
Facebook entered the online gambling scene on Tuesday by unveiling a bingo app in the U.K. The social gaming behemoth partnered with U.K. operator Gamesys to launch Bingo Friendzy for customers above the age of 18.
The game is the first created by Facebook's that allows gambling with real money instead of Facebook Credits. More real-money games are expected to follow, including a slot machine game in the coming weeks.
"People love playing new types of games with their friends on Facebook and real money gaming is a popular leisure activity in the UK," said Julien Codorniou, Head of EMEA Gaming Partnerships at Facebook Europe. "We're delighted to be working with Gamesys to enable them to offer their games on Facebook so that people can enjoy playing more games with their friends."
Zynga, Facebook's longtime gaming partner, is also planning to venture into the real-money online gambling space by early next year. Zynga CEO Mark Pincus said last month that Zynga's first gambling products should be released in the first half of 2013.
Read the full story here at PokerNews.com.
Online Poker Traffic Report
PokerScout.com released its weekly traffic rankings on Monday. The online poker tracking site reported a drop of 0.9 percent, marking the second straight week of declines worldwide.
The big story in online poker last week (and the year) was PokerStars' purchase of Full Tilt Poker. The world's leading poker room will relaunch its former rival under new ownership within the next few months, a move that will certainly shake up the top of the online poker traffic rankings. Full Tilt Poker was No. 2 before the site was shut down last year. Since then, PartyPoker and the iPoker Network have jockeyed for position behind PokerStars.
According to PokerScout, PokerStars.com and FullTiltPoker.com had a combined market share of 47 percent before FTP lost its operating license last June. Now, PokerStars.com has a 42 percent share, while all PokerStars brands — including PokerStars.fr and PokerStars.it — combine to make up 50 percent of the market. That number will increase significantly once Full Tilt Poker returns.
Here's a look at the top 10 online poker rooms as of Tuesday:
| Rank | Site | 7-Day Average (Real-money ring players) |
| --- | --- | --- |
| 1 | PokerStars | 20,000 |
| 2 | iPoker | 2,650 |
| 3 | PartyPoker | 2,450 |
| 4 | 888Poker | 1,940 |
| 5 | PokerStars.it | 1,640 |
| 6 | Ongame Network | 1,600 |
| 7 | Winamax.fr | 1,360 |
| 8 | Revolution Gaming | 1,180 |
| 9 | PokerStars.fr | 1,180 |
| 10 | Merge Gaming Network | 1,160 |
As for year-over-year numbers, online poker has seen a 22 percent decline since August 2011. The three largest sites have all dropped significantly; PokerStars still maintains a sizable lead over the competition despite dropping 21 percent, and the iPoker Network (down 38%) and PartyPoker (down 44%) have struggled to keep pace. On the flip side, Revolution Gaming (up 49%) has seen positive growth since this time last year.
Check out the full report at PokerScout.com.
SuperStack Returns to Marbella
Following the success of its Madrid Super Stack event in July, 888poker has added another Spanish leg to its 2012 Super Stack Series. From Oct. 26 through 28, 888poker will host the Marbella Super Stack at the Casino Marbella in Spain.
888poker players will be able to qualify for a seat to the €165 buy-in Main Event via online tournaments. Every Thursday at 20:00 BST, 888poker is giving away three Marbella Super Stack seats. Opportunities for entry start as low as $1.35 buy-in satellite tournaments or go directly to the $11 buy-in main qualifier.
The next leg of the Super Stack Series will be at the Birmingham Star City Casino in the U.K. from Aug. 25 through 26. The remainder of the 2012 schedule also includes tournaments in London, Melbourne, Dublin, Galway, Montreal, and Madrid.
For a full breakdown of the 2012 SuperStack Series, visit SuperStack.net.
WSOP on ESPN
ESPN's coverage of the 2012 World Series of Poker returns Tuesday night with the $10,000 WSOP National Championship. The broadcast begins at 8:00 p.m. ET with commentary from Lon McEachern and Norman Chad. If you happened to miss any of the action during our coverage of the event last month (spoiler), here's a look at what you can expect to see tonight: