Pigskin Diaries Week 13: Post Tryptophan Haze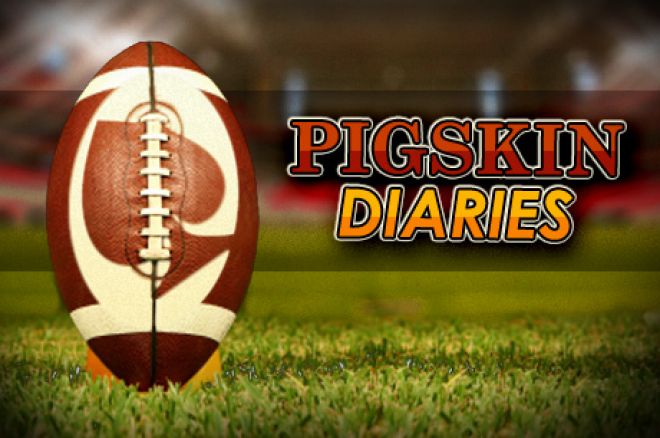 We're full from Thanksgiving, we're happy the holiday season is beginning, and we're winning with our Nation Football League regular-season picks.
Let's keep the trend going.
Denver (+1.5) @ Minnesota
This pretty much sums up Tim Tebow. No one can explain how in the world he's 5-1 as a starter, but whatever he's doing is working. Last week, Tebow ran the ball 22 times, which is the most rushes by a quarterback since the merger, and completed only nine passes. Again, mind-boggling. Most of the credit should go to the defense for their inspired play, but even they're just mediocre (17th in DVOA).
The real takeaway here is that the Vikings are really bad, especially without Adrian Peterson. How did Toby Gerhart almost win the Heisman? Are the defenses in the Pac insert-number-of-teams-here really that bad? He averaged less than three yards per carry last week in Atlanta, and Minnesota needs an effective running game to protect rookie quarterback Christian Ponder.
There is a chance that AP goes on Sunday, so you might want to wait to place your wager. Knowing what we know now, though, it's impossible to pick against Timmy Terrific.
Fantasy: Percy Harvin had a great game last week and could be in for another nice day. Denver allows the ninth most fantasy points to opposing wide receivers.
Carolina @ Tampa Bay (-3)
The Panthers took care of business last week against the winless Colts, but in the process Carolina fell to 32nd in defense DVOA. They can't stop anybody, and LeGarrette Blount is one of the toughest runners in the game. He's crossed the century mark in consecutive games, and there's a high likelihood he'll make it three in a row on Sunday.
The Bucs have their own problems on defense, and are so desperate that they've enlisted the services of Mr. Albert Haynesworth. Tampa has two very good corners, Aqib Talib and Ronde Barber, who will make it difficult for Cam Newton to stretch the field.
Earlier in the season, this line would've been much higher, and we would've grabbed the points, but the market has adjusted because everyone loves Cammy Cam. We like Newton, too, but he can't do everything.
Fantasy: We love us some Blount in this game, even though he gets little work in passing downs. The re-emergence of DeAngelo Williams is concerning for Jonathan Stewart owners, and frustrating because this is a good matchup for whoever gets the bulk of the carries.
Cincinnati (+6.5) @ Pittsburgh
The Steelers are arguably the most public team in football, while very few square bettors look at the Bengals and say, "Man, that's a good football team." Thus, Cincinnati is 7-3-1 ATS, while Pittsburgh is staggering along at 5-6. The Bengals are even bigger winners on the road (5-0-1), and they were very competitive in the game they pushed at Baltimore.
Pittsburgh is at a disadvantage because they had a short week to prepare for a division rival that has to win. If the Bengals drop to 7-5, not only can they say goodbye to their hopes of winning the division, but also they open the door for the Jets, Broncos and Titans in the wildcard race.
Cincinnati may certainly lose, but the game is going to be very competitive.
Fantasy: Rashard Mendenhall has been a big disappointment this year, but he scored two touchdowns the last time these teams met. Don't be quick to bench Cedric Benson either — he's looked good the past two weeks, even against Baltimore.
Indianapolis @ New England (-20.5)
The real line is 62, which was set by the Saints back in Week 7.
Fantasy: Even Chad Ochocinco might be a start.
Oakland (+3) @ Miami
The Dolphins looked great on Thanksgiving, holding the Cowboys to just 20 points and nearly winning outright. They've covered in five straight games, which is nice considering that they started the season 0-5-1 ATS. The Raiders are on a streak of their own, covering in three straight games, and are a perfect 5-0 ATS on the road. That's important, because Miami is only 2-3 ATS at home with their only covers coming against Washington (bad team) and Buffalo (bad team).
Also, let's not forget that Oakland leads the AFC-Tebow West. Carson Palmer hasn't missed a beat, Michael Bush has been very effective in the absence of Darren McFadden, and the defense is improving, except for Rolando McClain who was recently arrested for firing a gun next to someone's ear.
Raiders gonna Raider.
Fantasy: Reggie Bush failed to score against Dallas on turkey day, but in the three previous weeks, he scored four rushing touchdowns. He's a good start this week.
Atlanta (-3) @ Houston
How is Brett Favre not the starting quarterback for the Texans this week? The team said they "didn't want to bring the circus to town," so instead they're going with T.J. Yates — the first-ever starting quarterback from the University of North Carolina. This was an opportunity for Houston to make itself relevant. They're tied with the best record in the AFC, yet no one talks about them as a true contender, and without Matt Schaub they're in danger of missing the playoffs. The Titans are only two games back, and the pair play one another in Week 17.
The old gunslinger doesn't need to be a hero, he just has to be better than Yates, who looks like a check-down Charlie. Best of all, if No. 4 somehow finds himself on the Texans, and they find their way to the Super Bowl, then there's a chance we may see the greatest grudge match in the history of the NFL — Favre versus Rodgers for the Lombardi Trophy.
Fantasy: Andre Johnson looked healthy, but can Yates get him the ball? For the Falcons, Roddy White is back to being a stud, while Julio Jones and Michael Turner are both questionable.
Tennessee (+2.5) @ Buffalo
New York Jets (-3) @ Washington
Dallas (-4.5) @ Arizona
All three of these teams are in contention and must win. You can make an argument that the Bills are still battling for the playoffs, but they've lost four straight games and are dead men walking.
Fantasy: C.J. Spiller is interesting because on some sites, he is now available at both the running back and wide receiver positions, Fred Davis is a great start against New York's poor coverage line backers, and Laurent Robinson is a beast.
Kansas City @ Chicago (-7)
Baltimore (-6.5) @ Cleveland
It's hard for bad teams to get up for consecutive games, especially after losing a tight game to a good opponent. The Browns and Chiefs played their hearts out against the Bengals and Steelers respectively, and this week they both have to face tough, defensive-minded opponents. With decent games from Joe Flacco and Caleb Hanie, both the Ravens and Bears should cover.
The only problem is that neither Flacco nor Hanie are very consistent.
Fantasy: Anquan Boldin, Ray Rice, and Matt Forte are the only must-starts in these games. Ed Dickson, Marion Barber, and Torrey Smith are interesting if you're desperate, and Dwayne Bowe is a borderline start, depending on how much you trust Kyle Orton.
St. Louis @ San Francisco (-13.5)
The Rams have already been 14-point dogs on the road twice this season and were outscored by a combined 58-10 in those games. They're 2-9 ATS, 1-4 on the road and have scored single-digit points in more than a quarter of their games. The Niners aren't an offensive powerhouse, but their defense is capable of shutting anyone down, much less the crappy Rams offense can.
On Thanksgiving, San Francisco failed to cover for the first time this season. They've never been favored by more than 10 points, but they're very capable of laying the smack down. They have three wins of 14 points or more including a 48-3 stomping against the Bucs.
Fantasy: Despite being unable to score many points, St. Louis' Brandon Lloyd is arguably a top-ten fantasy receiver because of his high volume of targets.
Green Bay (-7) @ New York Giants
If the Giants had no answer for Drew Brees, then how are they going to stop Aaron Rodgers?
Crickets.
Fantasy: Ahmad Bradshaw might return this week, but his status remains questionable. If he plays, he's a top-15 back, so keep your finger on the pulse.
Detroit (+9) @ New Orleans
This is a perfect example of a team being overvalued (New Orleans) after coming off of a big, prime-time win, and a team being undervalued (Detroit) because one of their players assaulted an opposing player on a national holiday. There's way too much hate for the Stompers Lions imbedded in this line. Just because Ndamukong Suh went Stone Cold Steve Austin last week doesn't mean the team should be near-double-digit dogs.
Matthew Stafford has been unforgivably bad the last two weeks, but that trend can't continue, right? He's a solid, accurate passer with a great arm, and Calvin Johnson Jr. is arguably the most talented receiver in the NFL. If Eli Manning can throw for over 400 yards against New Orleans, then Stafford should have no problem airing it out, and Detroit should keep this one competitive.
Fantasy: Lance Moore has cemented himself as the number two receiver on New Orleans, but he's still the third option behind Marques Colston and Jimmy Graham.
San Diego @ Los Angeles Jacksonville (+3)
Are you ready for some football?
Fantasy: The Jaguars give up the third-most fantasy points to opposing tight ends. That's music to Antonio Gates' ears.
This Week: 1-0
Last Week: 10-6
Season: 94-73-10
Follow us on Twitter for up-to-the-minute news.
All betting lines are from Covers.com, and are accurate as of 11 a.m. EST
Get up-to-the-minute NFL betting lines at Sportmoose.com.