Pigskin Diaries Week 4: Trending Topics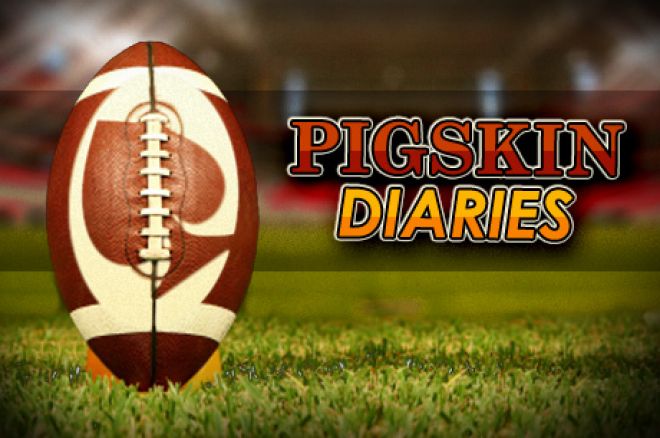 Trends are what make the world go round. Trends have people converting to veganism, squeezing into skinny jeans, wearing big-framed glasses, drinking Starbucks, and placing a hashtag in their tweets. Trends also dominate the National Football League, but it takes time for them to legitimize because the sample size is so small. For example, do the Pittsburgh Steelers really have a bad run defense? Can the New England Patriots cover anybody? Is Ryan Fitzpatrick one of the best quarterbacks in the league? Is Chris Johnson finished? Did the Boston Red Sox really choke that hard?
OK I lied. That last one is a known fact, but the rest are still up in the air. As we near the quarter pole in the 2011 regular season, we need to uncover these trends quicker than the oddsmakers and the public. You have to be quick to adapt, and unafraid to follow your gut.
Now let's pick some winners!
San Francisco (+9) @ Philadelphia
Shhhhh. Don't look now, but the Niners are undefeated against the spread (ATS), boasting a 2-0-1 record through three weeks of play. They played tough and won outright in Cincinnati last week, and rather than travel all the way back to the Bay Area, they flew to Youngstown, Pennsylvania. Avoiding back-to-back cross-country trips is brilliant, and should certainly help. The Niners defense ranks seventh in yards per game, and if Donte Whitner didn't sellout on play action against the Cowboys in Week 2, they could be 3-0. Frank Gore may be limited because of injury, but rookie Kendall Hunter has looked good, and the Eagles run defense (30th) is horrid.
Had Vince Young never uttered the words "Dream Team" would we still be so hard on Philly? Michael Vick is taking a beating every time he drops back, and I don't blame him for being frustrated, but you can't blame the referees at the podium. Vick will play Sunday after nearly breaking his non-throwing hand last week, and Jeremy Maclin who is battling a hamstring injury, is a game-time decision. The Eagles certainly have the potential to score in bunches, but they haven't done it consistently enough to be favored by nearly double digits.
Fantasy: With Maclin injured, keep your eyes on Steve Smith. Smith is recovering from an injury of his own but has more upside than Jason Avant. You may even want to take a flier on Smith now to avoid the rush on next week's waiver wire.
Washington (-2) @ St. Louis
The Rams are bad, really bad. They gave up over 500 yards of total offense last week at home against the Ravens and got torched by rookie receiver Torrey Smith. St. Louis has scored only one touchdown per game, during which they are 0-3 ATS. The Redskins are coming off of a poor performance in Dallas, and had a short week to prepare for the Rams, but they're a much better team. As long as Rex Grossman doesn't begin to regress, Washington's offense is dangerous. Santana Moss has learned to become more of a possession receiver, Fred Davis and Chris Cooley work well together in two tight-end sets, and Tim Hightower is a prototype for Mike Shanahan's zone-blocking scheme. This feels like more of a bounce-back game than a trap to me.
Fantasy: For owners in PPR leagues, Danny Amendola could make an appearance in this game. The Rams could see a lot of garbage time this week and beyond, and Amendola caught 90 balls from Sam Bradford last season.
Minnesota @ Kansas City (+2)
Pick your poison. Do you want to get two points at home with an 0-3 team that's been outscored 109-27, or give two points on the road with an 0-3 team that's blown three double-digit halftime leads. I think the trend stops here for the Vikings, and they finally play a game poorly from start to finish rather than wait for the second half to stink it up.
Fantasy: Dwayne Bowe showed signs of life last week, and if you drafted him, then hold on to him for now. Fantasy owners have been frustrated with him, but if you trade him now then you would be selling him for 20 cents on the dollar. Wait until his value increases, or continue to let him produce for you.
Pittsburgh @ Houston (-3.5)
The Steelers looked very average on Sunday night against the Colts. They can't protect Ben Roethlisberger, especially on the edges, and Big Ben won't get rid of the ball quick enough. That's a dangerous combo. Joseph Addai gashed their defense, running downhill with ease, and Pierre Garçon was wide open, ready to score the winning touchdown at the end of the game, but Curtis Painter missed him. Most NFL quarterbacks make that throw and seal the deal.
Matt Schaub definitely completes that throw, but its not the Texans offense that has me excited. Their defense is much improved (you can throw out last week because it was the Saints), especially at rushing the passer. Mario Williams is still a huge threat at outside linebacker, and rookie defensive end J.J. Watt has transitioned seamlessly into his starting role. If Pittsburgh doesn't do something about their protection, this one could get real ugly, real fast.
Fantasy: Finally, it looks like Arian Foster will return to the lineup for the Texans. Ben Tate owners shouldn't fret yet, but tamper your expectations this week because they want to see if Foster can handle the workload.
Detroit (+1.5) @ Dallas
I really wanted to pick the Cowboys here because the entire world likes the Lions, but I couldn't talk myself into it. Dallas' secondary is very poor, and Matthew Stafford is probably the first quarterback they've faced that can exploit that flaw from start to finish. Calvin "Megatron" Johnson has caught two touchdown passes in each game thus far, and is arguably the most consistent skill player in the league alongside Adrian Peterson. Neither team can run the ball that, well, and in fact Lions head coach Jim Schwartz admitted that they'll instead throw short and intermediate passes to tight end Brandon Pettigrew, who had 11 catches for 112 yards last week.
If this game turns into a shootout, then I love the Lions. Tony Romo is definitely capable of throwing the pill, but he is without Miles Austin and will have to avoid pressure from the Detroit's front seven. Somehow I see Ndamukong Suh getting a sack or two.
Fantasy: The aforementioned Pettigrew is a great pickup if your in need of a tight end. If you're a Jahvid Best owner, and your worried about his propensity to get injured, then I prefer Keiland Williams over Jerome Harrison as a handcuff.
Carolina (+6.5) @ Chicago
I'd rather have a root canal than lay 6.5 points with Jay Cutler. We didn't learn much more about the Panthers last week because they played in a monsoon, and I'm interested to see how Cam Newton performs on his first tough road test.
Fantasy: Despite playing in said monsoon, Greg Olsen had seven catches for 57 yards and a touchdown last week. This is a revenge game for Olsen, who was neglected in Chicago, and I have a feeling he's going to find the end zone at least once.
Buffalo (-3) @ Cincinnati
Traditionally, I'd identify this as a trap game, hold my nose, and dive in with the underdog. However, I don't think the Bills are a "trappable team" — they haven't been to the playoffs in a decade. They're more like the 2004 Red Sox; lovable losers that everyone can root for.
Speaking of the Red Sox, how awesome was Wednesday night?
The Bengals struggle to score points, while the Bills are averaging 37 points per game. I can't see how Cincinnati comes back if Buffalo jumps out to a double-digit lead.
Fantasy: With Cedric Benson facing suspension at some point this season, Bernard Scott becomes an interesting pickup, especially if you're a Benson owner.
Tennessee (PICK) @ Cleveland
Quick! Which one of these teams is 2-1?
Got it?
If you answered "both of them," then you're correct. What's scary is both of these teams could actually make the playoffs. The Browns play the crappy NFC West (potentially three to four wins), and the Titans are in the crappy AFC South (three remaining games against Jacksonville and Indianapolis). Tennessee is the better team, especially on defense, and if Chris Johnson decides to get his act together, then they're a legitimate threat. The loss of Kenny Britt hurts, but Matt Hasselbeck is used to playing with mediocre receivers.
Cleveland is solid, but their offense is too stagnant. Peyton Hillis is a workhorse, but you can only do so much when you rely on a bruising, downhill runner. Colt McCoy is certainly capable of making big throws, but Mohamed Massaquoi isn't a legitimate deep threat.
Fantasy: With Britt's injury, Nate Washington becomes the guy in Tennessee. In Washington's worst game this season, he had six catches for 67 yards.
New York Giants (-1) @ Arizona
Hey G-Men, whenever you're ready to decide whether you're good or not, let us know. Last week they looked unstoppable in Philly, Week 2 they looked average against the Rams, and Week 1 they looked horrible in Washington. On paper, this matchup looks great for Eli Manning, even without Mario Manningham, because the Cardinals secondary can't guard the door. The only reason Arizona's pass defense isn't closer to the bottom of the league statistically is because they played against Tarvaris Jackson last week.
Kevin Kolb isn't a huge threat to the Giants' weakened secondary, and Beanie Wells isn't much of a threat to anybody. This one seems too easy, which is scary, but I can't take any NFC West team with confidence.
Fantasy: Victor Cruz was very impressive last week for the Giants, and is an interesting play if Manningham is sidelined.
New Orleans (-7) @ Jacksonville
Drew Brees.
Fantasy: I don't believe Sean Payton when he says Marques Colston will play this week, but make sure you check on Sunday morning before the games begin.
Denver @ Green Bay (-12.5)
Aaron Rodgers.
Fantasy: Ryan Grant has bruised kidneys (ouch), meaning James Starks will get the full load against the Broncos.
Atlanta @ Seattle (+4.5)
Tarvaris Jackson.
I'm kidding of course, but I do love home dogs, especially the Seahawks who were home dogs last week and won outright. I still have no reason to believe in the Falcons, who are a quarter away from being 0-3. Matt Ryan is a below average quarterback on the road, and Seattle is one of the loudest, most difficult places to play in the NFL.
I have little (if any) faith in the Seahawks offense, but I refuse to lay more than a field goal on the road with Atlanta. The public doesn't think Seattle is any good and this line could move even higher, so keep your eyes on the board.
Fantasy: Sidney Rice made a triumphant return last week and is skillful enough to be a reliable flex play from here on out.
Miami @ San Diego (-7)
It's the beginning of the end for Dolphins coach Tony Sparano. Their one-point loss last week in Cleveland was heartbreaking, and now they have to travel all the way to San Diego and take on one of the most potent offenses in the league. If the Fish drop this game they'll be 0-4 entering their bye week, giving a potential new coach more than two weeks to prepare for their Monday night tilt against the Jets. Will Miami fight for their coach, or will this be the end?
The Chargers barely avoided their traditional September collapse last week, and although they were less than impressive, that's a good sign. Ryan Matthews finally looks like an NFL back, Vincent Jackson has returned to freak mode, and Randy McMichael is a very adequate replacement for the oft-injured Antonio Gates. The Bolts have yet to score 30-plus points in a game this season — this feels like their breakout game.
Fantasy: Malcom Floyd has been somewhat productive despite playing through a tough groin injury the past two weeks. Once he's fully healed, Floyd will be a very nice play.
New England (-4) @ Oakland
The last time Tom Brady lost consecutive regular-season games was December of 2009. The Raiders look tough, and can clearly run the football, but that's not the formula to success against the Patriots — you have to be able to throw the ball. In Oakland's only loss this season, Jason Campbell threw for a season-high 323 yards. In the team's two victories, he threw for a combined 261 yards. Unlike the Bills, I don't think the Raiders can come back against the Patriots if they jump out to a double-digit lead.
New England has scored more than 30 points each game thus far, and that trend should continue Sunday.
Fantasy: Jacoby Ford is healthy, and the Raiders will have to pass in this game. In deeper leagues, rookie receiver Denarius Moore could be a sleeper, as well.
New York Jets @ Baltimore Ravens (-3.5)
I hope I'm 0-4 when picking Jets games.
Indianapolis @ Tampa Bay (-10)
World, meet Josh Freeman. ESPN scheduled this game intending to highlight Peyton Manning, but while he recovers from a neck injury, Freeman is becoming one of the top ten quarterbacks in the league. The Bucs defense needs to improve, and the loss of safety Cody Grimm for the season doesn't help, but they have room to improve. Corner Aqib Talib is one of the best in the league, and rookie middle linebacker Mason Foster is picking up where Barret Ruud left off — Foster has 22 tackles, a forced fumble, a sack, and he put this hit on Chad Ochocinco during the preseason.
Ten points is a lot, but I'm a believer in Freeman and his team, and this is their coming-out party on national television.
Last Week: 10-6
Season: 22-22-4 (That's a lot of twos)
Follow us on Twitter for up-to-the-minute news.
All betting lines are from Covers.com, and are accurate as of 11 a.m. EST