Pigskin Diaries Week 3: Read and React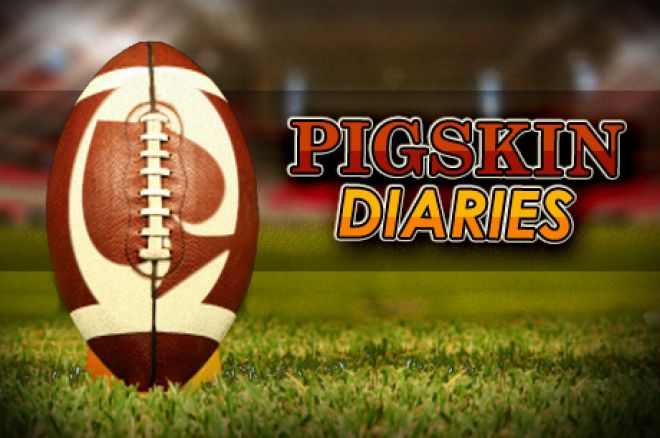 Read and react is one of the riskiest defensive philosophies — if you make the wrong read and sell out, then your opponent could go 80 yards for a score. At the same time, it can be rewarding. Just ask Patriots defensive tackle Vince Wilfork who abandoned his assignment on a screen play last week and made a key interception. Had he failed to intercept the pass, Mike Tolbert would have had space to run, and had it been a regular passing play, Philip Rivers would have had all the time in the world to throw downfield against a three-man rush.
This week, we've made some picks that are eyebrow raisers, but as Wilfork showed, with great risk comes great reward.
New England @ Buffalo (+8.5)
How can you not be a believer in the Buffalo Bills offense? In 15 games as the Bills' starting quarterback, Ryan Fitzpatrick has thrown for nearly 3,500 yards and 30 touchdowns. Fred Jackson leads the league in rushing with 229 yards, and C.J. Spiller has spelled nicely, averaging nearly 9 yards a carry. If there's one thing the Patriots struggled with, it's defense. They've given up over 900 yards of offense in their first two games — that's the second highest total in the NFL.
More importantly, this is Buffalo's biggest game since the Music City Miracle (don't click that if you're a Bills fan). The city believes in this team, they love Fitzpatrick, and The Ralph is going to be rocking. Even if New England dominates and is consistently up two scores, I can still see Fitzpatrick throwing a meaningless touchdown at the end of the game for a backdoor cover. This line is just too high.
Fantasy: With tight end Aaron Hernandez out for New England, Rob Gronkowski, Wes Welker, Deon Branch and even Chad Ochocinco have increased value.
Miami (+2.5) @ Cleveland
The Dolphins defense has looked terrible against the pass, giving up 723 yards in their first two games. Thankfully, the Browns are limited in the passing game, but they still have a tough back in Peyton Hillis. Offensively, the Dolphins haven't looked this good since Dan Marino was under center. Chad Henne is taking more and more shots downfield with Brandon Marshall, Davone Bess is one of the most consistent possession receivers in the game, and Anthony Fasano is an athletic, play-making tight end. Rookie running back Daniel Thomas made a big splash (pun intended) last week, and Reggie Bush is dangerous, especially on passing downs.
Also, let's not forget that the Browns lost to the Bengals at home during Week 1.
Fantasy: Daniel Thomas is a must own in every league, especially keeper leagues. He may not produce every week, but last week he showed a lot of potential.
New York Giants @ Philadelphia (-9)
Michael Vick has been cleared to play, but even if Mike Kafka started, and the line was adjusted, I would still take the Eagles. The Giants are a bad, banged-up football team, and Eli Manning looks awful. Nnamdi Asomugha has the potential to take Hakeem Nicks out of the game, forcing Brandon Jacobs and Ahmad Bradshaw to step up big time.
The only way the Giants can slow down Vick and the birds is if they fake being injured, and who would ever do that?
Fantasy: Brandon Jacobs had one more carry than Ahmad Bradshaw last week, which is worrisome for Bradshaw owners. He's still a reliable starter, but make sure you handcuff him if you can.
San Francisco @ Cincinnati (-2.5)
Wait a minute — am I really laying points with the Bengals???
I'd like to apologize to Andy Dalton, who looked good during Week 1, and even better in Week 2. He became the first rookie quarterback to ever hookup with a rookie receiver ten times in a game — A.J. Green had ten catches, 124 yards and a touchdown. Cincinnati ultimately lost by two points, but they covered.
Meanwhile, the Niners lost at home to a quarterback with a punctured lung. Maybe laying points against this team isn't a bad idea.
Fantasy: A.J. Green has tremendous upside, and, as long as Dalton is playing well, so do tight end Jermaine Gresham and wide receiver Jerome Simpson — as long as Simpson stays away from Mary Jane.
Jacksonville @ Carolina (-3.5)
Forget about drinking the Kool-Aid, I'm chugging some Cammy-Cam Juice. With Cam Newton at quarterback, the Panthers are 1-0-1 against the spread (ATS), and they were actually competitive last week against the defending champions. On the contrary, the Jaguars didn't even look like an NFL team last week. Yes, the Jets defense is above average, and Luke McCown played as bad as possible, but throwing Blaine Gabbert in the fire isn't going to plug all of their leaks as a team. Maurice Jones-Drew carries a big burden on his shoulders, and even if he produces, Newton can still throw for 400 yards like he always does.
Fantasy: Last week, for the first time in his career, Jonathan Stewart had over 100 receiving yards. In fact, prior to 2011, his highest receiving total in a season was only 139 yards (2009). This is something to keep your eye on.
Denver (+6.5) @ Tennessee
This line is way too high. One win against a good team (that was primed for a letdown), and all of a sudden the Titans are the fifth-largest favorite this week? Didn't this team lose to Luke McCown in Week 1?
The Broncos aren't spectacular by any stretch of the imagination, and because of injuries, the Prodigal Son Tim Tebow has to line up at receiver every so often, but they aren't a touchdown worse than the Titans. Kyle Orton rarely lets games get out of hand, and even without Knowshon Moreno, Denver can run the ball effectively and control the clock with Willis McGahee.
I have a feeling that the Titans are going to oscillate furiously throughout the season, ultimately finishing with a 7-9, 8-8, or 9-7 record, and this is one of the weeks where they trend down.
Fantasy: In a "disappointing season" least year, Chris Johnson had 1,600 total yards and 12 touchdowns. Buy low if you can.
Detroit (-3.5) @ Minnesota
Houston (+4) @ New Orleans
You know that feeling when, after standing in line for nearly an hour, listening to a chorus of screams and yells, you finally sit down and strap in. The safety harness locks, and you turn to give your friend that "This Is Going To Be Awesome" look, ignoring the loud churning coming from your stomach. The car lurches forward, and all riders remain silent during the ascent — except for that guy who yells that thing that only he and his friends find funny. Tick. Tick. Tick. The car ticks ahead slowly as your heart pounds faster and finally it reaches the apex. It's that moment where you realize that there's no turning back, and the only thing you can do is hold on for dear life.
This is the moment for the Lions and the Texans. They've looked phenomenal the first two weeks of the season, and if both teams impress on the road this week, then the hype is for real.
Fantasy: Sell high on Devery Henderson, buy low on Arian Foster, and get ready to insert Nate Burleson into your starting line up.
Kansas City (+14.5) @ San Diego
The Chiefs have been outscored 89-10 in their first two games and have placed studs Jamaal Charles, Eric Berry and Tony Moeaki on injured reserve. Without Charlie Weis the offense looks inept, quarterback Matt Cassel is still battling bruised ribs, and nearly every talking head has the Chiefs penciled in as the favorite in the Andrew Luck sweepstakes. The last time they played the Chargers in San Diego, the team was fully healthy and still lost 31-0.
The entire world is taking San Diego in this game, which is precisely why we aren't.
Fantasy: Thomas Jones, Le'Ron McClain or Dexter McCluster? Adam Teicher of the Kansas City Star reports that it's going to be a very crowded backfield, but I believe McCluster has the most upside, especially in PPR leagues. McCluster is built like Charles, while Jones doesn't have much left in the tank and McClain is more of a fullback.
New York Jets (-3.5) @ Oakland
I'd stay away from this game, but then again that's because I'm the Jets fan who's 0-2 picking their games. This smells like it could be a letdown game, and the public is all over Gang Green, but the Jets defense is just so reliable. If New York can stop Darren McFadden and Michael Bush, then Jason Campbell will be in for a long day, throwing against Darrelle Revis and Antonio Cromartie. Without the aforementioned Asomugha, the Raiders secondary is suspect, and Mark Sanchez is liable to have another good game.
Let's just hope he doesn't hot dog too much if they win.
Fantasy: The Jets are slowly turning into a pass-first team. Shonn Greene's value is dropping, and LaDanian Tomlinson's is rising.
Baltimore (-4) @ St. Louis
The Ravens need to bounce back after an embarrassing, double-digit loss in Tennessee, and the Rams look terrible. I'm a huge Sam Bradford fan, but did you see this team on Monday night? They couldn't do anything in the red zone, couldn't stop the run, and gift-wrapped a touchdown on a failed lateral pass to Cadillac Williams. Baltimore isn't as good as they played during Week 1, but they're certainly not as bad as they played last week either. A heavy dose of Ray Rice will surely do the trick.
Fantasy: If Joe Flacco can't get it done this week, then I'm abandoning ship. He's too inconsistent to trust.
Arizona @ Seattle (+3.5)
I plan to take the points in every NFC West match-up this season. So far I'm 0-1, but Ted Ginn Jr. can't take consecutive kicks back for touchdowns in this game.
Fantasy: Eek. Unless you have Larry Fitzgerald or Beanie Wells (or you're in a really, really, really deep league) the fantasy outlook on this game is bleak. Don't trust Kevin Kolb on the road, especially against the 12th Man in Seattle.
Atlanta @ Tampa Bay (-1.5)
This game is so close, but put a gun to my head and I'm taking the home team. Matt Ryan is still shaky on the road, and had Vick not been injured on Sunday night, the Falcons would be 0-2. I've said before that I think they're overrated, but that doesn't mean I'm necessarily enamored with taking the Bucs. Their first three halves of the season were extremely bad, but they showed signs of life during the second half last week when Josh Freeman led them to another fourth-quarter comeback victory — the eighth of his young career. Again, I'm not very confident with this pick, but I'd rather have my money on Freeman than Ryan.
Fantasy: Buy low on LeGarrette Blount. He's gotten off to a slow start, but he is a physical monster who will have good value throughout the season.
Green Bay (-3.5) @ Chicago
The Packers defense ranks among the worst in the league, yet they almost covered a double-digit spread last week and they beat the Saints by eight on opening night. Besides, who do you trust more: Aaron Rodgers or Jay Cutler?
Fantasy: James Starks is quickly emerging as the guy in the Packer's backfield and should be on your radar if you own him.
Pittsburgh (+10.5) @ Indianapolis
Still not convinced about the Steelers. They handled Seattle last week, but Ben Roethlisberger only threw for one touchdown and almost had his knee shredded to pieces. Pittsburgh better start blocking or else Big Ben is going to end up like London Bridge. Right now the best protection for Roethlisberger is Rashard Mendenhall, who should get a ton of carries, especially if they take a big lead. Pittsburgh's defense pitched a shutout last week and could potentially do it again Sunday, making it much easier to lay double-digit points — not to mention that the Colts are, once again, the worst team in football.
Fantasy: That hit on Roethlisberger last week was worrisome. If you're a Big Ben owner make sure you have a reliable back up. Isaac Redman is an interesting deep sleeper this week and a must-have for all Mendenhall owners.
Washington (+5.5) @ Dallas
Rex Grossman has thrown for 290 yards or more in five of his six starts with the Redskins. He, Tim Hightower, Santana Moss, Fred Davis and Roy Helu Jr. look great. The Cowboys defense, well, doesn't. On the other side of the ball, after cracking a rib and puncturing his lung, Tony Romo's been sleeping in a chair and can't laugh because it hurts too much to. What's going to happen when Brian Orakpo slams him on the turf a few times?
There are too many questions for Dallas, and Washington is too hot right now to pick against.
Fantasy: Roy Helu Jr. should be owned in all leagues. Mike Shanahan loves to distribute the rock in the backfield, and Helu looked great last week. Shanahan's also known to switch backs on the drop of a hat, so one slipup for Hightower, and Helu's could be the guy.
Season Record: 12-16-4
Last Week: 7-7-2
Follow us on Twitter for up-to-the-minute news.
All betting lines are from Covers.com, and are accurate as of 11 a.m. EST