Pigskin Diaries Week 11: They Are Who We Think They Are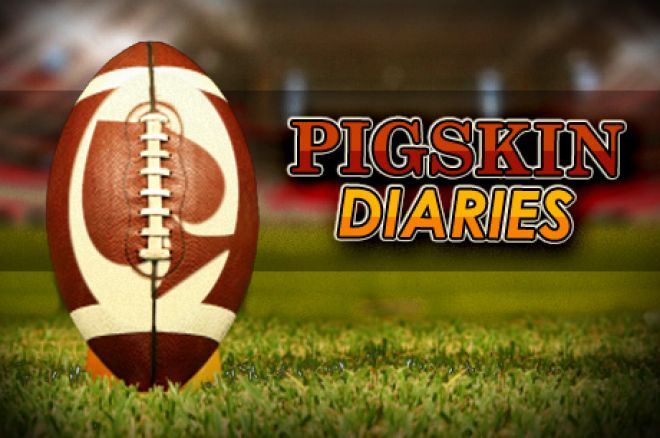 Five years ago, Dennis Green went on this epic rant, giving us the slogan "They are who we thought they were." It's appropriate because, entering Week 11 of the National Football League regular season, each team is what we think it is. At least, we think so. This week's Pigskin Diaries relies heavily on Football Outsiders' Defense-adjusted Value Over Average rankings. The Outsiders team crunches the numbers each week, ranking teams based on their opponent's strengths and weaknesses.
Let's see if we can avoid letting these teams off the hook.
Cincinnati @ Baltimore (-7)
This is a classic example of the "bounce-back game after a letdown game." The Ravens are inconsistent — one week Joe Flacco runs a flawless two-minute drill to score a game-winning touchdown; the next week he can't move the ball against a 2-6 NFC West team. But they're coming home for a big divisional game against an unproven Bengals team. Last week, Cincinnati played well against Pittsburgh, but was out-classed. It seemed like they never really had a chance, even with this insane A.J. Green touchdown.
The Bengals may be without Green on Sunday, which is huge because the best way to attack the Ravens is with a vertical attack. That doesn't mean you have to throw bombs the whole game to beat them, but if you have a burner on the outside then Ed Reed has to play further away from the line of scrimmage, limiting his chances to create havoc. The numbers favor Baltimore, as well — they rank sixth in DVOA, whereas the Bengals are 16th despite their 6-3 record.
Fantasy: Even if Green goes, tight end Jermaine Gresham should get a ton of targets. If Green doesn't go, wide receiver Jerome Simpson becomes an interesting play.
Oakland (-1) @ Minnesota
Vegas nailed this line. The Raiders are the better team but shouldn't be favored by more than one or two points on the road. Ironically, they're 4-0 ATS on the road, but the Vikings are 3-1 ATS in the Metrodome. Both teams are in the bottom half of the DVOA rankings (Oakland 18th, Minnesota 20th), but the biggest matchup will be Oakland's offense (ranked 12th) against Minnesota's defense (ranked 24th).
Carson Palmer isn't Aaron Rodgers per say, but Vikings cornerback Asher Allen can't guard the door and Jared Allen can be neutralized by a good running attack. Michael Bush carried the ball 30 times last week against San Diego, and he'll get the rock a lot again on Sunday.
The only thing that scares us about picking against Minnesota is Adrian Peterson. He single-handedly earned both of the Vikings' victories, racking up over 220 total yards and five touchdowns against Arizona and Carolina. He's always a threat to go off, but we like what we've seen from Oakland's defense.
Fantasy: With Matt Schaub out for the season, and Drew Brees and Ben Roethlisberger on a bye, Palmer becomes a top ten quarterback this week. He's thrown for 300 yards in consecutive games, and can exploit this poor defense.
Jacksonville (+1) @ Cleveland
Buffalo (+2) @ Miami
Seattle (+2.5) @ St. Louis
So you're saying we can pick three dogs against three favorites with a combined record of 7-23? Is this the greatest three-team parlay of all time waiting to happen?
Fantasy: Start: Maurice Jones-Drew, Fred Jackson, Reggie Bush, Marshawn Lynch, Steven Jackson, and Brandon Lloyd. Consider: Greg Little, Stevie Johnson (if he goes), Brandon Marshall, and Sidney Rice.
Carolina @Detroit (-7)
We're officially off of the Cam Newton band wagon — for now. Carolina's defense (31st in DVOA) is awful, and even though Cam is still playing out of his mind, he can't do it all. The Panthers are also 1-3 ATS since Week 6, meaning that the market has adjusted and there is less value to be had.
Detroit is reeling — they've dropped three out of their last four games and haven't covered at home for over a month. That being said, this is a perfect opportunity for the Lions to get the ball rolling again. Matthew Stafford is battling a finger injury, and Jahvid Best is still sidelined with a concussion, but Carolina has no answer for Calvin Johnson, and Detroit's defense isn't as bad as they've been playing — it ranks fourth in DVOA. The Lions, a public team, have been overvalued recently but should be able to take care of business against the Panthers.
Fantasy: ESPN released a new fantasy tool called the Backfield Chart. It's only available to Insiders, so if you can't click the link we'll tell you that Jonathan Stewart leads Carolina in "opportunities" — which is the total number of rushing attempts and receiving targets. He is the Panther running back to own and play.
Tampa Bay @ Green Bay (-14)
Aaron Rodgers versus the 30th ranked defense in DVOA. Good times.
Fantasy: You might think this is a good opportunity to start some of your Bucs, but they've looked putrid. Honestly, the only interesting play is Kregg Lumpkin, because he could rack up a couple of catches.
Dallas @ Washington (+7.5)
Don't be fooled by the Cowboys — they're only 4-4-1 ATS. They're hot, winning three of their last four games, but all three of those wins were at home. Dallas only has one win on the road in an overtime game two months ago where a reality show winner beat blown coverage for a 77-yard play that led to the game-winning field goal. No, that's not made up. The Cowboys are good, but this smells like a letdown.
Washington is bad. They're 3-6 ATS and were manhandled last week by a Miami team that was previously in the Andrew Luck sweepstakes. They've only scored 20 points in the last three weeks, they haven't covered since Week 4, and Mike Shanahan refuses to give Roy Helu Jr. — their best back — the damn ball. Nothing about this team is attractive except for the fact that they're playing against Big D.
Hold your nose, close your eyes, and take the points.
Fantasy: GIVE ROY HELU JR. THE BALL!!!!!!!!!!!
Arizona @ San Francisco (-9.5)
It's borderline disrespectful that the Niners aren't double-digit favorites in this game, but we really don't care because San Francisco is 8-0-1 ATS. Sexy time. The Niners aren't going to "wow" you like the Packers do, but they're the most balanced, most solid team in the league right now. They lead the NFL in both takeaways (21) and giveaways (8), generating a turnover differential of +13. Green Bay (+11) is the only other team with a positive, double-digit turnover differential. Arizona has a -3 turnover differential, giving the ball away 15 times (tied for the fifth most in the league).
Frank Gore is battling an injury, but if he can't get it done then Kendall Hunter will. Alex Smith, as discussed above, will not put this team in a position to lose (like Michael Vick did). And above all, San Francisco is going to play tough on defense. The Cardinals shocked the world last week, but it's time to come back to earth.
Fantasy: We're nearing the fantasy playoffs, which means it's a good time to handcuff stud running backs. If you're a Gore owner, go and grab Hunter — even if that means you have to trade a better back up player for him.
Tennessee @ Atlanta (-6)
We've been down on the dirty birds all season long, but Tennessee is a great matchup for them because without Kenny Britt, they can't stretch the field. Atlanta will be able to flood the box to slow down Chris Johnson, and on passing downs, John Abraham and Ray Edwards will have a field day attacking the statue-like Matt Hasselbeck.
Offensively, Atlanta can grind it out with Michael Turner and burn you with Roddy White, Julio Jones, and Harry Douglas. The Titans have struggled against teams that can air it out, giving up a combined 79 points to the Texans and the Steelers.
Fantasy: Titans wide receiver Damian Williams has two straight weeks with a touchdown. We're starting to believe in this kid.
San Diego @ Chicago (-3.5)
Do you think the the Chargers are only a half-point worse than the Lions? This line suggests that, or at least that the bettor's market does. True, San Diego had more than a week to prepare for this game, but why should we believe that they're any good? They're 2-7 ATS, 20th in DVOA, 27th in defense DVOA, and Philip Rivers hasn't throw a good pass the entire season. OK, maybe he's thrown a couple of good balls, but you can't trust him. He and the Chargers have also been exceptionally terrible on the road — they're 1-3 ATS, losing outright to the Chiefs and the Jets.
On the other side of the ball, the Bears are balling. They haven't lost in a month, covering in all four games, and Jay Cutler looks like a whole new quarterback. He's fallen in love with receiver Earl Bennett since he's returned from injury — in the past two weeks they've connected 11 times for 176 yards and a score. Chicago is for real, and should be favored by at least five points.
Fantasy: Vincent Brown is another hot receiver. The rookie has nine catches for 196 yards and a touchdown in his only two starts.
Philadelphia @ New York Giants (-4.5)
Before the season began, Vince Young called the Eagles a "dream team." He's thrown one pass all year — an interception in Week 6 against the Redskins. Young will probably start Sunday night against the Giants, and so too will Jason Avant in place of Jeremy Maclin. Philly has struggled all season, so how are they supposed to play well without two of their best offensive players? Your guess is as good as ours.
The G-Men have an opportunity to sweep the Eagles and drive a nail into the coffin in front of a national audience. They're only 1-2-1 ATS at home, but they have to show up for this game. Right?
Fantasy: Victor Cruz and Mario Manningham continue to be solid WR2/flex options, while we suggest you don't touch Avant or Riley Cooper.
Kansas City @ New England (-14.5)
We're sorry, Tyler Palko.
Fantasy: Only Dwayne Bowe has value for the Chiefs.
This Week: 0-1
Last Week: 12-4
Season: 76-62-8
Follow us on Twitter for up-to-the-minute news.
All betting lines are from Covers.com, and are accurate as of 11 a.m. EST
Get up-to-the-minute NFL betting lines at Sportmoose.com.