It's Time for Michael Phelps To Swim with the Real Sharks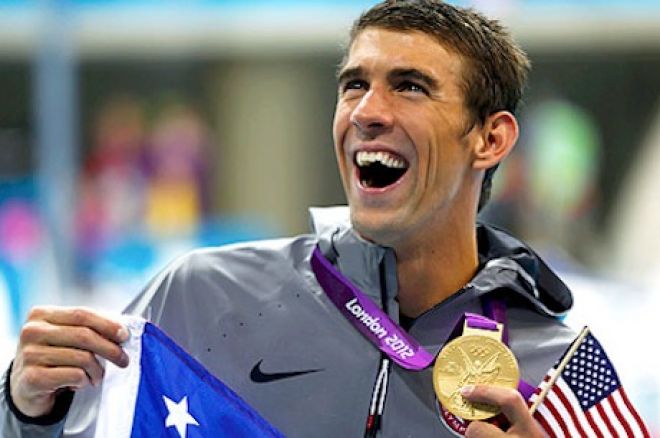 When Michael Phelps won his record-breaking 19th career medal at the 2012 Olympics in London, he became the most decorated Olympian of all time. By the end of his time in the pool, he had earned 22 medals, 18 of them gold. To put those numbers into perspective, only four others have won at least nine gold medals — Larisa Latynina, Carl Lewis, Paavo Nurmi and Mark Spitz. Each finished his or her career with a total of nine gold medals, putting Phelps' accomplishment at double. Latynina earned 18 total medals during her career, but Phelps moved past that number this summer. The question now is: What's next up for Phelps in his post-swimming career?
It's no secret that Phelps has an interest in poker. It has been well documented that he's dabbled in tournaments and cash games in Atlantic City, Las Vegas, and Windsor, Ontario, over the past several years. In 2008, an opinion piece for PokerNews was written discussing Phelps and his possible venture into the poker world. According to that story, Phelps told a reporter from the Baltimore Sun that it "would be cool to play in the World Series of Poker" — an event the poker world would welcome with open arms.
With friends like Phil Hellmuth, Antonio Esfandiari, Phil Laak, Jeff Gross and Christian Harder, among others, Phelps is already living his life in great poker company. And now with his recent retirement from competitive swimming after the 2012 Olympics, the poker world is calling his name.
A recent piece by Darren Rovell on ESPN stated that despite debate over whether or not the swimmer will stay away from the Olympics in 2016, Phelps has much more money to be made outside of the pool.
"The International Olympic Committee has something called Rule 40, part of which prohibits athletes who endorse non-Olympic sponsors cannot promote those companies for a period before, during and after the Games. That means that if a non-sponsor wants to have an Olympian endorser, it can't capitalize on their relationship when the athlete is most in the public eye. That doesn't exactly lead a company to want to fork over big dollars."
Rovell goes on to explain how certain companies that sponsor Phelps are able to profit from active campaigns during the Olympics while others, like Under Armour, are not. Surely, you can see where this is headed.
With the recent developments in the poker industry involving PokerStars acquiring Full Tilt Poker and preparing for a comeback into the U.S. market as legislation turns to the positive, Phelps should be someone poker companies have their eyes on — all eyes.
Phelps enjoys playing poker and some of his closest friends are well-known players. Slapping an endorsement deal on the Olympic legend has huge benefits for a site, especially a site like PokerStars who is known for sponsoring big, mainstream athletes. Just this year, tennis superstar Rafael Nadal joined Team PokerStars. Not many athletes in the world would be a bigger signing than Nadal, but Phelps is clearly one of them. Especially with his recent results and achievements.
In 2008, Phelps' agent Peter Carlisle told CNBC that he was getting "50 pitches a day" before his eighth gold medal, and that that number "had increased exponentially" since the eighth one was snatched up by Phelps. Surely now he'll be receiving even more requests, and some of those calls should be coming from poker companies.
In his piece on PokerNews four years ago, John Caldwell said the following:
"So, what can poker reasonably expect from Michael Phelps? Many of the publicly traded companies paying him big money may not exactly be thrilled to see him come out in a big way promoting the game we all love for fear of a backlash from conservative shareholders.

"The first thing any fan of the game of poker should expect is for Phelps to get all the money he can. The guy has earned it. He worked his butt off his whole life, knowing that even the slightest mistake when it mattered the most could cost him untold millions.

"So, how to work this young man's passion for the game of poker into his newly found ultra-famous life? Simple. Just play. Don't make a big deal out of it, just play the game you love. The more you allow the 'machine' of the new world of poker to participate in your life, the more complicated things may become on the endorsement side of your life."
Caldwell went on to say that Phelps might make the wrong move if he came out too strongly for poker. Well, that was then and this is now. Back then, Phelps was still planning on competing. Now, he's retired. That said, his current endorsers may be a little more lenient with new sponsors that Phelps endorses. Cue a company like PokerStars.
If PokerStars were to step in and put its brand on the "fish," it would do wonders for the game of poker. Many, many more people would be turned onto poker, and, hopefully, would get involved in the game. We're not talking a Chris Moneymaker-esque poker boom here, but the game would surely get a lot more attention, especially in the mainstream media, and, theoretically, would attract more players. Another excerpt from the 2008 PokerNews piece says the following:
"If Phelps just goes about playing the game he loves without anyone making a big deal about it, he might just be able to, in a subtle way, provide a lift to this game by just being loosely associated with it. If, in the hearts and minds of Americans, Phelps is considered a poker player on any conscious or subconscious level, the game will benefit by the association, both in the short, and the long term."
Senior staff writer and PokerNews Podcast producer Rich Ryan responded with the following when asked what he thought about Phelps' impact on the poker world if he were to be associated with the game:
"Phelps, who earned the 2008 Sports Illustrated Sportsman of the Year award, has appeared on the cover of the iconic sports magazine seven times. That's more than 2011-2012 NFL MVP Aaron Rodgers (4), NBA superstar Kevin Durant (4), MLB ace Justin Verlander (2), NHL young gun Sidney Crosby (5) and PokerStars' newest member of Team SportStar; Nadal (1).

"If Phelps were to represent the game of poker after retiring from swimming, his reach would be unmeasured. Every corner of the Earth has watched him become the most-decorated Olympian these past twelve years, and all eyeballs will be on him during retirement. Hopefully, he'll take his talents to the poker world, and help shed a positive light on our game that we love."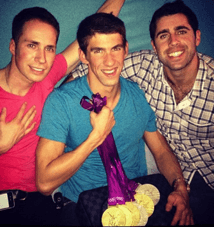 At the end of Ryan's statement, he mentions that Phelps could "help shed a positive light on our game that we love." An association with the game right now would come at a great time for poker because there seems to be a need for someone like Phelps to endorse the game and promote it worldwide. Sure, Nadal is a huge name and face, but it doesn't seem or feel like he has the passion for the game like Phelps does. Prior to his signing with PokerStars, no pictures or reports of Nadal playing poker at different casinos were surfacing and his cheering section wasn't filled with WSOP gold bracelet winners. Plus, he's still competitively playing tennis at the highest level, so how much time will he really be able to devote to poker? Hardly none, if any.
So when would we likely see Phelps at a poker table of a major event? Hopefully, much sooner than later. Some rumors are already floating around that Phelps could possibly take to the first stop on the new season of the European Poker Tour in Barcelona this month. With plenty of action and a variety of events put on by PokerStars in a great city, it would be spectacular to see Phelps swimming with sharks such as Daniel Negreanu, Jason Mercier and Lex Veldhuis. Of course, these are just rumors right now, but crazier things have happened. Some of Phelps' poker-playing friends have hinted that he is interested in Barcelona for a nice vacation after his work-heavy summer. Coincidentally, the EPT will be there at the same time.
After his time in Beijing where he won eight gold medals, Phelps relaxed by playing poker. When asked why he chose poker as his method of relaxation in an interview with CardPlayer, Phelps said:
"I love to play, and its fun; it's exciting. I think this is a good time for me to learn some things, to pick up a few things in poker, to try to read people and [learn the] mindset that goes into it and everything — just to try something new."
Phelps went on to add that he sees poker as something so that he could have time to himself, something that clearly would be hard to come by these days. "I could relax, I could be myself, and I could have fun. It's a place where I can be me."
Whether or not Phelps will be able to be himself at a poker table post-swimming, given his status, is still yet to be seen, but the poker world hopes that it's something very real in the making. All the stars seem to be aligning for Phelps to cross over to poker, but that decision is, obviously, up to Phelps.
If Phelps were to come to poker, it's not just the game that would benefit — he would, too. A big site sponsor like PokerStars could pick him up, fly him around the world to various events for appearances and marketing, and all the while Phelps gets to play a game he loves. He could even win a lot of money. Many poker players that have talked about his game say he's very skilled and takes it seriously. Then there's the whole competitiveness that athletes have and will always long for. With the competitive swimming part of Phelps' life now seemingly void, poker can help to fill the want to battle with others and be the best at something.
The only way we see him not moving into poker is if some of his main sponsors put the kibosh on an association with poker, but even with that, those companies should want Phelps moving into this new area. Just think about it. Phelps would get mainstream attention moving into poker, a game that is in the works to be legalized online in the U.S. and one that many consider a game of skill. When poker becomes fully legal by the government's standards to be played online in the U.S., it could mean another poker boom. Why wouldn't a company want their logo slapped all over him during this time? Many poker events, especially the bigger ones Phelps would play, are also televised. Even if they aren't, there's a good chance PokerNews is doing live reporting on the event or other coverage will be present. Videos, photos, interviews and the like will be coming out left and right about Phelps and a company he endorses should want that publicity. For example, just think how many poker players and fans would see Phelps wearing a specific pair of headphones while he plays poker and want the same ones. The possibilities here are almost endless.
In the end, Phelps and poker just make sense. It may be some time before he does actually get into the game on a more full-time basis, but it's very much expected that he will do so, and will be a very, very welcome sight.
Get all the latest PokerNews updates on your social media outlets. Follow us on Twitter and like us on Facebook today!
*Lead photo courtesy of People.com