Five Thoughts: The PartyPoker Premier League Rolls On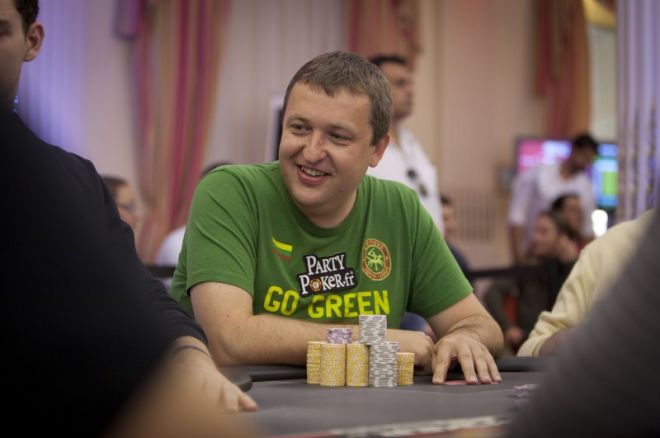 Except for the World Series of Poker Circuit Main Event that's taking place at the Horseshoe Council Bluffs, all's quiet on the Western front. If you're looking for action, then look no further than Vienna, Austria, where the PartyPoker Premier League V final table has concluded, WPT Vienna is about to begin, and the PartyPoker Big Game is right around the corner.
1. Bring on more Austrians!
The man, the myth, the legend, Tony G finished with 30 points in the Group A standings of the PartyPoker Premier League V, earning himself a seat at the final table and 300,000 in chips. The other seven players to earn a spot in the finals were Matthew Frankland (400,000), Dan "Jungleman" Cates (380,000), Sam Trickett (330,000), Patrik Antonius (320,000), Scott Seiver (300,000), Phil Laak (290,000), and Tom Dwan (280,000). Even though a winner has been crowned — I will say that on a previous episode of the PokerNews Podcast, yours truly selected Trickett to ship it. My colleague Eric Ramsey deserves some love too — he selected Tony G.
What a suck-up.
There is something about both the PartyPoker Premier League and the Big Game that separates them from other closed competitions and cash games. Players like the aforementioned G and Laak are great because they're talkative and entertaining, but the atmosphere in general feels looser than the Poker After Darks of the world. Even Yevgeniy Timoshenko, who is usually virtually silent, was a bit of a chatterbox during the Mixed Game Championship last fall.
Obviously the players need to take the games seriously because they're high buy-in events, but they also realize that the Premier League is a made-for-TV event. The entertainment value is almost on par with the competition value (in some cases it's higher), and in order for us to take the next step in televised poker, we have to realize this sooner rather than later.
That's where live-streaming comes into play. How can we make it more exciting than it is? In-game betting is an option, but a large part of your target market (U.S.) can't take part. Showing the hole cards is an obvious answer, but the gaming laws are strict, and we don't want tables to be sequestered because then the rail will be eliminated.
Whoever has the right answer holds the key to the future of televised poker, and perhaps even an entire network of our own.
2. To the Vandersmissen goes the spoils
Kevin Vandersmissen took down the 2012 PaddyPowerPoker.com Irish Poker Open, and earned €420,000. It was Vandersmissen's largest cash of his career, and his first win since 2010 when he won a $500 Venetian Deep Stack Extravaganza III event ($60,700), and the €3,000 Full Tilt Poker Series Grand Final Main Event in Barcelona (€150,000). Thomas Beer finished second (€225,000), and pros Andy Black and Samuel Chartier also made the final table.
Black finished eighth for €32,700 ($43,080), which was his largest score in an open event since 2009 when he finished 19th in the $40,000 40th Anniversary event at the World Series of Poker, taking home $71,858. For Chartier, his seventh-place finish for €44,500 was more of the same. The Montreal native has already made five final tables in 2012, including two at EPT Copenhagen and two at EPT Deauville. Unfortunately, he has failed to seal the deal at all five, finishing runner-up twice in Copenhagen. However, with over $300,000 in earnings through the first three and a half months of the year, Chartier is well on his way to his most profitable year as a professional poker player.
3. Drugs are bad, m'kay
In a recent episode of Jared Tendler's Poker Mindset Radio, Phil Hellmuth admitted that he has ADHD, saying:
"I'm considering using Adderall. I've had ADD my whole life, and a lot of poker players have ADD…A lot of CEO's have it as well. I've never taken anything for it in my life and I have 11 World Championships and I had a great year last year, so why try anything new?"
Hellmuth goes on to say that Mike Matusow swears that Adderall will have a great impact, and that his wife believes that there are no side effects. He also admits that some "weird thoughts" cross his mind, and that, sometimes, there isn't enough method to his madness.
Hellmuth isn't sure that he'll try Adderall yet, but he's willing to try anything that will make him better. He deserves some credit for his openness, but it's a little bit naïve to think that Adderall is some kind of magic be-all end-all pill that will change everything. Also, Matusow might not be certified to be giving medical advice.
Maybe ESPN should expand the Sports Science bit during this year's Main Event broadcast to break down the players' ability to focus and think critically at the table. If that's even possible.
4. The players will never fold
I think the marketing team at the Poker Players Alliance has been watching too many old YouTube videos of Daniel Negreanu, because their new slogan is, "The players will never fold." Well, maybe extreme laggy players with astronomically high VPIPs will never fold, but there are certainly a lot of players who fold a lot of hands. I get that the PPA's marketing team wanted their new slogan to have a strong connection with the game, but "the players will never fold" is a big whiff. There are so many poker-related puns that can be used — just check out the live reporting page.
Here are a few slogans I'd like to offer:
The Players Are All In: It's overused, and it's simple, but it works. Just ask the New York Giants.
This Is Our Game: Poker has always been branded by Americans as an "American game." Well, let's throw some red, white, and blue into the promo and make it as patriotic as possible. If you don't like poker, then you're not American!
A House Divided Against Itself Cannot Stand: Insert a picture of a house of cards, and you're golden.
In The Poker Game of Life, Legislation is the Rake: When applicable, use Rounders.
The New Muckrakers: I don't have any idea how this works, but it's like a triple entendre.
Despite the lackluster slogan, the PPA continues to work hard on our behalf and deserves our thanks. Without the proper lobbying in Washington, our voices would never be heard, and they are a necessary extension of the people in card rooms across the country.
So for this month, I guess I'm never folding. Even if a super-nitty, older gentleman opens from under the gun, and I peel deuce-seven on his direct left.
5. Seat open with Faraz Jaka
Our Seat Open series rolls on, this week with Faraz Jaka.
For news, updates, and more follow PokerNews on Twitter and Facebook.