Tennis Champion Rafael Nadal Joins Team PokerStars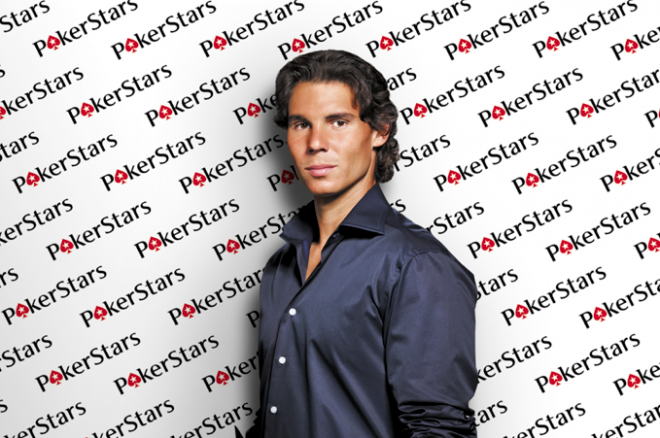 The world's leading online poker room has joined forces with one of the greatest tennis players of all time.
On Wednesday, PokerStars announced that tennis superstar Rafael Nadal has joined Ana Marquez, Juan Manuel Pastor and Poli Rincon on Team PokerStars.
The 26-year-old Spaniard is the former World No. 1 and is ranked No. 2 in the ATP rankings behind Novak Djokovic. Nadal is fresh off a victory at the French Open in Paris, his 11th career major title and seventh championship at the French Open in eight years. The victory pushed Nadal over $50 million in career earnings on the court. He's added millions to his net worth by endorsing companies like Nike, Kia, Armani and Lanvin.
"It's no secret that I love to compete and try my very best in everything, whether that's tennis, golf or video games," Nadal said. "When I discovered the game of poker, I chose to join PokerStars because they understand what it takes to be the best and associate themselves with the qualities of champions. I'm very happy to be working with them."
The signing of Nadal comes two weeks after the opening of Spain's new regulated online poker market. PokerStars.es launched on June 5 and is already ranked eighth worldwide in online poker traffic, according to PokerScout.com. The online tracking site reported Monday that PokerStars.es hold a nearly 3-to-1 advantage over its nearest competitor, 888poker.es, two weeks after the launch of the new space.
With a universal celebrity like Nadal at the front of its marketing campaign, PokerStars could scoop a significant share of the early marketplace in Spain and enhance its brand awareness around the globe. According to to Mark Scheinberg, PokerStars Chairman of the Board, "Rafa Nadal represents all that is great about competition – the mix of talent, intellect, dedication and mental strength that you find in champions in every sport. We are proud to have Rafa as an ambassador for the brand and excited at the opportunity to help him enjoy and improve his game."
PokerStars has a history of dealing with professional athletes. In 2007, the company signed tennis legend Boris Becker to its Team SportStars. Field hockey player Fatima Moreira de Melo and cross-country skier Marcus Hellner also represent PokerStars as part of that team.
You can learn more about the signing, and join other team pros in giving Nadal some tips on his poker game by checking out PokerStars, and you can get in the action yourself with Rafa by signing up for a PokerStars account with a great offer from PokerNews.