The Nightly Turbo: Brad Booth Scandal, PokerStars Launches in Spain, and More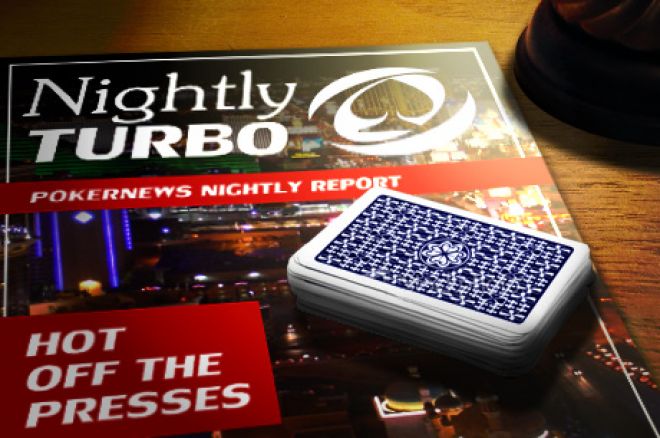 We've seen some drama develop in the early days of the 2012 World Series of Poker, but there's been some commotion building on the forums this week, as well. We're bringing you the lastest scandal involving poker pro Brad Booth, plus the opening of Spain's regulated online gambling market, in this edition of the Nightly Turbo.
In Case You Missed It
Aubin Cazals took down the $5,000 No-Limit Hold'em Mixed-Max event on Monday. We break down that event and more in the Day 9 WSOP recap.
Can Jeff Lisandro win another Stud bracelet on Tuesday? That's one of the stories we're eyeing in WSOP What to Watch For.
The new "verbalization rule" at the WSOP has caused some bad blood between players and tournament staffers. Rich Ryan discusses that topic and more in his latest Five Thoughts piece.
Looking for a fun, behind-the-scenes perspective of life at the WSOP? The Muck is covering daily happenings from inside the Rio, so check it out!
What does Matt Waxman think about some of his peers? Find out that and more in the latest edition of the PokerNews Podcast.
Yukon in Hiding
Canadian poker pro Brad "Yukon" Booth was once considered one of the best cash-game players in the world. But now, if recent accusations against him are true, Booth has completely fallen from grace and hit rock bottom.
Booth, one of the most high-profile victims of the Ultimate Bet super-user scandal, has been accused of stealing around $28,000 from Douglas "WCGrider" Polk. In a thread at TwoPlusTwo, Polk said that Booth was seeking a large transfer on Lock Poker and, after the two players completed a successful transfer of $13,000, Booth requested a larger transfer of around $30,000. Polk obliged again, but this time Booth vanished without meeting his end of the arrangement.
"When we met up, he told me the unsettling news of many of his other debts, how little money he has, and the inside scoop on many additional things," Polk explained. "I told him if he continues to work with me and stay in contact, and make some small payments at a time, that we can work things out. He agreed, and a week later made me a payment of $2,200. However since then, he has left the country, changed his phone number, and has started completely ignoring me."
Booth has been through the wringer since becoming an instant poker superstar on GSN's High Stakes Poker. Booth claims to have lost close to $2 million of his own money during the Ultimate Bet scandal, plus another $500,000 borrowed from other poker players. Last year, he told DonkDown Radio's Bryan Micon and Todd Witteles that he was broke and the UB incident sent his life in a "downward spiral."
Read more about the Booth scandal at TwoPlusTwo.com.
Spain Opens its Gates
After months of delays, Spain has launched a new regulated online gambling market, which allows residents to play online with licensed operators.
A number of industry leaders have migrated to the new space, including PokerStars, 888, bwin.party, Ongame, Poker770 and bet365, all of which will offer online poker to customers in Spain under a "dot-es" domain name. The space will initially be segregated, meaning players in Spain may only play against other residents of the country.
As the world's leading online poker room, PokerStars figures to be the frontrunner in Spain when the dust settles. PokerStars.es has already announced the schedule of flagship tournaments that players can find each Sunday. The biggest event will be the €100 buy-in Sunday Special, which starts every Sunday at 20:00 CET and has guaranteed prize pool of €25,000.
"Spain is home to some of the best poker players in the world," said Team PokerStars Spain Pro Juan Manuel Pastor. "I'm looking forward to playing on www.PokerStars.es and competing against players from across the country."
For a closer look at Day 1 of the new Spanish market, check out the running blog at es.PokerNews.com.
Half-Price Sunday at PokerStars
Attention, discount shoppers. On June 17, PokerStars is offering a chance to play each of its Sunday Major tournaments for half the price.
For one Sunday only, all of your favorite Sunday tournaments will be 50 percent of their normal buy-in. That includes the Sunday Million, Sunday Warm-Up, and the Sunday Storm. And all of the guarantees will remain the same.
Here's a look at the schedule on June 17:
| Time (ET) | Event | Buy-in | Guarantee |
| --- | --- | --- | --- |
| 08:00 ET | Sunday Kickoff | $54.50 | $100,000 |
| 11:00 ET | Sunday Warm-Up | $107.50 | $500,000 |
| 13:30 ET | Sunday Storm | $5.50 | $300,000 |
| 14:30 ET | Sunday Million | $107.50 | $1,000,000 |
| 14:30 ET | Women's Sunday | $27.50 | $10,000 |
Find out more at PokerStars.com.
Online Poker Traffic
PokerScout.com released its weekly online poker traffic rankings on Monday. The tracking site reported an overall drop of 1.1 percent, marking the fourth straight week of declines worldwide.
While PokerStars continued its reign over the rest of the competition, Party Poker jumped past the iPoker Network for No. 2 in the rankings for the first time in eight weeks. According to PokerScout, PartyPoker's recent surge is likely due to the Championship Challenge promotion. Party Poker's traffic climbed 5 percent last week.
One interesting development to keep an eye on is Lock Poker's recent exit from the Merge Gaming Network. Lock rebranded the Cake Network to form Revolution Gaming last week, and early numbers show that Merge has lost around 25 percent of its traffic, while Revolution Gaming has nearly doubled in size.
As for year-over-year traffic numbers, online poker has seen a worldwide decline of 18 percent since this time last year, much of that caused falloff by the Full Tilt Poker and the CEREUS Network. Some of the biggest gainers during the past year were 888poker (up 37 percent), Revolution Gaming (up 16 percent) and PokerStars (up 10 percent).
The International Poker Network (down 51 percent) and the Merge Network (down 13 percent) were among the notable decliners since this time last year. Merge's drop is reflected by the absence of Lock Poker, which claimed to account for 40 percent of Merge's traffic before departing.
Read the full report at PokerScout.com.
Intimacy with Twi$t
Looking for a better way to enhance your play?
Sometimes, you simply need a weekend off from poker.
Have some fun in a different way this weekend: Mutually Beneficial Arrangements.
There tons of special girls that are looking for Intimacy with Twi$t.
Find them at ArrangementFinders.com.
This is an advertisement.
The Magician Shows Off His Guns
What does Antonio Esfandiari do during his off days at the WSOP? And how have his workouts with Brian Rast been going? Sarah Grant caught up with both of them to find out.
Follow PokerNews on Twitter for up-to-the-minute news.