Martin "phasE89" Balaz to Tackle 40,000 SNG Challenge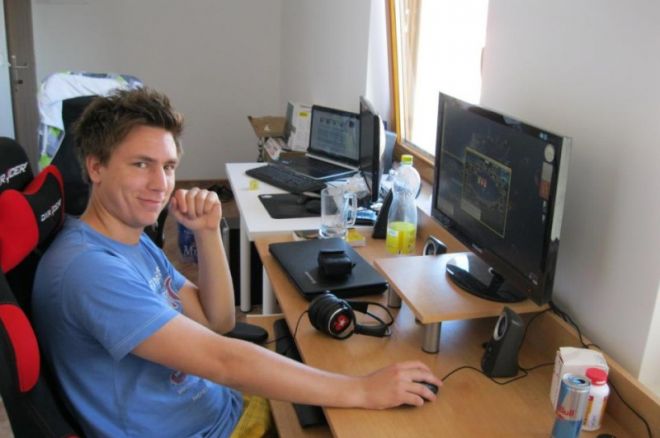 Last October, Czech pro Martin "phasE89" Balaz, a Fifty50 sit-n-go specialist on PokerStars, tackled a unique prop bet in which he needed to play 24,000 SNGs in a month and finish with a profit (without rakeback). It was an up-and-down affair, but Balaz managed to win that bet by finishing with $2,898.83 in profit, which translated into a $41,889 win when you include rakeback and winnings from the bet. Now Balaz is taking things a step further by announcing an even more difficult challenge, to play 40,000 hyperturbo 6-Max SNGs in 30 days.
"I am officially announcing the new challenge! I will play 40,000 hyperturbo 6-max SnG's in just 30 days, starting June 15, 2012 0:00, ending July 14, 2012 23:59," Balaz explained when announcing the challenge. "I need to be profitable prerakeback and I have to play only $30-plus stakes. It will be even more difficult then my last 24,000 Fifty50 SnG's prop bet, because I can not play lower stakes, I have just 30, not 31 days, and it will probably take about 400-plus hours, not 380. Plus, the edge in these is significantly lower, many regs are claiming that the games are already deader then dead. I want to prove myself that I can make really insane prop bets and be profitable in any game I want."
Balaz, a PokerStars Supernova Elite with Team Pro Online aspirations, is so confident he'll be able to win that he is willing to book bets at 1:2.5 odds. "I already received several messages for booking some small amounts, up to $500, and I am willing to bet up to $50,000 against total $20,000 of bettors," Balaz told PokerNews. "I hope I can get some good action to make the bet more interesting."
The 22-year-old pro intends to rent a villa with his girlfriend to tackle the challenge in peace, and to prove that he is working toward his goal, he will use a webcam to broadcast the long grind to the world. In addition, he will post regular updates to his Twitter account and on his website. Finally, Balaz enlisted the help of Jakub "parez" Freiwald to put together a promotional trailer for the 40,000 SNGs prop bet.
PokerNews caught up with Balaz to get a few more details about his latest challenge.
What has inspired you to issue this latest challenge? Likewise, what is it you enjoy about issuing various prop bets?
I have announced it for various reasons. First of all, I needed some motivation to play some big volume and to achieve SNE status for 2012 as soon as possible. Secondly, I felt like I had a good chance for making it to PokerStars Team Online after my last prop bet and it did not work out. I was disappointed, but then I decided to try even harder. I hired one buddy to do a website for me and another one to make a trailer video for the prop bet. I am trying my best to gain some more publicity.
What am I enjoying about various prop bets? Well, I like some kind of popularity. It is really cool when I am playing some MTT and random player starts chatting with me that he was rooting for me in the October prop bet. It is also great when I get an email from one of my fans that I am his or her idol.
Do you have a routine planned you'll be following the 30 days of the challenge?
I have not planned my playing schedule yet, but it will be definitely something strictly regular, like get up at 1 p.m., play three-, four- or five-hour sessions with breaks until 5 a.m. and then go to bed. I need to sleep, drink and eat at the same time every day, otherwise it would be much harder. It is also almost impossible to do this enormous prop bet with eating junk food and drinking bad drinks, so I need to eat very healthy and light food and drink nonsparkling water with some aloe vera or something like that.
What is your "grind station" like?
I recently bought a new grind station. I have a 27-inch LCD monitor with high resolution 2,560 x 1,440. I don't need any other panels because I am playing with all my tables stacked in one place.
Here is my current computer setup, it cost about $2,000:
INTEL H65
INTEL CORE i5-2500K 3,3-3,7GHz
128GB SSD
1,5TB SATA, 7200x minute
8GB DDR3 1333MHz
NVIDIA GTX560 TI 1,28GB
You say you will rent a villa with your girlfriend during the challenge. What does she think of you taking on this challenge and devoting so much time to it?
Actually, she got the idea of me doing another prop bet. She is also a poker player; she plays mid- to high- stakes MTTs online and she recently won FPS Snowfest in Evian, so she is supporting me a lot. She will be living with me and taking care of me for almost the whole month. I can't imagine doing this prop bet alone in a house. I would probably go mad.
During this prop bet, you'll allow railbirds to watch you on a webcam. Do you make it a point to make the prop bet an interactive affair for railbirds?
I need to prove to bettors that I am playing by myself the whole time, that is the main reason I am allowing railbirds to watch me. Also, as I said earlier, I like attention and I don't mind being on the webcam the whole month. I can't get bored while I am chatting with railbirds, it keeps me busy. During the last prop bet I was also listening to audio books because the stereotype grind can get really boring soon.
In 2011, you achieved SuperNova Elite status. What was it like earning such a prestigious title?
It was really great, I felt such a relief. It was one of my ultimate poker goals. The main one is to be in Team Online, and it finally became true. I hope I will uphold my status for as many years as possible.
Can we expect to see you in Las Vegas for the World Series of Poker anytime soon?
I am not interested in playing World Series of Poker this year, I like playing online during WSOP; it is much softer. Also, I don't think that the trip into Vegas during WSOP could be profitable if I count flight tickets, cost of living and tax deduction from winnings. But maybe next year I will give it a try. It should be fun and great experience to play events there.
For more on Balaz's latest prop-bet challenge, and to follow his progress, visit his website, phase89.net.
Get all the latest PokerNews updates on your social media outlets. Follow us on Twitter and like us on Facebook now!
Executive Editor US, PokerNews Podcast co-host & 2013 WSOP Bracelet Winner.