Online Chat: Thiago "XTheDecanoX" Nishijima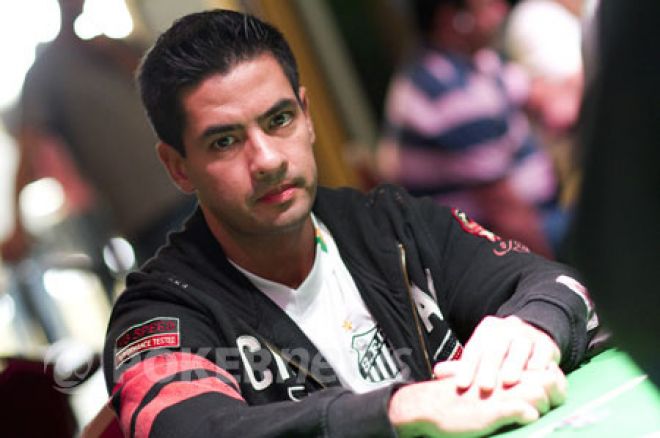 Black Friday dramatically changed the online poker landscape, instantaneously locking up bankrolls and subduing the U.S. player base. Players who had played on UltimateBet and Full Tilt Poker were forced to seek other options, provided they were still willing and able to play online. One such player was Thiago "XTheDecanoX" Nishijima.
Nishijima is a 33-year-old online pro from São Paulo, Brazil, who was dramatically impacted by Black Friday. Although he wasn't a U.S. player who lost the right to play online, he did lose a great deal of his bankroll because he had won the UBOC6 Main Event for $231,338.80 about a month before Black Friday. Unfortunately, he didn't get any of his money off the site.
It was a drastic hit to Nishijima but not the end. The former World Championship of Online Poker winner concentrated his play on PokerStars, which managed to weather the Black Friday storm. In addition, Nishijima was adept in live play. In fact, he has amassed $717,015 in live tournament earnings since 2008. He had plenty of options available to help rebuild.
PokerNews recently sat down with Nishijima for our inaugural Online Chat, a new interview series that will feature some of online poker's most notable and high-stakes players.
Thanks for taking the time to talk with us. How about we start with you telling us about your start in poker?
I started like most everybody in 2006. I started playing sit-n-go tournaments, and then home games live. In 2007, I started doing it as my job. I started playing very low stakes, like $5 or $10 SnGs. I started well, so I raised my stakes. First just in SnGs, then I multitabled. The maximum was $30 SnGs.
What did you do before you started playing poker?
I worked in a bank for nine years. In 2007, I decided to stop and play poker full time.
What did your family and friends think of your decision to play poker?
They didn't know how it works, but I was 27-28, so they knew I'm responsible. I knew what I was doing, so they gave some support and asked how it worked. When you have some results, it gets better.
You won the UBOC6 Main Event back in February of last year . . .
I didn't get the money [laughs].
Are you saying you had all the money stuck on UB on Black Friday?
Yeah. The Main Event was $231,000, and I didn't get to cash any of it out.
Did you have any money on Full Tilt?
Yes, I had $15,000, then I won a satellite for the World Series of Poker Main Event last year. I got it up to $35,000 I think, but that's all stuck on there.
Did you play on PokerStars back then?
Yeah, I started playing on PokerStars in 2008. I realized PokerStars was great and had good results in the WCOOP.
What did it feel like to win a WCOOP?
It was amazing. It was big money. If you make a deal and get the same money for second place, it's different than when you win a tournament. It's amazing.
(Nishijima won the 2009 PokerStars WCOOP 16 - $1,050 No-Limit Hold'em.)
Do you play much live poker?
I don't play much live in Brazil. I love to travel, so every year I'm in Vegas. Every year I play a couple European Poker Tours. The first year, I went to the WSOP was in 2007, and I've been back every year since. In 2010, I got a third place, [in a $1,550 no-limit hold'em event] so I love it there. Beautiful place.
What are your plans for online poker this year?
I'll continue to play the high-stakes SnGs on PokerStars. This year maybe I'll try to become a Supernova Elite, but we'll see. I've never been a Supernova Elite. You have to spend a lot of time, and I'm practicing table selection in the high-stakes SnGs, so it's more difficult to get there.
How many hours a week do you play online?
I think the average is about eight hours a day, it's a good number.
How have the online games been since Black Friday?
Actually I think it's tougher. The big-name Americans have moved to someplace like Costa Rica, Mexico and Canada, and the worst players, they didn't continue to keep playing. So I think it's tougher than before. Also, people are learning to play poker. They are consuming sites, videos, books, they're getting better.
What are your thoughts on poker in Brazil?
Brazilian poker players are amazing. They're the best people in the world. They're so happy and just love to play poker. The fever started in 2006, a little after Moneymaker. Then, Americans were the best, but Brazilian players are learning. At first they were tight players, but the game is changing and they're having better results.
Are there a lot of Brazilian players who make their living playing online?
Not a lot, but I think maybe 100 that do well and make a living at it.
What do people think when you tell them you're a professional online poker player?
It's changing a lot. Before when I told people I played poker, they were worried because it was not a regular job, but now with the TV and media, they're happy.
How did you come up with you online name, "XTheDecanoX"?
I started "TheDecano" in online games. There's a film called Shade with Sylvester Stallone. In it he plays the Dean, the Decano, so I watched the move and had to come up with a nickname online, I decided to put "TheDecano." I never imagined it'd become so big.
If you love poker, be sure to follow us on Twitter and like us on Facebook for all the latest updates in the poker world.
Executive Editor US, PokerNews Podcast co-host & 2013 WSOP Bracelet Winner.