Martin "phasE89" Balaz Wins Fifty50 Prop Bet on PokerStars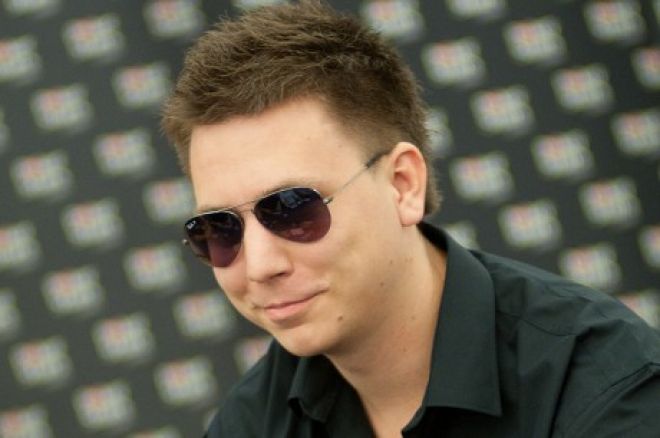 Poker players are no strangers to prop betting. Not only is a good prop bet a way to test oneself in a creative manner, it is an opportunity for people to raise their limits, while increasing their bankroll. Czech poker pro Martin "phasE89" Balaz recently experienced this in October with a unique bet. Balaz, a specialist of the Fifty50 sit-n-go on PokerStars, made an enthusiastic bet — to play 24,000 Fifty50 SnGs during October and finish with profit (without rakeback). It was a lofty task, and although it was extremely close, Balaz succeeded in the end.
The 22-year-old poker pro, who learned how to play poker from a friend in 2007, tried a lot of different formats before finding the one that fit him best — double-or-nothing tournaments on PokerStars, which are appropriately called Fifty50 tournaments. Because he spends a lot of time playing and studying the game, complemented by a dedication to be the best, Balaz has become one of the most successful Fifty50 SnG poker players in the world.
To test his qualities, Balaz made his first bet in June when he played 12,000 Fifty50 SnGs. He discovered that making a profit at this volume was fairly easy, so he decided to raise the stakes a little. His new task, set for October 2011, was to play 24,000 Fifty50 SnGs on stakes between $30 to $200 and turn a profit. He altered this a bit by adding $15 buy-ins after discovering traffic on PokerStars was lower than expected. As the clock rolled over from Sept. 30 to Oct. 1, Balaz turned on his computer and got to work.
"I always liked prop bet challenges," Balaz said when asked by PokerNews why he took the challenge. "I was following guys like 'boku87' and 'chiren80,' they were inspirational to me. I thought that it would be great if I could achieve something like they did. I like to show to other people what is possible when you are truly motivated."
To achieve his success, Balaz developed a daily routine, though he soon discovered he'd need to make some adjustments: "I planned my daily routine in September and I even considered jogging in the morning and coaching my study group, but soon after the start of the prop bet I found out that I did not have much time to do that and I had to adjust," Balaz admitted.
"Usually I woke up at 10:00 a.m., took a shower, got some breakfast and read the news on the Internet. At about 11:00 a.m. I went shopping and when I came back home I began to grind. I played three to four sessions a day of three to five hours. I was eating light food regularly, drinking mostly water and from time to time some energy drinks. I went to bed at 4:00 a.m. I believe that the regular schedule is the key for these kinds of challenges."
Balaz learned right from the start that things were going to be harder than he expected because he experienced an immense downswing. The first half of October was truly a nightmare for Balaz and he was losing every day. One of the main reasons for this was the quality of $100+ games, which he addressed in a TwoPlusTwo thread:
"I thought how the f is even possible to run this bad, so I compared $100+ hand histories from June when I was winning like Charlie Sheen and hand histories from October when I was losing. I found out that (not mentioning that I was playing my B-game for the first 2-3 days) games are very reggish and regular players are just stealing from each other their equity. It wasn't rare to see even 10 of 10 players at one table being something regular-ish with solid stats like 11/9, 17/14 and so on. I had to try to adjust and it was not an easy task when you are 40-tabling."
When asked how much money he had riding on the bet, Balaz responded: "I had bet about $4.5k versus $13.5k and after closure of all bets, I had just about $30k to play with. Needless to say, it was quite stressful to lose half of my bankroll in a few weeks, luckily my rake-back compensated that loss."
As a result of his rough start, Balaz capped the number of $100+ games he played and tried to profit at the smaller stakes. However, that is where he found another problem, one of a technical nature. Balaz discovered that many of the tournaments for which he had registered refused to open, which meant he was considered a "sit out" and simply blinded out. Because he was playing about 50 tables at a time, Balaz didn't notice the error until other regulars told him. Needless to say, this was a big obstacle in trying to turn a profit.
The bug lasted about ten days and was caused by Balaz's Table Ninja application, which was fixed after a simple update. Regardless, the technical issues combined with the downswing proved to be a tremendous blow to both Balaz's momentum and confidence. Down $16,000 on Oct. 22, everyone thought Balaz's bet was over. Those who bet against him were celebrating their good investment, as Balaz's chances of winning were minuscule.
"There were three moments when I really doubted that I could win," Balaz explained. "First was when I had a massive $13.5k downswing after just 3,000 games — that was not really a good start to my prop bet at all. Second crisis was after 12,000 games when I was halfway through the challenge and according to Sharkscope I was down $16,000, at this point I still hoped that it would turn around if I got lucky, but I was convinced I had just about a 20 percent chance. Third, the last moment when I thought I might lose, was when I got sick (at 15.5k games played). I was not able to grind at all for eight hours and I really doubted that I could get better and win the bet. After eight hours of lying in the bed and drinking tea I got miraculously better. I had to grind for two days straight to get on my volume pace, but I made it, as well, and at this point I knew that I could win my challenge."
The "chip and a chair" adage doesn't necessarily apply here, but the concept does. During the last week of October, not only was Balaz able to erase the $16,000 deficit, he actually turned a profit. He played nonstop, and after 24,035 tournaments, profited almost $3,000 without rake-back. While $3,000 is nice to any bankroll, it was the money and pride associated with the prop bet that meant the most to Czech pro.
Prop Bet in Numbers
Games played total: 24,035 games
Number of hands played total: approx 750k hands
ROI total: 2%
Total cashes: $1,277,676.43
Total profit: $2,898.83
Rake paid: $54,998
Rakeback (46% because Balaz achieved 600k Milestone): $25,299
Total profit including rakeback: $28,198
Average duration: 27.2 min
Average Buy-in: $53.10
ITM %: 51.20%
Number of hours: 385 hours
Hourly rate: $7.53
Hourly rate including rakeback: $73.24
Total bets made on 2p2: $4,397 mine vs. $13,191 bettors
Total bets made outside of 2p2: $166 mine vs. $500 bettors
Total earned (profit+ rakeback + bets): $41,889
VPPs earned: 302,558 VPPs
FPPs earned (3.5x VPPs): 1,058,953 FPPs
Balaz's current number of VPPs: 667,000
Always up for a challenge, Balaz has set his sights on becoming a Supernova Elite by the end of 2011. He has also considered a 36,000 Fifty50 SnG challenge for 2012, and would also like to notch 3 million VPP the same year. However, all of those ambitions are just stepping stones toward his ultimate goal, becoming a member of Team PokerStars Online.
"I like being recognized at the tables," Balaz unabashedly admits. "I enjoy attention and popularity. Becoming a member of Team PokerStars Online is one of my main poker goals and dreams, along with clearing SNE VIP status. I am convinced that one should constantly define his short-term and long-term goals to achieve great results and to keep himself motivated and focused."
With his results, dedication, and passion for the game, many consider it only a matter of time before the realization of this goal comes full circle.
Breakdown of Games Played
| Stakes/Buy-in | Games Played | ROI | Avg. Duration (minutes) | Profit |
| --- | --- | --- | --- | --- |
| $15 | 3,056 | 4.07% | 27.4 | $1,864 |
| $30 | 9,399 | 3.10% | 27.2 | $8,754 |
| $60 | 7,524 | -0.55% | 27.2 | -$2,463 |
| $100 | 3,158 | 1.48% | 27.3 | $4,669 |
| $200 | 898 | -5.53% | 26.8 | -$9,925 |
Get all the latest PokerNews updates on your social media outlets. Follow us on Twitter and like us on Facebook today!
Executive Editor US, PokerNews Podcast co-host & 2013 WSOP Bracelet Winner.