Player Responses and Future Plans after Black Friday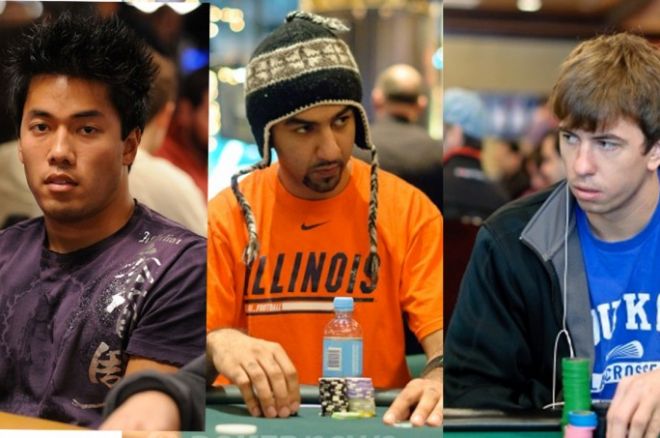 It's been seven days since the proverbial bomb dropped on thousands of poker players, so with an entire week to stew over last Friday's news about the indictments by the U.S. Department of Justice, and the world's two largest online poker sites pulling out of the U.S. market, players have had time to contemplate their uncertain futures.
Some players are looking at this news as a "blessing in disguise." It's a forced early retirement and a hard shove into other endeavors that had previously been put on the back burner. For years, brothers Hac "Trex313" and Di "Urindanger" Dang had ravaged the highest stakes no-limit hold'em and pot-limit Omaha games online while living in their hometown of Fairfax Station, Virginia. Without online poker, their main source of income was abruptly stripped from them. Known for his unwavering positive attitude, Di responds with optimism and empathy for his fellow players.
"I think we're okay. We've saved up our money, but a lot of our friends haven't. They're struggling. I actually wanted to retire from poker eventually, so the news didn't hurt me as much as it hurt my friends. Poker is stressful. I could lose or win a million dollars or more every month. Sometimes I felt on top of the world, and then sometimes I felt on the bottom of the world. It's not healthy. Poker was always a means to an end for us. It was never what we wanted to do forever. We were planning to use the money to do something bigger and better."
Dang is currently in the process of opening a Cajun-style crawfish restaurant in Virginia and is keeping himself busy with everything that goes into starting up a business. While Dang is just starting his career as an entrepreneur, Faraz Jaka is using this time to focus on his already booming caster-board company.
"I can't say I was totally surprised because there was always a grey area with poker after 2006. Because of that, I've always been a little worried which is why I wanted to diversify myself away from poker. I started my business and got into real estate. Even in sports, when you're an athlete, your career is short lived whether it's because of injuries, or in this case, the law. I'm going to see how things go and assess as more information comes out. I'm in Costa Rica right now playing FTOPS, and may change residency here to play more, but we'll see. Since I've already been spending a lot of my time on axiscasterboarding.com, this is just an opportunity to focus more time on that, which I have wanted to do anyway."
For FTOPS winner Shannon Shorr, the news didn't hit as hard as most. He'd already slowly made the transition to play more live tournaments than online.
"I've spent the last few days, like a lot of people, reading as much as I could from sources that I trusted to see what we can expect. I feel like a lot of it is just speculation though. I'm optimistic that things will work out though, and I'm just sort of waiting to see what develops and trying not to worry."
"I intend on playing a lot of live tournaments, as usual, through the end of 2011. The last couple of years I've probably only played 50 days of online poker per year, so by no means am I amongst the most highly affected players by this change. In the event that there's no chance online poker ever exists in the U.S. again, I'd consider moving but that would certainly not be the case until, if I had to guess, at least late 2012."
The most common and least shock-inducing choice players are making is to simply transition to live poker. For Randal Flowers, it still requires a move, but he says it's his most viable option, and in his response, he also addresses what many stereotypical homebody online players are asking themselves which is: What do I do with all this free time?
"Well my girlfriend from L.A. flew in four days before Black Friday, so for a bit, I was distracted from all the bad news going on. I just wasn't paying attention to it, but when she left, it hit me hard. I was so bored that I went to the gym. I'll probably start going again out of boredom [laughs]. I ordered the newest FIFA and Call of Duty games, so I can waste my time playing Xbox LIVE.
"As far as poker goes, I'm going to probably move back home to North Carolina and play live there in underground games. I considered moving out of the country, but it just doesn't make a ton of sense for me. Even if I was financially able to move, I don't think I would simply because I can't really think of anywhere besides Toronto I have friends I could hang out with when not playing poker. Also, I don't know if playing online tournaments while still backed and in make up for smaller prize pools would even be worth it for me, as opposed to playing live cash where I can make immediate profit, which is what I need. I also don't want to move away from the people I love here. My family is pretty important to me. I don't think I could move somewhere as cold as Canada either."
Arguably, the players most affected are PokerStars Supernova Elites. Not only do most all of them make their living solely from online poker, but becoming an SNE requires keeping a large bankroll online. In addition to that, time is of the essence for these players. Mike "Umpa21" Ziemba dedicated 2010 to reaching SNE status to by grinding 24 tables of $200 no-limit hold'em six-max cash games 30 hours a week. To reap the rewards in 2011 and keep his SNE status, moving out of the country is his only option.
"I've considered moving to Canada. I love Las Vegas and really don't want to move. I'm planning on playing live poker for the next three-to-six months. Hopefully our government realizes how much money that can be made by legalizing online poker and pushes something through within the next year. It's nice to be able to get out of the house and see human beings now though [laughs]. I'm trying to focus on the positives of the lifestyle change instead of pouting about online poker being gone.
"The transition to live poker has been rough though so far. It's going to be hard to match my hourly win rate online unless I play high-stakes live. I find myself browsing on my iPhone nonstop in between hands and being anxious. It's a patience game somewhat. The biggest difference is getting 35 hands an hour compared to 1,600.
"I've already considered SNE down the tubes for this year. Sometimes you have to cut your losses and just be happy for what you have. If online poker gets legalized this year, I'll be thrilled. I guess I never realized how good I had it, until its gone."
Ziemba says that PokerStars has reached out to him via e-mail and assured him that if he would like to relocate outside of the U.S., his SNE status entitled him to special VIP Club assistance in updating his account to reflect a new location.
So with the bomb exploded, it's up to the players to rise above the ashes and find a way to survive. In one week, after these players have seen their livelihoods threatened, many are already quickly moving toward a different career path or just a slightly modified poker-playing future. After all, poker is a game all about making adjustments and adaptions.
Be sure to follow us on Twitter for up-to-the-minute news.