Twitter Reactions to Full Tilt/PokerStars Dot-Com Announcement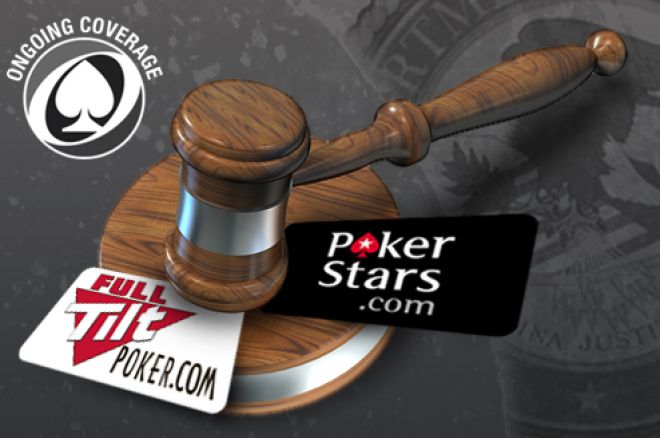 On Wednesday, April 20, 2011, the poker world received its first piece of good news since the infamous Black Friday when the founders of PokerStars, Full Tilt Poker, and Absolute Poker were indicted on charges of bank fraud, money laundering, and illegal gambling by the U.S. Department of Justice, which also included the seizure of five domain names. The news came in the form of an agreement between PokerStars/Full Tilt and the U.S Attorney for the Southern District of New York.
The agreement allowed both sites to regain their respective dot-com domains with the condition that U.S. players stay forbidden from playing for real money. In addition, it helped ensure that players would regain access to their funds and receive proper payouts. According to a statement from Full Tilt: "The agreement represents an important first step towards returning funds to U.S. players because it allows Full Tilt Poker to utilize its domain to facilitate the withdrawal of player funds."
Likewise, PokerStars issued its own statement on players' funds: "Returning US players' funds is a top priority for PokerStars and the company can now start the process of returning money to its former US customers. All PokerStars player deposits are completely safe . . . This money is readily available to meet withdrawal demands, indeed the company continues to comply with withdrawal requests from players based outside the US as normal."
Obviously this was excellent news for all the online grinders who had their bankrolls stuck online. While panic, depression, and despair had characterized the responses to Black Friday, online pros changed their tunes changed on Wednesday when the aforementioned news broke.
The World Poker Tour's Tony Dunst (@Bond_18) expressed his feelings when he tweeted: "Great news to wake up to this fine April 20th morning. Going to spend my day relaxing and packing for Florida."
Likewise, a few of the more optimistic tweets throughout the day included:
Josh Brikis (@JBrikis): "Basically what I get from this is that the DOJ wants customers to get their $ and get it faster than expected...so that is def good news"
Tristan Wade (@tristancre8ive): "I'm not sure what these recent reports really mean but they seem like a step in the right direction. Let's keep fighting guys"
Andrew Robl (@Andrew_Robl): ".com names returned to FTP/stars. Looks like it's probably not going to be the end of the world after all." He went on to add: "Part of reason for swift return of the domains is the huge public outcry. call/email your senators etc."
Annie Duke (@AnnieDuke): "Happy to see progress being made toward getting affected US online players their funds. Very good news."
Mike McDonald (@MikeMcDonald89): "Looks like @FullTiltPoker will be getting its domain name back shortly. Good to see steps in the right direction"
Kevin Iacofano (@icekevin): "I think the DOJ making this quick agreement with FT and PS is a sign that our outrage and continuous call, emails, tweets is working."
While many breathed a sigh of relief and accepted the news as a blessing, others were already looking to the future and what exactly the announcement could mean, specifically as to whether or not players would have access to their money before this year's World Series of Poker. Former November Niner Jason Senti (@PBJaxx) summed it up best when he said: "Hopefully this happens in time for the WSOP!"
Sticking with the WSOP theme, Poker Royalty agent Brian Balsbaugh (@Balsbaugh), who represents some of the biggest names in the game, was inspired by the news that he even changed his prediction for this year's Main Event turnout, which he had previously put at a 2,500: "Revised 2011 @WSOP entry estimate: 4250."
The good vibes seemed to spread throughout the day and appeared to light a fire under many players. Tom "durrrr" Dwan (@Tom_Dwan), who stepped up during the Black Friday panic to help ease fears regarding player balances, encouraged both players and fans to take to Facebook for President Barack Obama's town hall meeting: "I'm doing this a bit last minute but go like this comment; maybe we can get an answer from Obama."
Dwan's actions received a lot of support from his fans and fellow poker pros alike. Taylor Caby (@taylorcaby) expressed his gratitude when he Tweeted: "@Tom_Dwan thanks for taking the time to help with the town hall stuff. Lmk if I can help in some way."
While the day's early news certainly raised spirits in the poker world, many were frustrated that Obama's meeting simply glossed over the online poker issue. As Justin Smith (@BoostedJ) put it: "Am I the only person who thinks the Obama Facebook town hall meeting was a complete joke? All Facebook employee questions, nothing on poker."
Unfortunately, getting online-poker answers from Obama via Facebook did not come to fruition; nonetheless, the poker community seemed to consider Wednesday a day of good news and celebration. Tom Schneider (@DonkeyBomber) said: "Now that we are all going to get our cash from online sites I suggest we rename black Friday to brown Friday..kinda like terror warning system."
By the end of the day, it had become clear that the reacquisition of the dot-com domains was a positive step forward for the online poker sites and lifted the spirits of the poker community.
As you can see, social media is all the rage in the poker world. As such, you might want to consider following us on Twitter and liking us on Facebook.
Executive Editor US, PokerNews Podcast co-host & 2013 WSOP Bracelet Winner.