Online Chat: Zachary "zackmorris99" Donovan on his WCOOP & WSOP Circuit Wins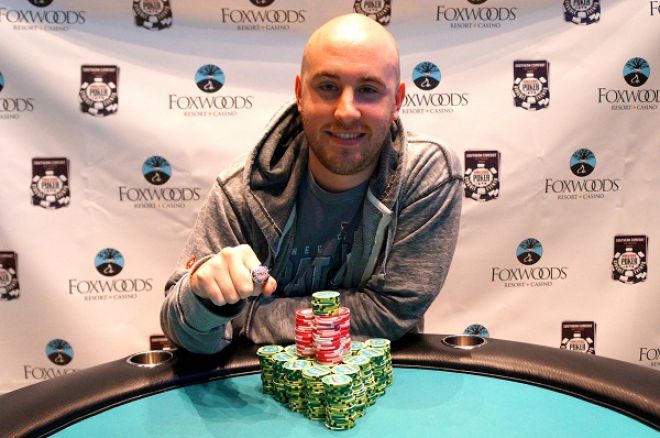 While hundreds of online poker players left the virtual felt and ventured into the live realm after Black Friday, Zachary "zackmorris99" Donovan went another route by packing up his things and heading south of the border. Along with his best friend, David Emmons, Donovan became a poker refugee to save his livelihood.
Originally from a little town called Franklin in South Massachusetts, Donovan has committed himself to high-stakes multi-table tournaments and doesn't partake in cash games. It proved a fruitful decision last September when he navigated a field of 3,355 entrants to win WCOOP-61: $320 NL Hold'em [SuperKnockout] for $81,119.32, a moment he considers the pinnacle of his online poker career.
What's more, Donovan inexplicably added a major live victory to his résumé when he captured a World Series of Poker Circuit ring on a recent visit home. It happened in the first event, Event #1 $365 No Limit Hold'em Re-entry, of the WSOP Circuit Foxwoods. Donovan topped a field of 800 players to capture his first ring and the $48,112 first-place prize.
Donovan was kind enough to sit down with PokerNews to talk about the live victory, his WCOOP win, and online poker in general.
How did it feel to win your first WSOP Circuit gold ring?
Pretty sweet. It was the first WSOP Circuit event I had ever played. I went to Foxwoods because I had to go back home to visit for a couple of weeks, so I figured I might as well schedule it during the WSOP Circuit. It was a great start to that week.
You say that you had to come back home for a visit. Is that because you relocated to Mexico?
Yeah, I moved down to Cabo San Lucas maybe a year and a half ago. I've just been down there grinding ever since. There's a bunch of poker players down there right now. In particular, I moved down there with my friend David Emmons, but there are a bunch of other friends that I'm down there with. There's too many to list.
You're primarily an online player, but now you've got some live success, too. How did you first get into the game of poker?
I started playing home games in high school and stuff. I saw it on TV, and then I started playing a little bit online during college, but not much. After I graduated college I decided to move down to Austin, Texas with my friend Dave and a couple of other grinders to take a shot at it. It's worked out decently so far.
What's proudest online poker accomplishment?
I won a WCOOP. That was my biggest score and I guess my proudest moment.
What was your initial reaction to Black Friday back in 2011?
Just like everyone else in the poker world, I remember where I was. I was in my apartment grinding. We were in the middle of a session one day, and we couldn't register anymore on Stars. My initial reaction was that I was scared s***less. I didn't know what to do. I called up my backer, but he was sleeping and didn't know about it. I finished out the tournaments I was in and then tried to figure out what was happening. I tried not to freak out, I took it in stride. You've got to roll with the punches, but it was a shock for sure. It worked out. I've gotten to travel a little more, see a bit of the world.
What was your daily routine like before your relocation after Black Friday?
Before Black Friday, it was pretty much the same as any other grinder. Wake up, get a good meal in, then grind. Maybe try to get exercise in at night. Just like every other grinder, I just grind, sleep, grind, sleep.
In your opinion, what's the biggest difference in online games between now and pre-Black Friday?
That's a good question. There are a lot of really good American players who're not online anymore. The best ones relocated so they're still online, but there are tons of guys just withering away in the States. They really should be moving to play online, but without all the Americans it makes the games softer overall. They're not super soft or anything, but they're softer in general for sure.
Do you have any money locked up on Full Tilt Poker?
No. I'm backed so my backers had [their money locked up].
Was it easy to get your accounts re-established after you moved?
It's a lot easier now. I had a friend come down like a month ago, and he got up and running in like two days. A year and a half ago, it took me like a week once I sent in my bank account and all that stuff. It wasn't too time consuming, not really that bad.
Now that you've had success in the live realm, can we expect to see you on the circuit or do you plan on returning to a full online grind?
Right now, my plan is to grind online. I'm an online grinder, I'm not really a live player. I love playing live. I grew up playing at Foxwoods, that's how I first started, but right now I consider myself an online guy.
Will you be at the WSOP this summer?
Most likely. I'll probably go for the Main Event. That whole two-month stretch online is really soft because everyone is in Vegas. If you're a really good online grinder, you should stay just because the games are so soft.
Get all the latest PokerNews updates on your social media outlets. Follow us on Twitter and find us on both Facebook and Google+!
Executive Editor US, PokerNews Podcast co-host & 2013 WSOP Bracelet Winner.