Online Chat: High-Stakes Online Poker Player Sander "Berndsen12" Berndsen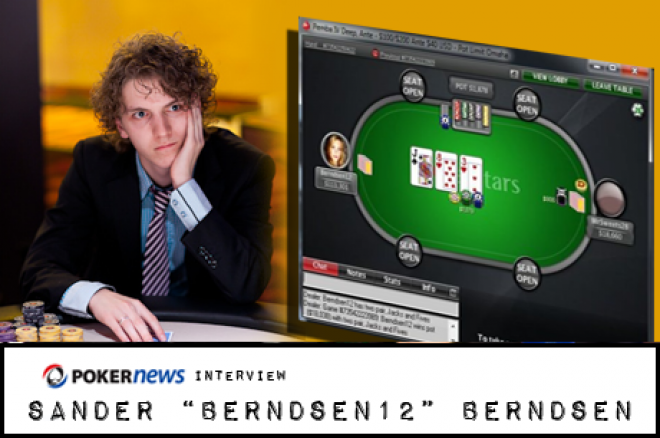 Last January, Viktor Blom was busy winning the 2012 PokerStars Caribbean Adventure Super High Roller for $1.25 million. Before, during and after, the Swede was busy mixing it up on his home turf — the virtual felt. It was at that time that a 21-year-old heads-up sit-and-go specialist from the Netherlands, Sander "Berndsen12" Berndsen, logged into the high-stakes cash games and took on the legendary "Isildur1."
The two played countless hours of $100/$200 pot-limit Omaha and took turns winning pots worth tens of thousands — and occasionally hundreds of thousands. Small fortunes changed hands each week early in the year, and Berndsen quickly established himself as a formidable foe.
Their biggest hand, which happened to be Berndsen's biggest single-hand win to date, took place on Jan. 12 at a $100/$200 PLO table. It began when Berndsen ($117,043) raised to $600 only to have Blom ($178,913) three-bet to $1,880. Berndsen made the call and then raised to $12,473 after Blom had led out for $3,838 on the
flop. The Swede responded with a three-bet to $23,600. Berndsen four-bet $51,673, Blom made it $141,200 to go, and Berndsen called off.
Showdown
Berndsen flopped bottom set and was ahead of Blom's nut-flush draw. Neither the
turn nor
river changed a thing, and Berndsen collected the $232,284 pot.
Berndsen, who will turn 22 on Aug. 31, continues to mix it up at the high-stakes tables. He spoke with PokerNews for the latest Online Chat, a series that takes an in-depth look at online players from around the would and ascertain their online origins, and perhaps more importantly, what makes them so successful.
Can you tell us a little bit about yourself?
I am 21 and grew up in a small city called Lochem in the east of the Netherlands. I grew up with two brothers and one sister. My entire family is really smart, myself included. I skipped a grade in primary school and went on to do a bilingual stream in high school, meaning I had half my lessons in English and half in Dutch. I went on to university but dropped out three times in a row because of a combination of partying, playing poker, and being too lazy. After that I decided to play poker professionally and have done so for two years now.
How did you learn to play poker?
I have always loved to play cards and any game involving logic. I played bridge from the age of seven and chess from four. I played a lot of cards with my family and did some relatively high competitions in chess. Then, I think it was the second-to-last year in high school, people started playing poker on the breaks.
I immediately felt it was something I would be good at. I remember telling one of my friends: "That is something I am good at," and he asked me why? I said, "I just know." After this, I started playing some good old shasta's on Everest Poker, which many people will remember. Having ran up a couple of cents a few times and then losing it. I decided to deposit $10. I remember immediately winning my first two $5.00 ten-man sit-and-go tournaments (SNG), making $50 dollars, and basically never looked back.
Can you elaborate on your progression in poker? For example, what stakes did you start at and how did you know when it was time to move up?
With those 50 bucks I kept on playing 6 and 10-max SNGs on Everest Poker using really aggressive bankroll management. At that time, I had never heard of bankroll management, nor did I even know of the existence of online forums or poker books, I just played. I think when I reached the $50 level I switched to mostly heads-up SNGs, and later to heads-up cash because there was little action on higher-stakes SNGs.
I remember winning when I was playing poker for like three months. I won like $1,500 in one night. I immediately quit my job at the supermarket and haven't had a "normal" job since. I kept playing solely on Everest Poker for like four-and-a-half years just to make some money at the side for partying, university expenses, housing, etc. I even quit playing several times during that period and didn't really think too much of it.
Then I decided to change to PokerStars — after having failed on Full Tilt Poker — with relatively small deposits several times. I started to see the enormous possibilities, plus I was good enough to compete at the highest levels off heads-up SNGs. I started to get more hooked into the community and rather quickly worked my way up. Then, in the summer, I decided to go for poker professionally, and within four months of that decision I played $5,000 heads-up SNGs and was competing at the highest level.
What is the most you've ever won in one day? Likewise, what is the most you've ever lost?
I have always had a crazy style playing poker. Mostly I would grind at relatively low stakes and use my winnings to take shots at high levels versus any player, and I would basically keep on going until I dropped back again, mostly after having cashed out a small part though. This could go on for a very long time and from time to time I would hit it very big.
I remember even in my Everest days I had won like $35,000 off some $5,000 no-limit heads-up regular, while my standard game was like $200 heads-up SNG, and my net worth was under $10,000 before that night. I've had a couple more of those runs.
But the sickest runs have obviously been at the start of this year. I think my biggest day was when I won like $400,000 to $500,000, mostly off Viktor "Isildur1" Blom in one night. That was incredibly sick, mostly because I had only played like $10,000 pot-limit Omaha hands lifetime prior to that night, and because it's Isildur, who causes a crazy match, as well as him being one of the best players there is. I think after that I've had a $350,000 day, a $300,000 day, and a couple of $100,000 to $200,000 days.
My biggest losing days have been just as severe as my winning ones. I have lost over half my bankroll in one night several times and sometimes even more. I think my biggest ones are around $300K.
How do you deal with big losses?
I have always been rather good at dealing with huge losses. Because of my crazy style I have always been forced to deal with losing huge parts of my bankroll in one session. This kind of made me get used to it, as much as one can get used to losing $300,000 in one day. Also, I don't think I value money as much as most people do, or most poker players do. Obviously it is important, and I want to do well at my job, but I'm not really materialistic. I mostly see it as a means to an end, and not the end itself.
Also, I am really close with my family and friends, who support me a lot. After such days, I will usually just go out with my friends, get a bunch of drinks, and start over the next day. I really hate high-stakes poker players who whine a lot. I mean we have this great job, make this insane amount of money, can do whatever we want — how can you ever whine about that?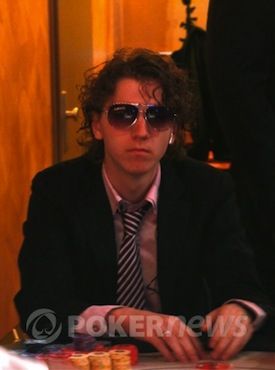 What is your game of choice online? How about live?
The game I play the most online is $1,000 hyper-turbo heads-up. Basically because there is still a good amount of fish there compared to any other game, and I can still make a really good hourly rate with relatively low risk. Furthermore, I play a good amount of turbo heads-up SNGs, CAP and short/deep PLO. Basically I'm just following where the action/fish go and the most profit can be made. I haven't played as much live as I want to. I have just done a couple of tournaments and cash-games for fun, but I'm planning on playing a lot more live next year. It is kind of the most logical step to take if I want to further progress in my poker career.
Do you ever play mixed games? If not, do you have an interest in learning?
I only ever played hold'em and Omaha mixed, but I would be very interested in learning the other games at some point. The only problem is that for online there is absolutely no use in learning mixed games compared to getting better at PLO and short hold'em, but I think for live there are definitely some interesting mixed games running, which could be a lot of fun.
Are there any players you fear online? Or any players you highly respect?
I basically respect all successful mid to high-stakes online players in some way. Most of them are really good at what they do. As for fearing, it's hard to answer. I know that not even the very best play perfect, and everyone has his or her weaknesses. They can definitely be beaten, but guys like Phil Galfond, Ben "Sauce123" Sulsky, Alex "Kanu7" Millar, and Viktor "Isildur1" Blom are insanely good.
Where were you and how did you learn about PokerStars recent acquisition of Full Tilt Poker? Furthermore, what are your thoughts on the deal?
I just logged on onto my computer when I woke up, started browsing some forums as I do every working day, and read about the deal there. For our FTP money this is the best we could hope for as PokerStars is loaded and well-organized. Making getting our money back a lot easier. The only problem is that this will give PokerStars an even sicker monopoly on online poker, enabling them to do pretty much anything they want without thinking too much about professional poker players' opinions.
Do you have money locked up on FTP? If so, care to share how much?
I have $40,000 locked on FTP, not as much as a lot of my friends, but enough to be really happy about the news.
Would you be willing to play on FTP once it is relaunched under PokerStars' management?
I will definitely keep on playing on PokerStars as I always have, but I see no reason to not start playing on FTP again when it reopens. With PokerStars behind it there is no chance for it to ever have problems again. I'll probably just get a small amount on there and see how the action goes while continuing to play on PokerStars.
How did you come to choose your online screen name?
Berndsen is just my last name. As for the 12 part, when I made my account on PokerStars, I was a student in Amsterdam and was part of a fraternity and not playing poker a lot at that time. My fraternity was called "Minuit," which is midnight in French, which is 12 o'clock; therefore, the number of my fraternity was 12, with which we did a lot. Therefore, I choose the number 12, which made it "Berndsen12."
Can you describe for us your computer setup, or "grind station" as some call it?
For a surprisingly long time, I grinded behind just a laptop, but currently I have two 27-inch screens with a keyboard and mouse connected to a docking station in which I put my laptop and can instantly start grinding. It's nothing special but definitely enough for me. I barely have more then four tables running anyway, mostly one to four.
Do you plan on playing online poker as a living for an extended period or do you have other career aspirations?
I have always thought of poker as a means to an end instead of my goal. I really like the possibilities it gives me at this young age, as well as for my future, but I've never seen myself as playing poker my entire life. Every year in the summer I decide what I will do the next school year. Next year it will definitely be poker, but after that I am not sure and will decide next summer. Much can change in one year, and I still have many aspirations. Most likely I will go back to university some time to get my degree, but I can't say that with certainty.
Will we be seeing you on the live circuit anytime soon, perhaps either the EPT or WSOP Europe?
I am not really sure what tournaments I will play. I usually decide like one week in advance of what I feel like doing. I am planning to play more live tournaments this coming year than I did last year, but we will see. I think there is a very high chance I will be at World Series of Poker Europe.
Get all the latest PokerNews updates on your social media outlets. Follow us on Twitter and like us on Facebook now!
*Lead photo courtesy of PokerNews.nl.