The Isildur1 Effect: Has PokerStars' Signing of Viktor "Isildur1" Blom Changed the High-Stakes Landscape?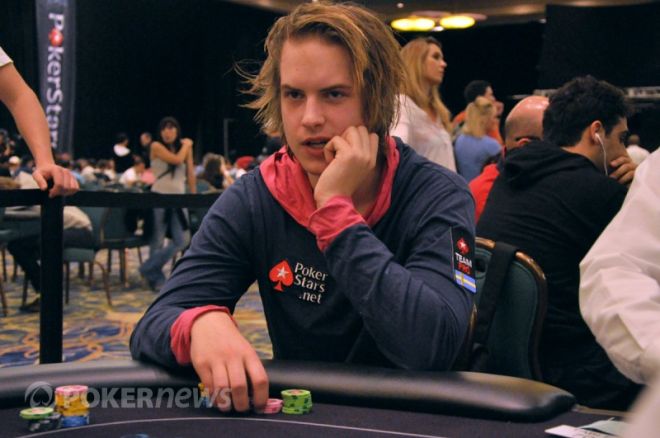 Last December, PokerStars took the monumental step of signing an online poker legend to its team roster. We're speaking, of course, of the then-unknown "Isildur1," who was revealed a month later as being the long-suspected Viktor Blom of Sweden. While Isildur1's identity lacked intrigue, why he signed with PokerStars rather than Full Tilt Poker, the site where he literally made his name by playing in the high-stakes cash games, certainly made people curious.
For years, Full Tilt Poker has been known for its high-stakes cash-game selection while PokerStars was the place to go for tournament poker. Many speculated that PokerStars' signing of Blom, one of the most infamous online cash game players in history, was a move designed to reinvigorate its high-stakes cash-game options and hopefully put it on par with the competition. While the PokerStars high-stakes games may not be on the same level as Full Tilt quite yet, it cannot be denied that the action has increased over the past few months. The question is, can this be attributed to Blom's arrival on the PokerStars scene?
Given the facts and data, all signs point to "yes" and suggest that there has been an "Isildur1 Effect" indeed. If you look at the numbers from the beginning of the year until mid-March, you can see that two of the top ten cash-game earners have amassed their fortunes on PokerStars - Gavin "gavz101" Cochrane (fourth on the list with +$1,614,987) and Rafael "refaelamit" Amit (ninth on the list with +$717,302). This is in stark contrast to the same period in 2010 when the top ten were all from Full Tilt. In fact, the overall top ten cash-game earners for 2010 came from Full Tilt. PokerStars' high-stakes traffic has increased so much in the last few months, that to have two players already crack that list is impressive. It is no coincidence that these numbers changed just a few months ago at around the same time Blom arrived.
The Swede's switch to PokerStars has inspired other online professionals to follow suit, which Blom clearly epitomizes, and as a result the $25/$50, $100/$200, and $200/$400 no-limit hold'em and pot-limit Omaha tables have been going strong. In a recent interview with Pokerisivut.com, Illari Sahamies, who was a regular on Full Tilt under the name "Ziigmund," explained why he made the switch to PokerStars, where his handle is the ever so appropriate "Ilari FIN." "The whole Full Tilt software started to give me creeps. It might sound ridiculous, but I am not superstitious. I just thought to give PokerStars a go, and since Isildur1 is also there, it suits better for me at the moment," he said.
Sahamies is not the only notable player to find action on PokerStars' high-stakes tables. Since Blom's arrival, a number of Full Tilt regulars have been spotted playing on the competition's software including Jared "Harrington10" Bleznick, Phil "MrSweets28" Galfond, Daniel "w00ki3z" Cates, Di "ilvdnfl" Dang, Brian "$tinger88" Hastings, and Scott "urnotindangr" Palmer.
PokerStars was also wise enough to launch a high-stakes challenge with Blom in the form of the SuperStar Showdown. For those who don't know, the SuperStar Showdown, which conjures up images of Full Tilt's "durrrr Challenge," is designed as a one-time high-stakes match where challengers face off against Blom in a heads-up match of 2,500 hands spread across four tables of $50/$100 or higher no-limit hold'em and/or pot-limit Omaha. Thus far the SuperStar Showdown has drawn four challengers, Isaac "philivey2694" Haxton, Antanas "Tony G" Guoga, Eugene "MyRabbiFoo" Katchalov, and the aforementioned Cates, none of whom were strict PokerStars regulars.
Clearly there are some players gunning for some of that sweet Isildur1 money, and poker fans seem to love it. In fact, there is even a thread on TwoPlusTwo dedicated to Blom and his high-stakes exploits since joining PokerStars. Blom is certainly doing his part, having played 1,177 sessions totaling 138,311 hands so far this year; albeit, at a loss of $324,550. Regardless, his presence seems to be enough to get the money flowing.
PokerStars certainly seems to have a recipe that works in building its high-stakes section to compliment its tournament selection. While the poker boom of 2003 is often referred to as the "Moneymaker Effect," the recent surge in high-stakes games on PokerStars has been largely, if not completely, due to Blom's signing with the site. Therefore, if you've been playing on the high-stakes games on Pokerstars or simply enjoying the action, it wouldn't be a stretch of the imagination to say that you've been influenced by the "Isildur1 Effect."
Top Ten Winners on PokerStars Between January 1 March 15, 2011
| Player | Sessions | Hands | Winnings |
| --- | --- | --- | --- |
| Gavin "gavz101" Cochrane | 485 | 74,573 | $1,614,987 |
| Rafael "refaelamit" Amit | 189 | 21,274 | $717,302 |
| Di "ilvdnfl" Dang | 124 | 7,801 | $685,255 |
| "L0ve2playU" | 1,075 | 62,151 | $536,035 |
| John "dagunman" O'Shea | 237 | 28,115 | $401,297 |
| Isaac "philivey2694" Haxton | 49 | 7,824 | $394,330 |
| "LuckyGump" | 1,000 | 86,523 | $385,761 |
| Theo "Theo J" Jorgensen | 216 | 22,933 | $340,512 |
| Scott "urnotindangr" Palmer | 494 | 67,409 | $333,894 |
| "TNDynamite" | 161 | 9,855 | $314,299 |
Top Ten Losers on PokerStars Between January 1 - March 15, 2011
| Player | Sessions | Hands | Winnings |
| --- | --- | --- | --- |
| Benjamin "Ben86" Tollerene | 438 | 33,227 | -$428,812 |
| Richard "nutsinho" Lyndaker | 634 | 64,318 | -$423,774 |
| "seghei007" | 91 | 10,481 | -$405,396 |
| Daniel "KidPoker" Negreanu | 25 | 5,613 | -$373,378 |
| "venced0r" | 329 | 51,599 | -$350,786 |
| Daniel "w00ki3z" Cates | 107 | 16,311 | -$328,431 |
| Viktor "Isildur1" Blom | 1,177 | 138,311 | -$324,550 |
| "LooneryGerbil" | 275 | 16,620 | -$252,576 |
| Benjamin "toweliestar" Spindler | 371 | 45,349 | -$230,676 |
| "tuff_shark" | 148 | 10,576 | -$215,207 |
If you're not playing on either Full Tilt Poker or PokerStars, you can sign up for an account today. In the meantime, be sure to follow us on Twitter and like us on Facebook.