The Online Railbird: Hastings vs. Blom, Bleznick Continues to Roll and More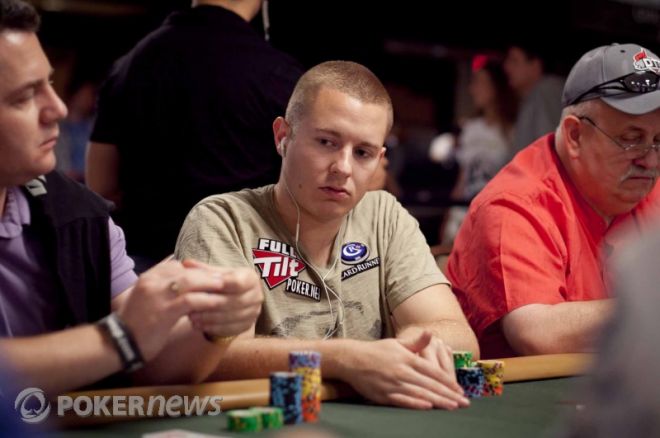 Once again, the online high-stakes cash games were going strong between Tuesday and Thursday on both Full Tilt Poker and PokerStars. During that midweek period, Viktor "Isildur1" Blom emerged as the biggest winner after grinding a $332,904 profit from 8,254 hands spread over 56 sessions. Not far behind was Jared "Harrington10" Bleznick, who raked in $251,806. On the other end of the spectrum, Richard "nutsinho" Lyndaker was the biggest loser, dropping $296,111 in 695 hands over at PokerStars. Another player down on his luck was Tom "durrrr" Dwan at Full Tilt, who lost $184,021 during 1,219 hands over four sessions.
Blom vs. Hastings
On Thursday, Viktor "Isildur1" Blom decided to use some of his $600k+ profit from earlier in the week to take on Brian "$tinger88" Hastings at the PokerStars tables. Unfortunately for Blom, his heater didn't carry over and he dropped around $150,000 to Hastings. The duo played two significant hands, the first developing in $25/$50 pot-limit Omaha when Blom ($13,847.50) raised to $150 only to have Hastings ($13,166.50) make it $450 from the big blind. After a call, the flop came down
and Hastings led out for $600. Blom pushed back to the tune of $1,750, Hastings raised to $6,149.50, Blom moved all-in for $13,397.50, and Hastings called off for a little less.
Blom:

Hastings:
Not only were Hastings' aces out in front, but he also held a superior flush draw. The
changed nothing and neither did the
on the river. Hastings' pocket rockets held to take down the $26,333 pot.
The second big hand happened when Hastings ($16,628) was on the button and raised to $150. Blom ($24,667.50) reraised to $450, Hastings called, and the flop fell
. Blom wasted little time in leading out with a bet of $899.50 only to have Hastings raise to $2,450. Blom, never one to shy away, reraised to $4,650 and Hastings slowed down with a call. When the
hit the turn, Blom bet $10,199.50 and Hastings moved all-in for a total of $11,528. After Blom called the additional $1,328.50, the cards were turned up.
Blom:

Hastings:
Blom's kings had been cracked by Hastings' flopped set, but he picked up a flush draw on the turn. With $33,256 on the line, the
bricked on the river and Hastings took down another sizeable pot.
Bleznick Runs Over "UarePileous"
Over at the $500/$1,000 PLO-Capped tables on Full Tilt Poker, Jared "Harrington10" Bleznick ($183,293.25) was squaring off against "UarePileous" ($116,208.60) when the following hand developed. Bleznick was first to act and raised to $2,000, which UarePileous called from the big blind. The
was put out on the flop and UarePileous checked to Bleznick, who bet $2,000. UarePileous then check-raised to $7,000, Bleznick called, and the
was put out on the turn. This time UarePileous led out for $18,000, Bleznick raised to $31,000 to cap it, and UarePileous made the call.
Bleznick:

UarePileous:
UarePileous had flopped two pair and turned an even bigger two pair, but he was still drawing dead to Bleznick's flopped set of kings. Ship $80,000 to Bleznick.
In another hand between the two, Bleznick raised to $2,000 on the button, UarePileous exercised his option in the big blind by making it $6,000 to go, and Bleznick made the call. UarePileous bet out $7,000 on the
flop and Bleznick responded by raising to $33,000. UarePileous raised an additional $1,000 to cap the pot, which Bleznick called.
UarePileous:

Bleznick:
Bleznick hit two pair on the flop to pull ahead UarePileous' pockets aces, but there were still two cards to come. Both the turn and river were run twice and both times (1st run:
-
; 2nd run:
-
) Bleznick improved to a full house. Ship another $80,000 to Bleznick, part of his $251,806 profit during the midweek.
Who's Up? Who's Down?
Week's biggest winners (2/1-2/3): Viktor "Isildur1" Blom (+$332,904), Benjamin "Bttech86" Tollerene (+$252,985), Jared "Harrington10" Bleznick ($251,806), Gus Hansen (+$223,383), Scott "URnotINdanger2" Palmer (+$194,303)
Week's biggest losers: Richard "nutsinho" Lyndaker (-$296,111), Tom "durrrr" Dwan (-$184,021), "Kanu7" (-$164,125), "MrSweets28" (-$147,552), Cole South (-$141,743), Andrew "luckychewy" Lichtenberger (-$122,880)
Year-to-date winners: Gus Hansen (+$1,128,234), Scott "URnotINdanger2" Palmer (+$1,056,810), Di "Urindanger" Dang (+$845,488 on Full Tilt), Patrik Antonius (+$835,733), Di "ilvdnfl" Dang (+$797,747 on PokerStars)
Year-to-date losers: "Nekotyan" (-$837,111), Phil Ivey (-$612,046), "Sauce123" (-$565,432), "Kpederson" (-$543,009), "cadillac1944" (-$478,669)
Want to rail the biggest games in the world? Not only will you get a $600 sign-up bonus at Full Tilt Poker, new depositors also get to play in a $100,000 First Deposit Freeroll -- so you can play while you watch! And don't forget to follow us on Twitter and like us on Facebook for up-to-the-minute news.