The Online Railbird Report: Galfond Makes 2011 Debut, "URnotINdanger2" Cleans Up, and Isildur1 News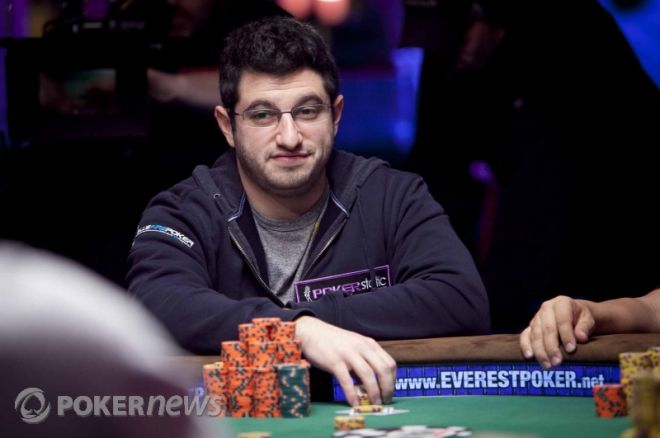 The poker world is off to a quick start in 2011. The PokerStars.net Caribbean Adventure is well under way, Tom "durrrr" Dwan and Daniel "jungleman12" Cates continued their challenge, and the online action is starting to heat up. Between Tuesday and Thursday, the "durrrr" Challenge, which was recapped earlier this week, overshadowed some great poker action and Phil "OMGClayAiken" Galfond made his 2011 online debut but couldn't find much luck.
"Kpederson" vs. "URnotINdanger2"
During the mid week, Richard "Kpederson" Lyndaker had been battling Scott "URnotINdanger2" Palmer at the $200/$400 no-limit hold'em tables. On Tuesday, Palmer won $343k off his opponent in just a three hour session, resulting in Lyndaker stating that he'd be taking a break from the match in the future. In the biggest hand of the match, Palmer ($204,659.25) was on the button and raised to $800. Lyndaker ($70,997.75) responded with a raise to $3,600 and Palmer made the call.
The flop came down
, inspiring Lyndaker to bet $4,800. Palmer opted to raise to $12,400 and Lyndaker called as the
peeled off on the turn. Lyndaker checked, Palmer bet $18,400, Lyndaker check-raised all-in for $54,997.75 and Palmer called. Lyndaker flipped over
for a wired pair of aces but was behind the
two pair of Palmer. The
on the river changed nothing and Palmer took down the pot worth $141,995.50.
Galfond's 2011 Debut Spoiled by "harrington25"
On Wednesday, David Benefield and Jared "harrington25" Bleznick both managed to win six figures. Bleznick did so by taking on Phil "OMGClayAiken" Galfond at the heads-up $500/$1000 pot-limit Omaha cap tables. In a 90-minute, 582-hand match, Bleznick caught some breaks and managed to win $158k of Galfond's money.
In one hand, Bleznick ($242,170.25) raised to $2,000 only to have Galfond ($54,296.25) reraise to $6,000. Bleznick made it $18,000 to go and Galfond called to watch the flop fall
. Galfond immediately led out for $22,000 and Bleznick called behind to cap the pot.
Galfond:

Bleznick:
Bleznick had the overpair but Galfond had a massive straight draw. The turn and river were both run twice. Amazingly, the
-
on the first run, and the
-
on the second both missed Galfond. Bleznick survived to scoop the entire $80,000 pot.
Who is Isildur1?
Late last year, online phenom Isildur1 became the newest member of Team Pokerstars. Since then, he has gone on to play two SuperStar Showdowns against Isaac Haxton and Tony G, losing to the former but winning against the latter. In the latest news, PokerStars officials announced that Isildur1's identity will be revealed on Saturday at the PokerStars.net Caribbean Adventure. The poker world seems to think Isildur1 is none other than Viktor Blom, who happens to be at the PCA, but come Saturday the matter will be resolved once and for all.
One man who will not be surprised is Tony G who has long claimed to know Isiludr1's true identity. However, he will no doubt be excited when the veil of anonymity is lifted so he can take another shot at the mystery Swede, hopefully in a live game. Tony G had this to say about his recent SuperStar Showdown match: "I tried to get PokerStars to move the heads-up competition to the PCA so I would know I was really playing against the real Isildur1. So the move to the PCA did not work out but PokerStars is open to exploring a new match up with me and Isildur1 there."
Aside from Tony G, another high-stakes players is anxious to play Isildur1, although on his own terms. David "Viffer" Peat recently issued the following challenge: "We can play one table $150k deep, unlimited rebuys, can't quit unless $150k loser or after 2,500 hands. I am open for other offers, or if not interested, I understand." The poker world will have to wait to see if Isildur1 accepts these challenges, but luckily they won't have to wait long to learn his long-guarded identity.
Who's Up? Who's Down?
This week's biggest winners (1/4-1/6): Scott "URnotINdanger2" Palmer (+$342,634), Di "Urindanger" Dang (+$256,171), Jared "harrington25" Bleznick (+$95,650)
Week's biggest losers: "Kpederson" (-$342,945), "cadillac1944" (-$182,948), "KobeYard85" (-$101,354), "DrugsorMe" (-$92,596)
Year-to-date winners: Di "Urindanger" Dang (+$661,761), Scott "URnotINdanger2" Palmer (+$519,198), Jared "harrington25" Bleznick (+$494,070)
Year-to-date losers: "Kpederson" (-$497,184), "cadillac1944" (-$478,669), Tom "durrrr" Dwan (-$318,302), Gus Hansen (-$315,697)
Want to rail the biggest games in the world? Not only will you get a $600 sign up bonus at Full Tilt Poker, new depositors also get to play in a $100,000 First Deposit Freeroll. - so you can play while you watch!