The Online Railbird Report: The Fall of Isildur1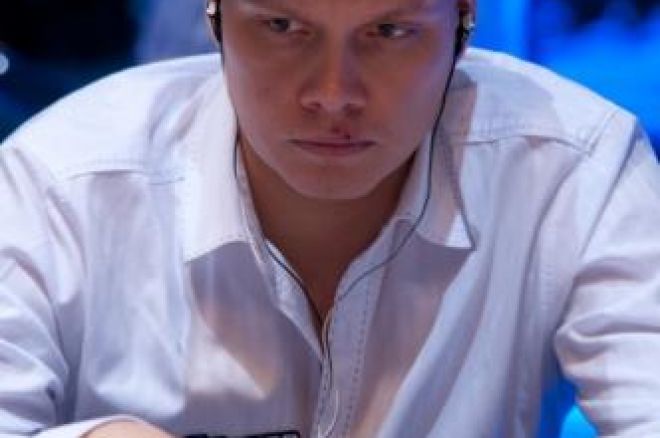 Isildur1's bankroll took a perilous plunge this week — bringing his losses to more than $4.1 million since November 24. His primary beneficiaries? Ilari "Ziigmund" Sahamies, who posted more than $3.6 million in earnings this week, and Brian Townsend, who raked in over $2.2 million.
While Sahamies and Townsend appear to at least temporarily have Isildur1's number, Patrik Antonius endured several brutal sessions against the Swede. Antonius was down as much as $2.7 million this week before storming back last night with a $1.6 million win to cut his losses to $1.1 million.
Despite Isildur1's losses, people still wonder who he is. In his most recent blog here on PokerNews, Tony G told readers that Isildur1 is 19-year-old Viktor Blom, who ran up his bankroll in high-stakes games on the iPoker sites before taking his shot at the big boys on Full Tilt.
Tony G wasn't the only one speculating about Isildur1's identity. Online tournament whiz Shaun Deeb told French journalist Benjamin Gallen in an interview that Isildur1 is not only Viktor Blom, but that he is next-door neighbor to "martonas," another young Swede who took his shot at the nosebleed limits several months ago before disappearing from Full Tilt altogether.
Brian Townsend Snags $1.1 Million from Isildur1
These days, it's more likely to find Isildur1 camped out at the $500/$1,000 heads-up tables, but on Wednesday night, he dropped down to $200/$400 pot-limit Omaha to take on Townsend.
Over the course of only 1,000 hands, Townsend relieved his opponent of over $1.1 million. Within the first 100 or so hands, Townsend snatched $200,000 in winnings and never really had to look back. Despite the lower stakes, pot sizes were huge, as evidenced by a $304,000 monster.
In the monster pot, Isildur1 opened for $1,200, Townsend three-bet to $3.600, Isildur1 came back over the top for $10,800, and Townsend repotted to $32,400. Isildur1 called and they saw a
flop. Isildur1 led out for a pot-sized bet of $64,800 and was met with a $259,200 raise that set him all-in. Isildur1 made the call, turning over
for a ten-high straight, while Townsend revealed
for a jack-high straight. The turn and river fell the
and the
, and Townsend raked in the $304,371 pot.
Ilari Sahamies Banks $1.5 Million in 600 Hands
Life only got worse for Isildur1 the next evening when he sat down for a short heads-up session against Ilari "Ziigmund" Sahamies. Playing $500/$1,000 pot-limit Omaha, Sahamies took only a bit more than an hour to demolish Isildur1, booking $1.5 million in only 600 hands.
What could be more painful than Isildur1's $1.5 million loss? Try being up over $2 million the day before and then dropping nearly all of it in only an hour. Such is the life of Isildur1.
In the monsterpotten of the session, Isildur1 led off with a raise to $3,000 from the button, and Sahamies flat-called. Sahamies then led out on the
flop for $6,000; Isildur1 came along with a call. The
on the turn prompted Sahamies to lead out again, this time for $18,000. Isildur1 wouldn't have any of that and raised to $72,000 only to have Sahamies move all-in for $238,994. Isildur1 made the call, turning over
for two pair, jacks and fives, but Sahamies had him with
for a set of sevens. The
on the river didn't help Isildur1 and Sahamies took the $459,987 pot.
Patrik Antonius Drops $1.75 Million to Ilari Sahamies and Isildur1
It's safe to say that this was one of the roughest weeks Patrik Antonius has ever experienced online. Play only got worse for the ex-model on Sunday night as he shed $1.75 million to both Isildur1 and Sahamies. It took only 240 hands for Antonius to lose nearly $800,000 to Sahamies and another 1,300 to drop the rest to Isildur1.
Antonius' largest single-pot loss of the day came at the hands of Sahamies, who runner-runnered his way to a $367,000 win. Antonius opened for $3,000, Sahamies three-bet to $9,000 and Antonius made the call. Sahamies led out for $18,000 on the
flop and Antonius came along with a call. The turn came the
and Sahamies fired again, this time for $54,000. Antonius responded with a shove for his remaining $156,499, and Sahamies looked him up, turning over
for a pair of aces and the nut flush draw while Antonius revealed
for bottom set. The river was a dream-crusher, falling the
to give Sahamies the runner-runner flush and the win.
Tuesday's Gone for Isildur1, and $3 Million went with it
We're not sure what was in Isildur1's Cheerios on Tuesday morning, but the day turned into a disaster when it came to his bankroll. Isildur1 ended the day with a staggering $3 million in losses after taking on all of his regular adversaries — Townsend, Sahamies, Tom "durrrr" Dwan, and Cole South.
Townsend was first, picking up over $565,000 from Isildur1 in a 600-hand $300/$600 PLO battle that sent his total winnings against the Swede past the $2 million mark.
Isildur1 then moved on to Sahamies. Two nights earlier, Isildur1 enjoyed a winning session against the Finn, booking a $1.3 million win, but he lost most of it that afternoon, dropping $1 million to Sahamies in 1,123 hands of $500/$1,000 PLO.
While Isildur1 and Sahamies fought it out, Tom "durrrr" Dwan, down over $5 million to Isildur1, slipped back online and dropped down dramatically in limits. Dwan sat with Isildur1 for a quickie session of $50/$100 PLO, but quit after losing $30,000. That same day, Dwan was also spotted playing as low as $25/$50 in an attempt to recover his losses.
Isildur1's next match was against Patrik Antonius, who was looking to recoup some of the $1.75 million he'd lost the day before. It didn't take him long to book a seven-figure win, pulling $1 million out of Isildur1's account over the course of 900 hands of $300/$600 PLO.
Next in line was Cole South, who sat with Isildur1 at multiple tables of $200/$400 PLO. In a marathon session that spanned over 2,500 hands, Isildur1 lost another $590,000 to South at $200/400 before moving up to $300/600 and dropping another $300,000 before quitting the match.
Once up over $7 million on Full Tilt Poker, Isildur1 is now more than $1.2 million in the red.
Who's Up? Who's Down?
This week's biggest winners (11/24-12/1): Ilari "Ziigmund" Sahamies (+$3.6 million), Brian Townsend (+$2.21 million), Cole South (+$637,000)
In the red: Isildur1 (-$4.11 million), Patrik Antonius (-$1.14 million), rospodin (-$383,000)
The highest-stakes action in online poker all unfolds on Full Tilt Poker. Open an account today and see for yourself.