Online Railbird Report: Dwan Drops $3 Million to "Isildur1" In Four-Day Heads-Up Duel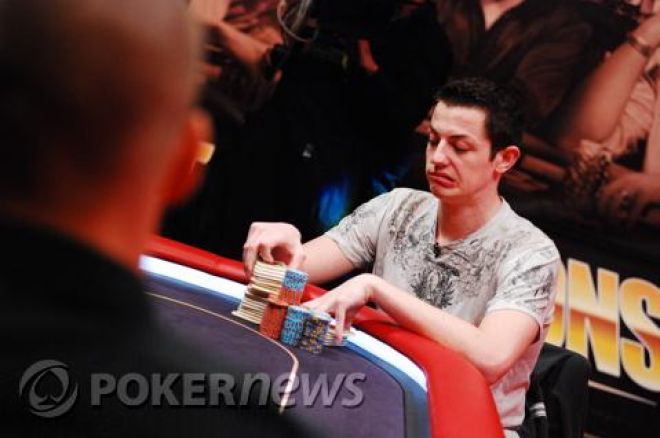 In a series of heads-up battles that have put the glacially paced "durrrr Challenge" to shame, Tom "durrrr" Dwan lost more than $3 million to unknown Swedish player "Isildur1." In less than a week, Dwan logged nearly as many heads-up hands against Isildur1 as he and Patrik Antonius have played in their now 10-month-old challenge match, the two getting in 19,000 hands in the first two days alone.
Once down over $1 million at the high-stakes online tables, Isildur1 has made a complete 180, his total profits eclipsing the $3 million mark. Although Isildur1 has taken on online luminaries like Brian Townsend, Cole South, and Antonius since popping up on Full Tilt Poker about three weeks ago, Dwan has been his primary victim. This week, Dwan lost more than $2.6 million, the vast majority of it to Isildur1, and he is now down over $4.4 million in 2009.
Only this morning, Dwan came out and issued a statement challenging Isildur1 to a live match at the upcoming Full Tilt Poker "durrrr" Million Dollar Challenge, which will be held in London next week and will later be televised in the U.K. and Europe. No word yet on whether Isildur1 will accept the invitation and finally reveal himself. Ilari "Ziigmund" Sahamies, Marcello "luckexpress10" Marigiano, and British businessman Sammy George are already scheduled to play.
Act 1: Isildur1 Relieves Dwan of $1.22 Million
In an epic session from Sunday afternoon into the early hours of Monday morning, Dwan lost a combined $1.22 million after five- and six-tabling Isildur1 at $500/1,000 no-limit hold'em and pot-limit Omaha. The pot sizes were massive, 100 coming in at over $200,000, 43 passing $300,000, 21 over $400,000 and three cracking a half-million. The two played nearly 7,500 hands, more than 7,300 of them at the no-limit hold'em tables.
The session's largest pot came in at $574,000, a sum that could have bought either player a lovely one-bedroom condo on New York City's Upper West Side. Dwan started off the action with a raise to $3,000 from the button, Isildur1 three-bet to $12,000 and Dwan called. Isildur1 led out for $15,000 on the
flop, Dwan flat-calling. The turn came the
and Isildur1 fired again, making it $36,400 to go. Dwan moved in for the $259,996 he had behind and Isildur1 quickly called, revealing top set with
while Dwan turned a flush draw with the lowly
. The
on the river was a blank for "durrrr," his nemesis earning the $573,991 pot.
Act 2: Dwan Drops $616,000 to Ilsildur1 in a 12,000-hand Marathon Session
After taking such a sound beating the night before, Dwan was eager to get back in the ring. The bell for round two rang on Monday night and the pot sizes were still out of control with 23 over $300,000 and six topping $400,000. Although Dwan and Isildur1 primarily stuck to five or six tables of $500/1,000 no-limit hold'em in this session, at certain points they were playing ten tables at a time. The largest pot of the session came when Dwan called a preflop three-bet with
and flopped a flush, taking $498,000, but one of their more interesting confrontations happened when Isildur1 sniffed out a river bluff from Dwan, earning this $453,000 monsterpotten.
Holding
, Isildur1 opened for $3,000 from the button and Dwan three-bet to $10,000 with
. Isildur1 smooth-called and they saw a
flop. Dwan led out for $15,400 and Isildur1 called. The turn came the
, Dwan firing a second time for $41,600. Again, Isildur1 called and they went to the river, which fell the
. Dwan moved all-in for $165,695 and Isildur1 called for slightly less, earning the $453,187 pot.
Act 3: The Carnage Continues as Dwan Loses Third-Largest Online Pot in History
Now down more than $1.8 million to the Swede, Dwan came back for more on Tuesday night. Their third heads-up match produced the largest pots yet, two breaking the half-million mark and two topping $600,000 including the third-largest online pot ever played at $695,000. Although Dwan was up as much as $1.7 million on Isildur1 during the first half of the session, he finished $858,000 in the red after Isildur1 mounted a huge comeback.
The night before,
proved to be a magic hand for Dwan when he flopped a flush in a $498,000 pot with the junky combo. In this session, it was once again a blessed pairing, snapping off Isildur1's pocket aces in a $570,000 pot. Dwan opened for $3,000, Isildur1 three-bet to $12,000 and Dwan called, the flop coming down
. Isildur1 led out for $15,000 with his overpair, Dwan making the call with bottom pair. The turn was Dwan's gin card, falling the
to make him two pair. Isildur1 led again for $34,600, Dwan moved all-in for $258,492 and Isildur1 called to see the bad news, Dwan taking the massive pot.
But let's talk about that record-setting hand, the $695,000 monstrosity that now stands as the third-largest online pot ever played. It turned out to be a bit of a cooler, all the money going in before the flop with Dwan's
up against Isildur1's
. Isildur1's aces held up on the
board, earning him $694,953.
Intermission: Isildur1 Takes $200,000 Each from South and Townsend
On Wednesday, Dwan was busy playing in Season 6 of "High Stakes Poker." In his absence, Isildur1 took on Patrik Antonius, Brian Townsend, and Cole South, winning $200,000 apiece from Townsend and South and a more modest $6,500 from Antonius. Although Antonius nearly broke even in his match, he had to hit a few lucky cards to get there, like the
on the river in this $225,000 pot.
Antonius made it $3,000 to go from the button, Isildur1 reraised to $11,000 from the big blind and Antonius called. The
flop brought a $14,000 bet from Isildur1 and a call from Antonius. Isildur1 moved all in for $87,499 once the
hit the turn and Antonius made the call, his
severely trailing Isildur1's top set with
. The river, however, made Antonius' flush, the
falling to give the Finn the $224,998 pot. Ouch.
Act 4: Between Sessions of "High Stakes Poker," Dwan Ships $705,000 to Isildur1
After settling in at the Golden Nugget, Dwan played Isildur1 for another three hours but could not quell the bleeding, another $705,000 flowing out of his bankroll and into Isildur1's coffers. The 2,100-hand match was all about Isildur1, who took all five of the night's largest pots.
Dwan opened for his standard $3,000 holding
and Isildur1 three-bet him light with the
. Dwan called, the flop coming down a delicious
for Isildur1. Typically hyperaggressive, Isildur1 checked this flop instead and Dwan checked it right back, perhaps sensing something was amiss. The
on the turn was a great card for Dwan, who picked up the nut flush draw and top pair. Isildur1 checked again, Dwan bet $17,400 and Isildur1 came in with a raise to $64,800. Dwan shipped the rest of his stack in, $159,498 in all, and Isildur1 called, his trip sevens holding up on the
river to earn him the $342,996 pot.
By the time both players called it quits for the night, Dwan was down over $3 million for the week to Isildur1. Although he'll be busy filming "High Stakes Poker" over the next few days, Dwan's downtime will surely be spent trying to earn some of those millions back.
Who's Up? Who's Down?
This week's biggest winners (11/5-11/11): Isildur1 (+$4.12 million), DIN_FRU (+$568,000), Brian Townsend (+$392,000)
In the red: Tom "durrrr" Dwan (-$2.61 million), Gus Hansen (-$990,000), Cole South (-$690,000)
Top five earners, 2009 to date: Patrik Antonius (+$6.9 million), Phil Ivey (+$3.82 million), Ashton "theASHMAN103" Griffin (+$3.61 million), Ilari "Ziigmund" Sahamies (+$3.35 million), Isildur1 (+$3.13 million).
Bottom five earners, 2009 to date: Tom "durrrr" Dwan (-$4.4 million), Sami "LarsLuzak" Kelopuro (-$3.87 million), Gus Hansen (-$3.71 million), David Benyamine (-$2.78 million)
The biggest games on the internet all unfold on Full Tilt Poker. Sign up for an account and check it out for yourself.