PokerStars SuperStar Showdown: Isildur1 Rides Off with $44,280 of Tony G's Money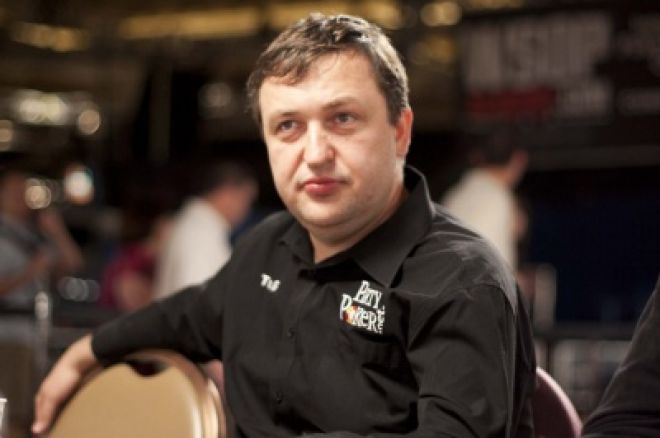 The second match of the SuperStar Showdown on PokerStars, the first of the new year, featured online phenom Isildur1 squaring off against legendary smack-talker Antanas "Tony G" Guoga. The mystery Swede was looking to rebound from a $41,701 loss to Isaac "philivey2694" Haxton in the inaugural SuperStar Showdown match back in December, and he did just that on Sunday night. After 2,500 hands, Isildur1 managed to take Tony G for $44,280, giving him a win of $2,579 in the SuperStar Showdown thus far.
How It's Played: While the SuperStar Showdown may conjure up images of the "durrrr Challenge," there are some stringent differences. The SuperStar Showdown is designed as a one-time high-stakes match where challengers face off against Isildur1 in a heads-up match of 2,500 hands (as opposed to the "durrrr" Challenge which last 50,000 hands over many months — or years).
The match is played across four tables of $50/$100 or higher no-limit hold'em and/or pot-limit Omaha, depending on the competitors' preference. The winner is decided by the player who shows a profit at the end of the match or felts his or her opponent in the process. What's more, the SuperStar Showdown matches are announced far in advance so poker fans can enjoy the action, live, on PokerStars, unlike the "durrrr" Challenge, which has been inconsistent. In this particular match, Isildur1 and Tony G decided to play two tables of no-limit hold'em and two of pot-limit Omaha.
And They're Off: It took only 12 minutes for the first all-in of the match to develop, which happened in PLO on Table 4. In the hand, Tony G six-bet all-in preflop with
and received a call by Isildur1 and his
. Tony G was the beneficiary of Isildur1's first $10,000 buy-in as his aces held and took down the pot; however, it didn't take long for his opponent to get revenge. A minute later, another all-in situation occurred at Table 1. The game was no-limit hold'em with a flop reading
. All the money went in and Tony G showed
for a flopped straight while Isildur1 revealed
for both a flush and higher straight draw. A rivered spade gave Isildur1 the $20,300 pot and some momentum. In fact, over the next ten minutes, he won three more all-in pots.
Let the Smack Talk Begin: Half an hour into the match, Tony G had managed to mount a comeback and was up $23,850 after 207 hands. It took another hour for him to more than double that profit to $47,000 at the 561-hand mark. It was at this point that Tony G started to make use of the chat box:
Tony G: u feeling ok my man
Tony G: u getting owned by a total donk old man
Tony G: start pressing sme all in buttons boy
Tony G: are you even
Tony G: QUALIFIED
Tony G: are you COMI to this (*assuming "COMI" means "committed" or "coming" to this)
Isildur1 Fights Back: Just when Tony G seemed to have things under control, the largest pot up to that point developed on Table 3. Isildur1 opened with a 3x raise to $300 in PLO and Tony G made the call. The flop came
, Tony G checked, Islidur1 bet $500, and the G called. When the
hit the turn, Tony G led out for $1,200 only to be raised to $3,450 by Isilidur1. Tony G didn't back down; he reraised to $11,950. Isildur1 moved all-in for $22,100 and received a call:
Isildur1:

Tony G:
Both players had a king-high straight, but the
on the river gave Isilidur1 Broadway and the $45,800 pot.
Tony G Loses His Grip: The duo continued to battle back and forth and Tony G soon found himself up $63,000.
Tony G: LOL
Tony G: u donk
Tony G: get a hand
Tony G: ure a farse
Tony G: tyhere ges another bank rlll down the drain
Tony G: LL
Tony G: i control u like a baby
By 6:30 p.m. EST, Isildur1 had his entire $150,000 challenge bankroll on the tables, which were now down to three since his Table 1 no-limit hold'em bankroll had dropped to below $5,000. Per the rules, that table would break and resume later in the match. Given the circumstances, it wouldn't be a stretch to say things were looking bleak for the Team PokerStars Pro.
However, the tables were soon turned as Isildur1 began to battle back. In fact, after 1,000 hands, he had reduced Tony G's lead to $22,900. Minutes later, the Swede hit three hands in succession that saw the G's profit totally evaporate.
Tony G: here he comes
Tony G: well done
Tony G: you are the best
Tony G Steaming: Tony G seemed to be tilting after losing his early-match momentum and he continued to spew chips. After 1,250 hands, the halfway mark of the SuperStar Showdown, he had dropped $77,000 to Isildur1. That amount was cut in half over the next hour when a monster pot broke out. After an Isildur1 $5,400 five-bet preflop and a Tony G call, the PLO flop came down
and Isildur1 led out for $8,600. Tony G made it $36,600 to go and Isildur1 moved all-in for a total of $37,250. Tony G called the extra $650 and the cards were turned up:
Tony G:

Isildur1:
Isiludr1 was ahead with his overpair but Tony G had the nut flush draw. Amazingly, the
on the river completed the draw and gave Tony G the $85,200 pot and a $12,200 lead after 1,517 hands. From there, Isildur1 took down a $124,300 PLO pot which put him $78,000 in the black, only to have Tony G once again chip back to even.
Tony G Rides His Bike Downhill: After 2,000 hands, Isildur1 held a $73,000 lead and Tony G was none too happy. He decided to use the chat as his personal soapbox to complain about the SuperStar Showdown rules:
Tony G: these rules u made
Tony G: is an absolute insult t this contest
Tony G: just stupididy at the highest level
Tony G: how can ur stacks be like this
Tony G: best player won
Tony G: but sick joke t play when the fight is ver
Tony G: Im KO
Tony G: somebdy stop the fight
Tony G: this is purely unfair
Tony G: what a set up
Tony G: bad rules guys
Tony G: I know yu dont want this t happen
Tony G: and this is a great site
Tony G: but its bad
Tony G: when I put my hart ut
Tony G: and I cant win
Tony G: when a guy has no draw
Tony G: due t the msitakes f the rules
Tony G: total freak show nw
Tony G: i guess yu wanted this
Tony G: seems like total set up playign this with no shot t win
Tony G: for the side bets
Tony G: unfair t have new stacks
Tony G: been ripped of
Tony G: for side bets
Tony G: FARSE
Tony G: how we dont get old stacks back
The final 500 hands saw more back and forth action, but Tony G could not get even. He managed to cut Isildur1's lead after his pocket deuces held against his opponent's
for $20,000. Likewise, his preflop shove with pocket sevens was good for a $21,400 pot. These two pots certainly helped soften the blow. After nearly nine hours of play, the SuperStar Showdown ground to a halt.
Isildur1: Gg, nice playing with u
Isildur1: u really did have heart
Isildur1: so close
Isildur1: cu guys
Tony G: all over
Tony G: I have been humilated
Tony G: well done
Tony G: let me go and look for my bike
Isildur1 sent Tony G on his bike by winning $44,820, 99 percent of which came in the 1,250 hands of Omaha. That means only $500 of his profit came from the NLHE tables. Nonetheless, Isildur1 managed to redeem himself in the SuperStar Showdown, bringing his record to 1-1 with an overall profit of $2,579. The question now is who will be Isildur1's next challenger?
To keep on top of all the latest high-stakes online action, be sure to follow PokerNews on Twitter and like us on Facebook.