The Nightly Turbo: Isildur1 Has an Opponent for the SuperStar Showdown, High Stakes Poker Lineup News, and More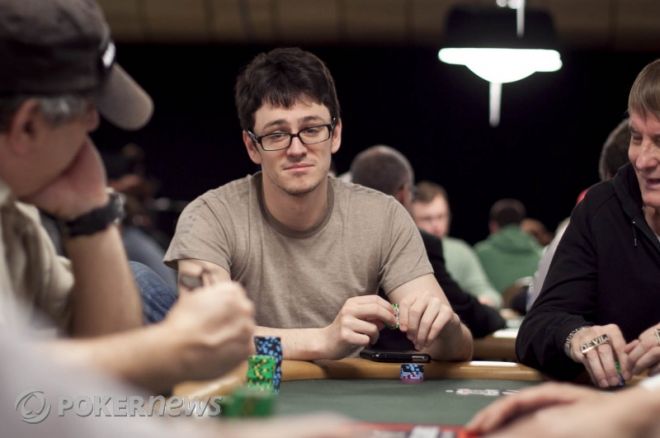 When we awoke this morning, we found out who Isildur1 would be playing in the first match of the SuperStar Showdown (Hint: he's in the above pic), what we haven't found out yet is who Isildur1 really is. Guess we'll just have to keep waiting. We'll give you more info about the match, and some High Stakes Poker news you don't want to miss. Keep reading.
In Case You Missed It
PartyPoker Pro Bodo Sbrzesny discussed poker strategy with us recently. He recounts a poker game he played in which he noticed one of the major problems he believes online players have when they decide to play live. Find out more in Online Poker vs. Live Poker.
With all of the Reid bill talk, you may have missed other news in the poker or casino industries. Inside Gaming will fix that for you.
While the high-stakes action wasn't as fast and furious as we like, massive pots were still shipped from one player to another. One of those players was Patrik Antonius, but we're not going to tell you how he did, the Online Railbird will.
David "the Maven" Chicotsky caught up with Joe Sebok recently and asked him everything from his thoughts on the poker legislation to what its like having the Bear as a dad. Find out what Seebs had to say in Mingling with the Maven.
SuperStar Showdown Challenger
Last week, PokerStars announced that Isildur1 had signed on as a member of Team PokerStars Pro. Along with announcing his signing, the online poker giant announced the SuperStar Showdown — a series of heads-up matches on PokerStars.
There was no challenger named when the Showdown was announced, but someone has stepped up to the plate to take on the mysterious Swede. Who is it? PhilIvey....2694 or Issac Haxton. The two will face off at four $50/$100 no-limit hold'em tables over 2,500 hands and there's $150,000 on the line from their own bankrolls. It all goes down December 19 at 6 p.m. EST. For all of our sakes, let's hope this doesn't take as long as either of the "durrrr" Challenges.
You're going to need a PokerStars account to watch the match, so why don't you go ahead and sign up for one.
Full Tilt Players or No Full Tilt Players?
When you think about GSN's High Stakes Poker, you think Tom Dwan, Patrik Antonius, and Phil Ivey, just to name a few. According to speculation, your favorite players might be missing from the show next season. So what brought this up? Well, PokerStars bought the rights to the show and this has Full Tilt Poker a little up in arms. There were reports that your favorite Full Tilters would not be on the show at all, but Barry Greenstein has taken to TwoPlusTwo to clear things up.
"I talked to Howard Lederer and Mori. The title of this thread is incorrect and there is also no issue about superimposed logos on players as the OP said. However, Full Tilt has two major concerns. First is they don't like their players playing when PokerStars is the sponsor of the show. (I assume Full Tilt can buy ad time but I didn't check this out with GSN or PokerStars.) Secondly, they were unhappy that PokerStars bought the HSP archives. In the early seasons of HSP, the players didn't wear logos, so FTP is concerned that viewers will be able to go to pokerstars.tv and see the FTP players without logos and be confused by their affiliation."
You're going to have to head on over to TwoPlusTwo for the entire statement.
Oceans 14?
We doubt that the next incarnation of the Brad Pitt, George Clooney, Matt Damon movie series will include a man walking into the Bellagio in a full-face motorcycle helmet, but that's just what happened early Tuesday morning at the Bellagio in Las Vegas. The man approached the craps tables, wielded a gun and demanded money. No one was hurt and no shots were fired, but the masked gunman did get away with $1.5 million in chips.
"He parked, walked in, committed the robbery and left," Lt. Clint Nichols from the Las Vegas Metro Police Department said. Nichols said the suspect took chips from $25,000 to $100 in value, but would have a difficult time exchanging them for cash because of industry safeguards. The suspect of the Bellagio robbery is also suspected of robbing the Suncoast Casino in a similar fashion last week.
The Las Vegas Review Journal has more.
Poker Pros Speak on Reid Bill
While at the Venetian over the weekend for a charity poker tournament benefiting the One Step Closer Foundation, Doug Elfman of the Las Vegas Review Journal caught up with some poker pros to get their thoughts on Harry Reid's Internet poker bill.
Sam Simon, co-creator of the Simpsons, said he was critical of the bill. "It's the most obvious, corrupt, terrible thing I've ever heard of," he said. "The idea the United States could decide that only casinos — his supporters — could own online poker sites is beyond belief...That is giving a monopoly to your friends. That is to the detriment of everyone who wants to have fun playing poker."
Phil Laak said it would be "brutal if online poker gets a U.S. stamp of approval but shuns existing sites," but also says that it might be a good thing, "All poker players are grown-up children. These casinos are like day care centers for adults. Maybe we do need baby sitters. I don't know."
Jennifer Tilly and Shannon Elizabeth also had comments regarding Reid's bill, but you're going to have to read the Las Vegas Review Journal article for those.
You Got Beat by a Girl!
Paul Berende and Liv Boeree got into a little foosball match on the break at the PokerStars.net European Poker Tour Prague and Gloria Balding was there to watch. We're not going to tell you who lost, but we're sure you can figure it out.
Follow us on Twitter and like us on Facebook for up-to-the-minute news.
Only 25 points are needed to play in tomorrow's $1,200 Freeroll on Mansion Poker, you have until the very last minute to qualify.