The "durrrr Challenge": Cates Extends Lead With $319K Winning Session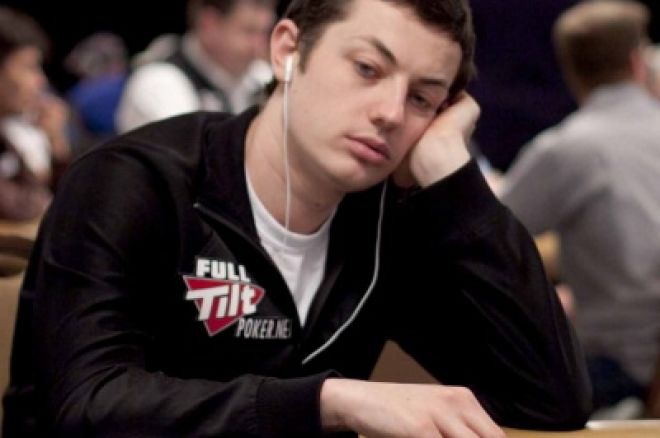 Tom "durrrr" Dwan and Daniel "jungleman12" Cates resumed the "durrrr Challenge" at about 9:30 p.m. on the East Coast Monday night, and played for about six hours. It was their first session of the new year and their first since mid-December. When we last saw them, Dwan was chipping away at Cates' lead. After the session ended early Tuesday morning, however, Dwan found himself with more work to do. Cates managed a profit of greater than $319,000 over the course of 2,918 hands, upping his overall lead to about $819,000.
Cates Wins Biggest Pot
Dwan and Cates have played 17,108 hands out of the 50,000 scheduled, and last night's session produced the biggest pot yet between the two. Sitting with nearly even stacks, Dwan raised to $1,200 on the button and Cates re-raised to $4,800 from the big blind. A call from Dwan brought out a
flop. Cates bet $5,200, Dwan called, and the
hit the turn. Cates fired $16,800, nearly the size of the pot. Dwan called, landing the
on the river. Cates bet for a third time, settling on $43,600, only to see Dwan shove for roughly $81,000. Cates called and tabled
for a flush, besting Dwan's
, an inferior flush. The $216,505.50 went Cates' way.
Suited Jack-Rag Works Again For Cates
Cates certainly found success with the
and another suited low heart last night because in addition to the $200K+ pot, he took down a pot of about $157,000 as well. He had the button and min-raised to $800. Dwan three-bet to $2,400 from the big blind and Cates played right back at him, four-betting to $5,600. Dwan called and checked when the flop came down
. Cates bet $5,400, Dwan called, and the
followed on the turn. Another check from Dwan led to a $16,800 bet from Cates. All in was Dwan's next play, making it $67,356 total. Cates called and tabled
, leading Dwan's
. They ran it twice, but to no avail for Dwan. The
and
failed to fill his hand up.
Six-Figure Pots Even
Of their 2,918 hands played last night, 14 hit six figures with each player winning seven of them. Thanks to the one pot that hit $200,000, Cates's winnings in those pots were $973,350 to Dwan's $923,352 roughly, a difference of about $50,000. This would suggest that Cates simply dominated in smaller pots. While Dwan on average wins nearly $2,400 per hand, he has only won just over 7,000 hands overall. Cates wins about $1,760 per hand, but has won just shy of 10,000 hands overall. Still, the six-figure pots go a long way in determining the outcome. The second biggest pot between the two last night went to Dwan and had it not, Cates' overall lead would be greater than $900,000.
Cates had the button and min-raised to $800. Dwan made it $2,400 to play from the big blind and Cates called, bringing out a flop of
. Dwan's bet of $3,200 was raised to $8,800 by Cates, but Dwan wasn't going anywhere. He called, checking when the
hit the turn. Cates fired $18,400 and still could not shake Dwan, calling once again. The
hit the river and Dwan checked again. Cates moved all in with the bigger stack, but was quickly met with an all-in call from Dwan for just shy of $61,000. Cates' had been ahead with
, but Dwan's
only got better after the flop, ultimately getting there on the river. The $181,142.50 pot was the fifth largest overall between the two, and went in Dwan's direction.
Want to rail the biggest games in the world? Not only will you get a $600 sign up bonus at Full Tilt Poker, new depositors also get to play in a $100,000 First Deposit Freeroll. - so you can play while you watch!