The "durrrr Challenge": Dwan Gets Back Another $63,000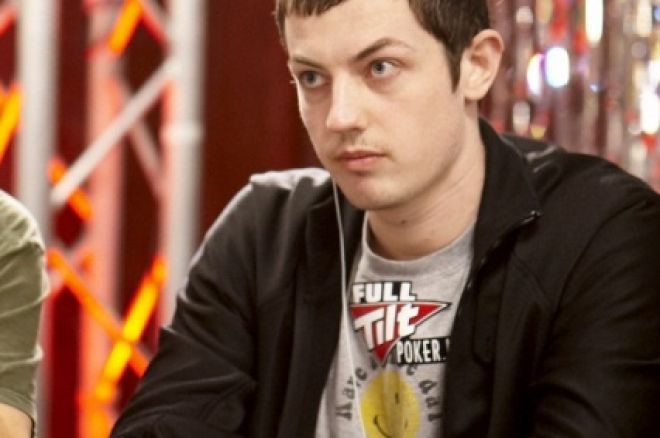 Yesterday, Tom "durrrr" Dwan and Daniel "jungleman12" Cates continued the "durrrr Challenge." Their last session lasted a little more than two hours, in which time they played 1,214 hands from which Dwan emerged with winnings of $63,362. Eleven of their hands on Thursday were six-figures, with Dwan taking down six of them. This was the 14th session between the two, with the challenge spanning one day and 17 minutes of play so far.
The biggest hand of the session, though, went to Cates, who, while in the big blind and after seeing Dwan raise to $1,200 on the button, made it $5,200 to play. Dwan four-bet to $14,500 and Cates called, which brought out a
flop. Cates checked, Dwan bet $17,800, and Cates called. The
landed on the turn and Cates checked once again. With just under $65,000 in the pot and after seeing Cates' stack of about $73,000, Dwan jammed for more than $166,000. Cates called all-in and turned over the nuts,
, while Dwan tabled
for two pair. They ran it twice, Dwan failed to hit the four-outer, and the $210,000 pot headed Cates' way.
Still, Dwan did finish in the black in this particular session, winning the aforementioned extra six-figure pot along the way. His biggest pot was just shy of $190,000 and it began with Cates min-raising to $800 on the button. Dwan popped it to $2,400 from the big blind and Cates came right back over the top for $7,200. A call from Dwan delivered a
flop. Dwan checked, Cates bet $7,200, and Dwan was not going anywhere. The
hit the turn and Dwan again checked to Cates who checked behind. The river brought the
and for the third consecutive street, Dwan checked. Cates fired $23,600 and probably much to his surprise, Dwan raised all-in for about $80,000. Cates called but mucked when Dwan's hand revealed
.
Another nice pot that Dwan won began with a raise to $1,200 on the button. Cates reraised to $4,400 from the big blind and Dwan called. The flop ran down
and Cates bet $5,200. After Dwan called, Cates kept up the pressure with a bet of $16,800 when the
turn card came. Dwan opted to call again, leading to the
river card. Cates shoved with the bigger stack and Dwan called all-in for roughly $46,000. Cates showed
but was drawing dead against Dwan's
from the moment the flop came. The $146,000 pot went Dwan's way.
In all, 14,190 hands out of 50,000 have been played with Cates building a lead of $500,783.50, an average of $1,728.79 per winning hand. While Cates may be in the lead at the moment, Dwan has slowly been chipping away.
Want to rail the biggest games in the world? Not only will you get a $600 sign up bonus at Full Tilt Poker, new depositors also get to play in a $100,000 First Deposit Freeroll. - so you can play while you watch!