PokerStars SuperStar Showdown: Blom Takes Katchalov for $111,750, Increases Record to 3-1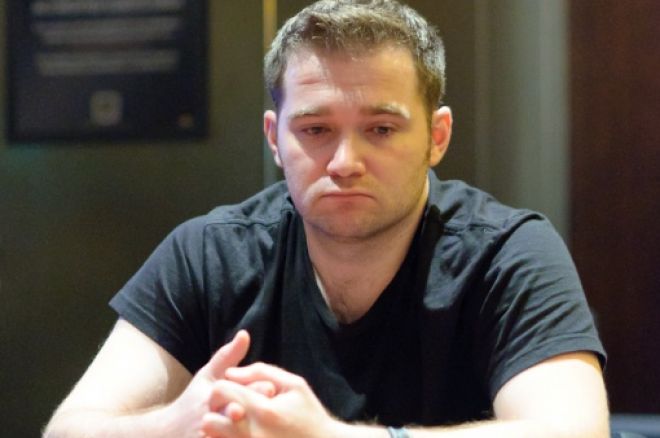 Sunday, Feb. 13, 2011, saw the fourth installment of the Pokerstars SuperStar Showdown featuring Viktor "Isildur1" Blom. This time it was Eugene Katchalov fresh off his $100,000 Super High Roller win at the PokerStars Caribbean Adventure who stepped up to the plate to take his shot at the Swedish phenom. At the start of the match, Blom held a SuperStar Showdown record of 2-1. Here is how those matches broke down.
SuperStar Showdown Breakdown
| Date | Opponent | Profit/Loss | Record |
| --- | --- | --- | --- |
| Dec. 19, 2010 | Isaac "philivey2694" Haxton | -$41,701 | 0-1 |
| Jan. 2, 2011 | Antanas "Tony G" Guoga | +$44,280 | 1-1 |
| Jan. 30, 2011 | Daniel "w00ki3z" Cates | +$51,196 | 2-1 |
How It's Played: While the SuperStar Showdown may conjure images of the "durrrr Challenge," there are some differences. The SuperStar Showdown is designed as a one-time high-stakes match in which challengers face off against Blom in a heads-up match of 2,500 hands (as opposed to the "durrrr" Challenge which last 50,000 hands over many months — or years).
The match is played across four tables of $50/$100 or higher no-limit hold'em and/or pot-limit Omaha, depending on the competitors' preference. The winner is decided by the player who shows a profit at the end of the match or felts his or her opponent in the process. What's more, the SuperStar Showdown matches are announced far in advance so poker fans can enjoy the action, live, on PokerStars, unlike the "durrrr" Challenge, which has been inconsistent. In this particular match, Blom and Katchalov decided to play four heads-up NLHE tables.
Slow Start: Action kicked off at 3 p.m. EST and it took 38 minutes before the first all-in situation developed. According to the PokerStars Blog, it happened when Katchalov opened to $200 with
, Blom reraised to $800 with
, and Katchalov called. The flop came down
and Blom immediately led out for $1,000, which Katchalov called. The
turn gave Blom trips and he bet accordingly, this time to the tune of $2,400. Katchalov proceeded to make an ill-timed move by pushing all in for $8,350. Blom called, the
was put out on the river, and the Swede took down the $20,300 pot, giving him an $11,850 lead after 403 hands.
Five-Bet Blunders: About 90 minutes into the match, Katchalov was ahead by a slim margin, which he expanded after Blom five-bet shoved preflop with
. Katchalov's pocket jacks held, and he took down the $30,500 pot. Not long after, Katchalov pulled the same five-bet, preflop shove with pockets eights only to run into the pocket aces of Blom. Even steven.
Blom Opens Things Up, Katchalov Pushes Back: At the halfway point, Blom was ahead $10,550 and soon expanded it to $30,100. After Katchalov couldn't fill a double-gutted straight draw, Blom pulled out to a $34,100 lead 1,369 hands. It was about this time that Katchalov began to mount a mini-comeback. In one hand, he held
on a flop of
and went runner-runner for a flush to take down a pot worth $8,400. A couple of more pots went Katchalov's way and pretty soon he had narrowed the gap to $26,350 with just 1,000 hands to go.
Big Pot: While momentum seemed to be in Katchalov's favor, that all changed when the largest pot of the match manifested. Both players were sitting with about $31,000 when Katchalov raised to $300. From there, Blom reraised to $1,100, Katchalov made it $2,800, Blom five-bet to $5,450 and Katchalov called. Blom proceeded to lead out for $3,850 on the
flop, which Katchalov called. The
was the next card out and again Blom fired, this time for $5,650. Katchalov called behind and then called Blom's all-in bet of $16,300 when the
was put out on the river. Blom showed pocket kings for a turned set while Katchalov showed nines for a smaller, rivered set. The wild hand sent the $62,500 pot to Blom, increasing his lead to $48,400.
Katchalov Catches Up: A little while later, Katchalov held
and opened for $300. Blom responded with a three-bet to $1,100 with
and Katchalov went ahead and made it $2,800. After a call, the flop came down
, giving Blom a straight and Katchalov an open-ended straight flush draw. Needless to say, the money went in and a $44,300 pot was created. Luckily for Katchalov, the
on the turn gave him a flush and the inconsequential
was run out on the river. Blom's lead was cut to $11,500.
Turning Point: Things were fairly even when the players saw a flop of
and Katchalov five-bet all-in with his pocket jacks. Blom called with his
and promptly spiked the
on the river to steal the $31,500 pot. It was a lucky hit and Blom knew it as he offered his condolences in the chat box.
Isildur1: sorry
MyRabbiFoo: all good :)
After that hand, Blom never looked back. At the 2,000-hand mark, he was up $48,500 and deep-stacked while Katchalov's entire $150,000 challenge bankroll was in play. On Table 2, Katchalov got his stack all in with
on a flop of
. Blom called with
and was behind, at least until the
hit the turn. $31,400 pot to Blom.
Salt in the Wound: As if things couldn't get any worse, Katchalov was once again the victim of Blom's luck. Holding
, Katchalov four-bet preflop and was called by the
of Blom. On a flop of
, Blom check-raised all in and Katchalov called. A blank on the turn followed by one on the river sent another buy-in to Blom. It was a sick hand and even Daniel Negreanu, who was observing the match with great anticipation, commented.
KidPoker (TeamPro): So this Isildur1 kid might be pretty good afterall :-)
MyRabbiFoo: lol
Throughout the match, luck had obviously favored Blom, a fact he acknowledged in the chat box.
MyRabbiFoo: gg man...u obv played really well
Isildur1: i ran really crazy, if not 8 would come on rivwhen we were even
Isildur1: u would beat me i think
MyRabbiFoo: yea i ran bad couple times :/...but u still played really well, dunno how match would have turned out in other case of course
Isildur1: ty, u2.. yeah..
Isildur1: nice playing with u , gg
MyRabbiFoo: u 2 man...good luck in your future matches!
In the end, Blom had taken $111,750 from Katchalov, his biggest score to date in the challenge. While the fourth installment of the Superstar Showdown is over, it is only a matter of time before another challenger arises. Who it will be remains a mystery, though Negreanu has certainly expressed interest.
SuperStar Showdown Breakdown
| Date | Opponent | Profit/Loss | Record |
| --- | --- | --- | --- |
| Dec. 19, 2010 | Isaac "philivey2694" Haxton | -$41,701 | 0-1 |
| Jan. 2, 2011 | Antanas "Tony G" Guoga | +$44,280 | 1-1 |
| Jan. 30, 2011 | Daniel "w00ki3z" Cates | +$51,196 | 2-1 |
| Feb. 13, 2011 | Eugene "MyRabbiFoo" Katchalov | +$111,750 | 3-1 |
| Total SuperStar Showdown Profit: $165,525 | | | |
If you want to find out more on this installment of the PokerStars SuperStar Showdown, check out the PokerStars Blog.
Want to learn more on the SuperStar Showdown and on other happenings in the poker world? If so, be sure to follow us on Twitter and like us on Facebook.