PokerStars SuperStar Showdown: Blom Improves to 2-1 by Taking $51,196 from Cates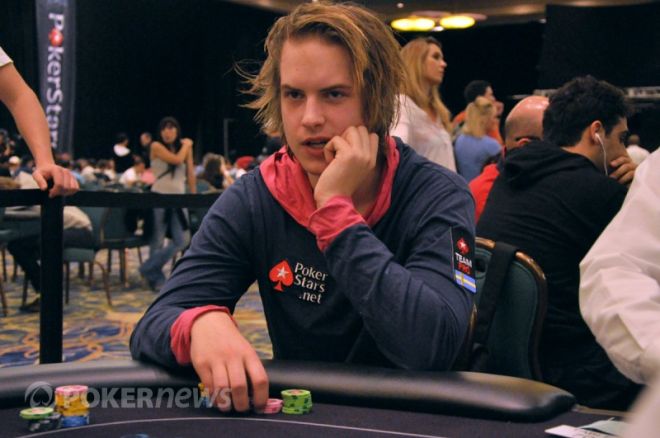 On Sunday, Jan. 30, 2011, Pokerstars' SuperStar Showdown hosted its third installment as Isildur1, recently revealed as the long-suspected Swede Viktor Blom, faced off against fellow online legend, Daniel "w00ki3z" Cates. Entering the match, Blom had a SuperStar Showdown record of 1-1 having taken Antanas "Tony G" Guoga for $44,280 while dropping $41,701 to Isaac "philivey2694" Haxton. Those numbers show that Blom was up a mere $2,579 in the SuperStar Showdown, which quickly changed Sunday night when Blom took $51,196 from Cates, bringing his total winnings to $53,775.
How It's Played: While the SuperStar Showdown may conjure up images of the "durrrr Challenge," there are some differences. The SuperStar Showdown is designed as a one-time high-stakes match in which challengers face off against Blom in a heads-up match of 2,500 hands (as opposed to the "durrrr" Challenge which last 50,000 hands over many months — or years).
The match is played across four tables of $50/$100 or higher no-limit hold'em and/or pot-limit Omaha, depending on the competitors' preference. The winner is decided by the player who shows a profit at the end of the match or felts his or her opponent in the process. What's more, the SuperStar Showdown matches are announced far in advance so poker fans can enjoy the action, live, on PokerStars, unlike the "durrrr" Challenge, which has been inconsistent. In this particular match, Blom and Cates decided to play four tables of no-limit hold'em.
Ready, Set, Go: Blom and Cates played four $50/$100 no-limit hold'em tables and took only four hours to plow through the 2,500 hands. In just 13 minutes, the first all-in situation developed when Blom raised preflop and bet every street on a
board. Cates called each time but found himself out kicked holding
to the
of Blom. A short time later, Cates bet $1,200 holding
on a
flop. Blom responded with a raise to $2,850, Cates moved all-in for $14,450, and Blom called with his
. The turn and river were no help to Cates and Blom took down another sizeable pot, giving him the early lead.
Cates Battles Back: After just a half hour of play, Blom was up $19,550; however, Cates got things back on track over the course of the next 200 hands. In one of those hands, Cates' pocket nines flopped top set to crack Blom's pocket aces, doubling him in the process. On the very next hand, Cates five-bet shoved preflop for his newly won $23,000 with
and was called by Blom's pocket sevens. The board ran out clean for Cates and he was then the one who was out in front with $20,000 in profit after 554 hands.
Even Steven: Cates' lead did not last long as Blom doubled holding pocket jacks against the pocket eights of his opponent. By Hand #600, both players were essentially even. That soon changed when the largest pot of the match up to that point occurred. Cates opened for his standard $200, only to be three-bet to $800 by Blom. Cates responded with a four-bet to $2,100, Blom five-bet to $3,850, and Cates made the call. Little did Blom know, his opponent held the
as the flop came down
. Blom led out for $2,850, Cates called, and the
hit the turn. Blom bet again, this time $4,650, and Cates shipped for $22,350. Blom called off his last $7,100 with
and soon discovered the bad news. The river blanked and the pocket rockets of Cates earned him the $36,900 pot and a $19,000 lead after 710 hands.
Rivered Flush for Both: Blom managed to battle back and by the halfway point had take a $9,500 lead of his own. In the hour that followed, Cates ran over Blom and developed a lead of over $60,000, which would turn out to be his high point in the match. When all looked lost for Blom, lady luck decided to smile upon him. With $9,800 in the pot and a board reading
, Blom moved all-in for $11,050 and was called by Cates. Blom showed
for the rivered nut flush while Cates showed
for the second nut flush. It was bit of a cooler for Cates that saw the $32,000 pot shipped to Blom.
Blom's Straight Give Him the Lead: Blom had managed to reduce Cates' lead to $15,000 when he raised to $300 on the button holding
. Cates popped it to $1,300 with his
, Blom called, and the flop fell
. Cates immediately bet $1,500, Blom called, and the
was put out on the turn. Again, Cates bet $4,200 and Blom called behind. When the
spiked on the river, giving Blom a straight and Cates two pair, Cates bet $11,500, Blom raised to $22,600, and Cates called off his last $6,250. Just like that, Blom was back in the lead with a $10,450 profit. It took just another four minutes before Blom increased that lead to $24,100.
Cates Hit the River: With around 500 hands remaining, Blom continued to dominate. He won pot after pot in the last hour of the match and would have increased his lead substantially had it not been for a river card that ended his bid for a $54,400 pot. That hand began when Blom raised to $300 from the button, Cates made it $1,300 to go, and Blom called. The flop came down
and Cates led out for $1,500. Blom quickly made it an additional $2,350 to go, Cates reraised $3,850 on top, Blom made it $10,550, and Cates called. With $23,700 in the pot, the
was put out on the river. Cates check-called Blom's all-in bet of $15,350 and the cards were turned up:
Blom:

Cates:
The
on the river gave Cates a bigger two pair and the monster pot. Coincidentally, the last major pot of the match was also determined by a river card. In that hand, Cates opened for $200, Blom raised to $800, Cates called, and the flop fell
. Blom bet $1,000, Cates called, and the
hit the turn. Blom fired an additional $2,200 and was met with a raise to $4,900 from Cates. After Blom called, the
was revealed on the river. Blom shoved, Cates called off his last $6,000 with his
turned set but could not overcome the
rivered straight of Blom.
Who's Next?: After a few more uneventful hands, the third installment of the SuperStar Showdown came to an end with Blom ahead $51,196. His performance brings his record to 2-1 and his total SuperStar Showdown winnings up to $53,775. The question now is who will be the next player to accept Blom's challenge? If the chat box is any indication, it might just be fellow Team PokerStars Pro Daniel Negreanu who had this to say at the end of the match:
KidPoker (TeamPro): good game guys
KidPoker (TeamPro): well done Isildur
Isildur1: ty
KidPoker (TeamPro): email me later
Isildur1: yep
Isildur1: bye
KidPoker (TeamPro): I have some questions about the rules
Isildur1: kk
You have to check out the all new Home Games Online from PokerStars- play your regular home game with friends from all over the world.