Online Chat: Alex "Assassinato" Fitzgerald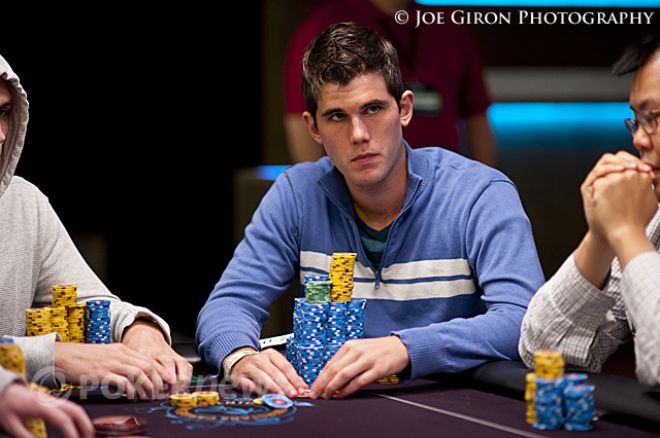 Alex "Assassinato" Fitzgerald is a luminary in the online poker world. Not only does he have $2,637,793 in lifetime online cashes—$1,440,004 of which has come on PokerStars and $993,899 on Full Tilt Poker—but the 25-year-old has also made a name for himself as one of the premiere poker coaches in the world.
The former commercial fisherman and security guard from Kenmore, Washington, is known not only for his success both live and online, but also for his steely demeanor and ability to handle himself in a professional manner in high-pressure situations, a quality that has earned him praise from the likes of Jason Mercier and Faraz Jaka.
Fitzgerald's online successes include a win in the WCOOP 2nd Chance 65: $1,050 No-Limit Hold'em event on PokerStars back on September 23, 2012 for $148,400 and third in Full Tilt Poker's FTOPS Event #10 on February 9, 2011 for $123,676, money that would soon be seized on Black Friday.
In the live realm, Fitzgerald final tabled the 2009 European Poker Tour San Remo Main Event, ultimately finishing in seventh place for $223,948. Furthermore, he took third in the 2011 PokerStars Caribbean Adventure $5,000 No-Limit Hold'em 8-Max Event for $118,820 and also went deep in that year's PCA Main Event, finishing in 14th place for $70,000.
Fitzgerald, who now resides in Costa Rica with his fiancé, recently spoke with PokerNews about his poker origins, Black Friday, living abroad, and much more.
PokerNews: For those who don't know you, can you tell us a little about yourself?
Alex Fitzgerald: I was born in Kodiak, Alaska, but grew up mainly in a suburb of Seattle. My father couldn't be around much [while I was] growing up, and my mother had her own issues. Certain parts of my childhood seem to really horrify people, but there was a lot of love in my family, too. I grew up speaking English and playing poker, so that was akin to hitting the lottery.
I finished high school living in a friend's garage several cities over. I couldn't afford to buy a graduation gown. I worked at mowing lawns, rolling up Persian carpets, making roast beef sandwiches at Arby's, as a commercial fisherman, and as a security guard. I quit my last real job in 2006, and I haven't had a "real" job since.
How did you learn to play poker? Likewise, how and when did you start to play online poker?
I saw some kids playing in my high school cafeteria when I was 15, right around 2003. They all played on credit, so I hopped in without a dollar to my name. I had no idea what to do if I lost. I won initially and got addicted. I'd run games in the back of classes, inventing wild card rules that would cause my classmates to overvalue certain hands. I spent all the money on Cokes, Japanese comics, and metal CDs.
My friend loaned me $50 on his Full Tilt Poker account when I was 17. The first night I made $30. I sent him back the $50 that night. From that $30 I grew my entire bankroll to tour and play $10,000 live events. I never made an initial deposit.
What do you prefer to play online? Cash? MTTs?
Cash is the more intricate game and there's a lot more action in it. I love the swings and the dynamics that develop over thousands and thousands of hands. However, I've never really played cash on a grand level, just $2/$4 and sometimes higher, and on really small networks. I seem to really shine in larger MTTs, especially on the former Full Tilt. The adrenaline really makes me play my best.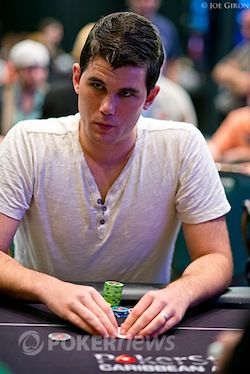 Can you give us a brief description of your rise through the stakes online?
A lot of people wonder how I never deposited. It wasn't because I was good. I just never played that high. It took me months to make my first thousand, and even then I still grinded $5.00 SNGs. I kept a ton of buy-ins in my roll at all times to accommodate how slow of a learner I was. Whenever I played too high it didn't work. I never took a shot and was rewarded. I'm really thankful for that.
I understand you're engaged. What does your fiancé think of your poker playing? Likewise, does she play herself?
Her and her family are very supportive. She trusts me completely in regards to my work, but I don't know why. She watched me lose all my money backing and then a second time to Black Friday. Her constantly believing in me has encouraged me to become more professional. She'd be an amazing poker player but I'm glad she isn't interested in it. I don't want to talk poker when I'm done at the end of the day.
You now live in San Jose, Costa Rica. When did you move there and what led to the decision? Was Black Friday a factor?
I moved here because it was easier to house my horses here. I rented a house with a private beach for the price of a decent two-bedroom in most U.S. cities.
I met my fiancé really early on. When my horses and I parted ways, I moved into the cities and eventually into the mountains. I loved it. Black Friday reaffirmed what I already knew: I was going to be staying in Costa Rica for a long time. The people here are kind to each other and so much more alive. The states bum me out now.
Did Black Friday affect you dramatically? If so, could you elaborate?
I lost more than six figures in Black Friday, a good chunk of which I'll likely never get back. However, it also had a positive influence on me. After crying and tilting off the rest of my money, I decided I couldn't cut corners anymore. I gave up drinking and smoking. I started working out more. I feel more mentally and physically fit then I ever have in my life.
What led to your screen name of "Assassinato"?
I wanted the name "Murder" but I knew someone probably took it. I didn't want to add a bunch of numbers at the end of the name, so I looked up the word in different languages. Assassinato just sounded the coolest. I heard the word in Brazil (my father lives there), and I liked it. I'm glad I picked it now, because I think having a memorable name has helped me in business. Although, it feels ridiculous to introduce by that moniker. I'm so demure in real life.
Back in September you won the WCOOP 2nd Chance 65: $1,050 NL Hold'em. What was it like to take down that event? What does it mean to you personally? How does it compare to your FTOPS Event #10 success from February 2011?
It meant much more to me than the FTOPs event. I'd been struggling quite a bit that year, and I'd decided I didn't want to invest most of my life in online MTTs anymore. I'd been on a six-figure downswing, but I didn't want to accept a losing year, especially my last year playing MTTs full-time. Chopping that tournament at 7:00 AM in the morning, when I'd started playing at 10:00 the previous day—my God. The feeling was incredible, to pull out a miserable year that started with me blowing the PCA chip lead.
I didn't win FTOPS #10 in any sense. I literally got one outted on the river for 70% of the chips in play. It was a 2 percent chance that cost me $100,000+. I changed the location of my Full Tilt account for a month or so to send money to my stateside account so I could play a handful of tournaments in Los Angeles. If I hadn't done that I would have had the other $140,000 I won. So, in a sense, I got to experience losing close to a quarter million dollars because of that FTOPS.
I had a hard time accepting that and getting my life in order. I felt like it was defining me for a time. Pulling out 2012 with another huge win in an online tournament series...the feeling of vindication was unreal.
What is your proudest online poker accomplishment?
Every day now. I proved myself again and again in the tournament world, despite everything that went against me. Maybe I never got that big live win, but I pulled out those six-figure scores when I needed it most. My businesses outside of poker have been going really well. I have a more normal schedule, so I have more time to spend with my soon-to-be wife and friends. I thank God every day. I'm so blessed.
Not only do you play online, you actually do quite well playing live. What sort of things lead to your decisions to play live?
I started out playing live when I was a teenager. My friend and I grinded homepokergames.com – I don't even know if the site exists now. We'd drive 50 miles to get turned away because of our ages. Live poker is nice because you get more time but honestly online is much more interesting to me. I'm a statistic junkie, and I can't get that live.
What's your proudest live accomplishment?
I've never outright won anything, so it's hard to say. Taking third in the PCA $5,000 event was really fun. Every player in that field could play, but I just felt like it was me versus them. I thought nobody could take me on those days. I folded in one hand with 70 percent of my chips in the pot, because I was so sure I'd come back. I only went out because I lost
to
three-handed, although to be fair I ran
through
at one point.
In 2012, you finished 14th in the PCA Main Event. What was it like to go deep in that event? Any good memories/stories?
I'd never felt so powerful as a poker player, except for that last hand. Honestly, it was a great experience. The structure was terrific, and it was so fun to play deep with so many great players. I proved many of my theories worked in the live realm, and I even got to five-bet bluff a couple people!
Blowing the chip lead before the final table was a great lesson too. I needed to go home and re-evaluate my game. Everyone says this but I believe it. I'm ten times the player I was then. You'll see me again on EPT live.
Is playing poker something you plan to do long term?
I love to play poker. It's my favorite game in the world. I will play for the rest of my life. Yet, I want to do other things besides poker. I'm trying to make the transition into business right now, and thankfully it's going well. I want to save enough money to be "working optional" when I'm 30. I want to study music, photography, foreign languages, philosophy, religion, literature, and cinema. I love to study and learn, and poker saps a lot of time and energy away from that.
Aside from playing, you also do coaching. Can you tell us a little about that?
Assassinato Coaching is the best value MTT coaching in the world. I'm the only one who has coached not one but two top ten players on the Pocketfives Rankings in 2012. The world's largest backing houses go to me to turn their players around. You can receive the same level of instruction as these guys do for $150 an hour. I love my coaching work, and welcome every new student.
You're also a talented writer. Any chance we'll see you publish an online poker book in the future?
It would take a lot of time to put together, and it's something I'd want to do right the first time. There's no money in it either with piracy being the way it is. If people buy just one of my lessons I give them an e-book of sorts. I have a compilation of articles I've written over the years. Many of my students report to me that they've read the articles 10 or 20 times, and that it's completely changed their game. I'll keep those articles private for them until I see a reason to do otherwise.
Fitzgerald can be contacted at assassinatocoach[email protected]. You can also schedule an appointment with him at http://meetme.so/alexanderfitzgerald.
Get all the latest PokerNews updates on your social media outlets. Follow us on Twitter and find us both Facebook and Google+!
Executive Editor US, PokerNews Podcast co-host & 2013 WSOP Bracelet Winner.