Online Chat: Ben "milkybarkid" Grundy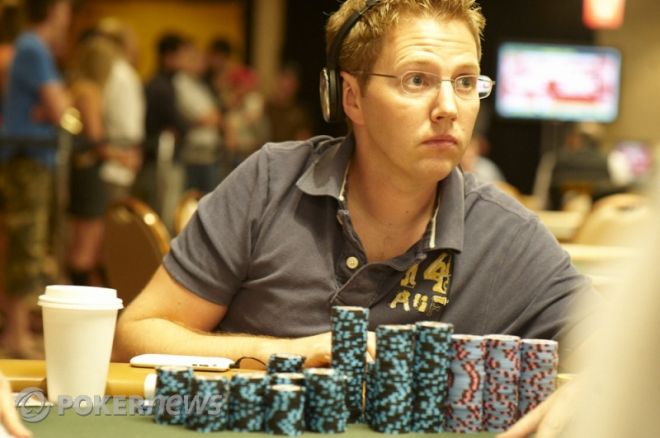 Ben Grundy, one of the U.K.'s most notable poker players, began playing online in 2004 and has amassed approximately $8 million, not to mention his $639,849 in career tournament earnings. Known as "milkybarkid" online, Grundy is a regular at the highest stakes.
Grundy's poker career began to develop in 2006 when he won a package to the European Poker Tour Grand Final in Monte Carlo where he finished in seventh place for $105,815. Not only did that performance catch the attention of the poker world, it eventually earned him the distinction of becoming Betfair's first sponsored pro.
Since then, Grundy, who is in his mid thirties, has focused on his bread and butter — pot-limit Omaha. Playing primarily heads up, Grundy has expressed interest in taking on Viktor "Isildur1" Blom in PokerStars' SuperStar Showdown, though that match has yet to come to fruition. In addition to playing both live and online, Grundy writes a blog on SharkStaking.com.
PokerNews recently caught up with Grundy, who was kind enough to tell us a little bit about himself and talk some poker.
How did you learn to play poker?
I learned when I was about 13 or 14 years old with friends. I started playing five- and six-card pot-limit Omaha first, as it was more exciting than hold'em.
Can you tell us your progression in poker? For example, what stakes did you start at and how did you know when it was time to move up?
When I was 18, I started playing in casinos in Cardiff and Bristol. Tournaments with buy-ins between £20 and £100 and cash games around the £1/£2 level where I would sit with around £500. I played a few times every month while I was in university in Cardiff.
I then went traveling and moved to London. It was about the time the boom in online poker started. I started playing online PLO around the $2/$5 and $5/$10 level and did pretty well. I gave up my job after cashing in Monte Carlo European Poker Tour Season 1. Since then I've always played between $10/$20 and $200/$400 PLO. Mainly I stick to the $25/$50 and $50/$100 PLO games.
What's the most you've ever lost in one day? How did it happen? Likewise, how did it make you feel or what did you do?
I've lost around $150,000 a bunch of times, maybe six or seven. I still feel really bad when it happens. I normally take a few days off and do stuff to take my mind off poker.
What's the most you've ever won in one day?
My best wins are also around the $150,000 mark. I normally just call it a day when I'm winning that much. I remember one of my most exciting wins was on Betfair about seven years ago. I was down about $50,000 playing $25/$50, and it was a huge figure at the time. I played all night, though, and ended up winning about $80,000. It felt pretty amazing for a few days.
Will you be going to the WSOP in Las Vegas this summer? Will you be playing primarily cash games or tournaments?
I've been to Vegas to play the WSOP for the last seven years. I normally go for just two weeks and play the PLO events, have a good time, and maybe play cash games a couple of times.
What is your game of choice online? How about live?
I like playing heads-up pot-limit Omaha most. I like the challenge and I'll play anyone when I am in the mood. I rarely play live, the cash games that run in London are much smaller than I play online.
Do you ever play mixed games? If not, do you have an interest in learning?
I've been playing some mixed games on PokerStars. I'm weak at the stud-hi and lowball, but I've got a lot of experience in the other games so I do OK.
Are there any players you highly respect?
Most of the high-stakes regulars play well on PokerStars in different ways. I think I've lost the most on Stars to Ben "Ben86" Tollerene and Gavin "Gavz101" Cochrane, so I'll go for them.
How did you come to choose the online screen name "milkybarkid"?
I went for the auditions to be the "milkybarkid" — the U.K. kid in adverts for milky bars — so the nickname stuck from that.
Can you tell us a little but about your bankroll management strategy?
I try and be as sensible as possible. I'm really happy with my financial position, so I wouldn't do anything to jeopardize that. I'm lucky I've never gone broke playing poker, even though it's been close a few times especially in the first few years I've played. I'd rather get backed and win slightly less, but have a much less stressful life.
What is the poker scene like in the U.K., both live and online?
It seems like I've been around a long time. I rarely play live in the U.K., but games run all the time in London. I'm friends with quite a few players, and we always have a good laugh when we go out, especially in Vegas.
Do you plan on playing online poker as a living for an extended period of time, or do you have other career aspirations?
I'll carry on playing online poker as long as I'm making decent money. I hope there will be another boom that will bring some new money into poker, as the games are just full of pros at the level I play at the moment. I'd like to open a bar/restaurant sometime in the future when I don't play so much poker.
If you love poker, be sure to follow us on Twitter and like us on Facebook for all the latest updates on the World Poker Tour.