Online Chat: Eric "jakz101" Crain on His Big PokerStars WCOOP Event #63 Win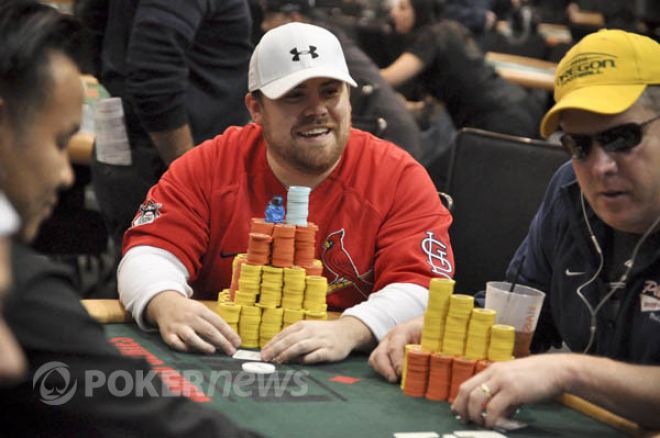 In February, we featured Eric Crain in an edition of Where Are They Now? To say that Crain made his presence known in the poker world last week would be an understatement. The man you may recall from episodes of the Trump Taj Mahal's U.S. Poker Championship (oftentimes shown on ESPN Classic), will now forever be remembered as a PokerStars World Championship of Online Poker (WCOOP) champion.
In the final no-limit hold'em tournament before the 2012 WCOOP Main Event, 9,569 players forked over $215 buy-in for the two-day Event #63, which boasted a $1 million guarantee. With such a huge field, that prize pool was driven up to $1,913,800 and was distributed among the top 1,260 players.
By the end of the first day, 106 players remained with "jakz101" finishing third in chips. As it happens, that was Crain, who had relocated to Canada to stay with PokerStars Team Online pro Adrienne "talonchick" Rowsome and play online poker.
Crain used that stack to navigate his way to the final table and ultimately to a win. To read all about that, check out the PokerStars Blog's full recap.
WCOOP 2012 Event 63 $215 NLHE Results
| Place | Player | Location | Prize |
| --- | --- | --- | --- |
| 1st | Eric "jakz101" Crain | Canada | $281,524.39 |
| 2nd | Yazid105 | Portugal | $205,733.50 |
| 3rd | Nicolas "niccc" Chouity | Lebanon | $143,535.00 |
| 4th | Phemo | Germany | $95,690.00 |
| 5th | vossiman | Germany | $76,552.00 |
| 6th | RealFandorin | Russia | $57,414.00 |
| 7th | kbza08 | Argentina | $38,276.00 |
| 8th | nailju90 | Germany | $21,051.80 |
| 9th | Brandvold | Norway | $14,831.95 |
It's also worth pointing out that just hours after his big win, the WCOOP Main Event came to an end with Ryan "TheCart3r" Carter placing second for $662,516.39. Interestingly, Carter is Rowsome's fiancé and was staying in the very same house as Crain! PokerNews recently spoke with Crain about his big WCOOP win.
You're known more for appearing on the live felt as of late. What inspired you to all of a sudden move to Canada to play the WCOOP?
I actually played more online than live before Black Friday. I had been toying with the idea of going up north for over a year but hadn't pulled the trigger yet. The WCOOP seemed like as good of a time as any to finally make the move.
You stayed with Adrienne "talonchick" Rowsome while in Canada. How did that come about? How do you two know each other?
Adrienne and I have known each other for about a year and half. We became pretty close over Skype before last year's World Series of Poker. Once out there, we met up and had a blast together. It's an interesting story because my friend Ryan rode to Vegas with me that summer and met Adrienne. Now, a little over a year later, they're engaged.
What was it like living there? What was your daily routine during the WCOOP?
Living in Canada is like living in a dream. Our house has the single most beautiful view in history. I made sure to post plenty of pics on my Twitter and Facebook feeds. My favorite part was all the great food we got to eat. Ryan is a helluva cook, so I absolutely got spoiled during the WCOOP. My normal day would be waking up to eggs and bacon, then firing up whatever big tournament was next and going from there. There were a couple times that I would walk out of my room and have delicious food waiting for me. I'd always just chuckle and say, "I love this place."
What can you tell us about this "lucky chair" we've heard so much about?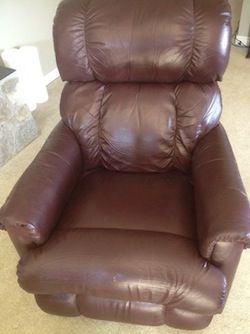 I stole the lucky chair as soon as I got to town. I know Adrienne had taken some heat on the forums for her grind station being basically a lazy boy and a small TV tray table. It's a setup designed for comfort though, and to me, comfort is all that matters while playing online. I used the lucky chair while playing all of my WCOOPs, and when I won my event, Ryan immediately took the lucky chair to grind the Main Event, where he got second.
What was it like being in a house where you win an event and your roommate takes second in the Main Event?
Being in the luckiest house in Canada on Monday was incredible. I didn't even have time to celebrate because I was too busy rooting for Ryan. It's bizarre how hot we run while we're around each other. Two summers ago, we drove to Vegas together for the WSOP. That night we got heads-up and chopped a satellite to the $25k heads-up WSOP event.
A few months later he flew into Chicago for the WSOP Circuit event in Hammond. I ended up getting fourth in the main event for $139,000. About two hours later, he won the turbo event for over $20,000. Now, we have the WCOOP to add to our mutual run good. I'm glad he did so well too. He's such a good guy and works harder at his game than anybody I know. He's constantly reviewing hands and trying to improve. A lot of poker players get stagnant in their development. Not Ryan.
Tell us a little bit about your win. Do you recall any big hands, tough opponents, and game-changing moments?
The tournament was obviously a grind. Anytime you're playing in a tournament with over 9,500 people, it's going to be a very long, tedious process. Generally, I try to avoid playing big pots unless I have it. Basically, the structure was that of the Sunday Million with a 10K starting stack. I was between 10K and 40K until after the money bubble burst.
The first big decision I remember having was about 20 from the money. It was a spot where I'm sure a lot of Internet superstars will hate my play, but I'm comfortable with that. I was in the cutoff with
with about 42,000 at 800/1600. Under the gun raised to 3,200, UTG +1 reraised to 7,700, the next guy folded, and the guy after him shoved for 38,000. I'm pretty sure most online guys would say this is a snap call and hope for the best. Hell, usually I'd say it's a snap call. I just felt I had enough chips and there would be enough weak players to get through that I didn't need to gamble with
at that point. I'm much more of the mindset that it's more important to keep a workable stack in a weak field than it is to gamble to get chips. I know a lot of people would disagree with that assessment, but I felt my edge was bigger than calling off 25 BBs with
to a cold four-bet shove.
Most of the rest of the tourney was just grinding for me. I played aggressively in spots where I thought I could pick up chips. I stuck it in when I felt I was far ahead. I was willing to race with Nicolas "niccc" Chouity, who finished third, when we got down to three-handed. I'd say the
fold was the most important hand in the tournament for me, but close behind is a hand I played when we were heads-up.
I believe the blinds were 250,000/500,000 and the stacks were about even with 45 million a piece. I had taken a pretty gross beat a few hands before when I had him out chipped about 70 million to 25 million. I min-raised
from the button and was called by
in the big blind. The flop came
and my opponent check-raised his gut shot. I three-bet to about 6 million and he went all in for 20 million. I called and the
came on the turn to bring the match to even.
About 10 hands later we still have even stacks and I minraise
on the button. He three-bets and I call in position. The flop came
and I had pretty much decided I was just going to call down. The guy seemed to play pretty bizarre/nitty heads up, so I wanted to give him a chance to hang himself if he had nothing and give away a minimum amount of chips if he had a bigger ace.
He bet pretty big if I remember correctly on the flop, something like 1.5 or 2 million. I just called. The turn was a
, again he bet pretty big and I just called. The river was a
and he moved all in for about 30 million. Obviously, this was a big moment. Most people who know me know that I tend to act very fast while playing. I don't like to waste time. After his river shove, I tanked for about four to five minutes while making my decision. I was pacing around the room while trying to decide whether to make the call. At first, I had decided that I was going to call, but then I came back to look at the stack sizes and realized that he would only have me out chipped 55 million to 35 million if I folded.
I absolutely felt I was a better heads-up player than he was. Eventually, I decided that my odds of winning the match with that chip disadvantage were bigger than my
being ahead. I folded and saw on the replay later he had flopped a set with
. It was definitely a very close call, and had I not taken the time to consider everything, I would have called and finished second.
The other big hand was obviously the last one where he had about 20 blinds left and minraised the button. I jammed
and he snap-called with
. I hit my ace on the river and won the tournament. That was easily the single best moment of my poker career.
I will say, I was very surprised at how the final table played out. I came in third with about 9 million in chips. Chouity had something like 40 million in chips with only 95 million in play. I played super snug at first during the final table, but after it was clear that Chouity wasn't wanting to get involved, I decided to open it up more. Once a number of players were under 4 million, I started three-betting a lot lighter, since the money jumps were huge and it seemed like a lot of the bigger stacks wanted to let the smaller stacks bust before getting involved. I expected Chouity to take advantage of people wanting to move up since he's obviously an experienced and good player, but for whatever reason he was content to let me be the bully and collect uncontested chips.
Clearly, a lot of things went right for me at the final table. I won
vs
for most of the chips in play three-handed versus Chouity. I was able to collect a lot of chips without premium hands. The shorter stacks were letting me bully them. Really, it was a dream scenario.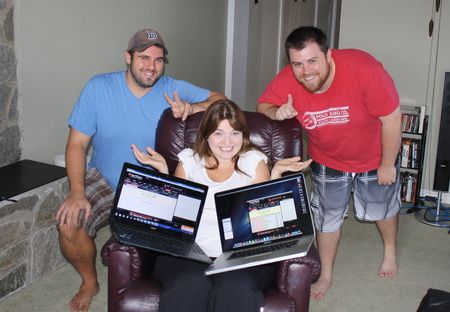 Where does the WCOOP win rank for you as far as you accomplishments go?
The WCOOP win was my single proudest achievement of my career. To get through a field like that…you have to be so lucky. If I got
versus
against a big stack, I would have been out. It's one of those tourneys I've always dreamed of winning, but realistically it's tough to believe that it's possible. I'm not going to lie, I teared up a bit after the win. It meant that much to me.
You got a lot of support from the poker community. Did that surprise you at all? What was your reaction to it all?
The support I got from both the poker community and my friends back home meant the world to me. My Twitter, Facebook and phone were all exploding with messages of support. Technology really is cool. I had friends and family members at home in Illinois who were watching the live feed on QuadJacks.tv and rooting me on. I found it very cool and humbling that so many people were supporting me one way or another. I think my favorite story was my mom sitting at her hairdresser with her iPad. All the workers and customers were gathered around the iPad watching the final table. I really am lucky to have such supportive family and friends. They'll never know just how much it all means to me.
Did you celebrate the win?
I didn't have time to celebrate the big win. Adrienne and I were too busy rooting on Ryan to do any celebrating of our own. We went upstairs while he stayed downstairs in the lucky chair so he could focus. After he finished his tournament, we all kind of sat around and just looked at each other with "how-the-hell-did-this-just-happen" smirks on our faces. It was all so surreal.
Any plans for the big score?
Honestly, I don't think I'm going to do anything right away with the money. It's a life-changing number, so I want to make sure I give myself a chance to sit back, take a breath, and really figure out what's best for me. I'm going to put quite a bit of it away. I live a pretty cheap lifestyle, so there's no need to go nuts with the money.
What's the story behind your screen name, "jakz101"? Also, what's that avatar you use?
Most people have screen names that mean something to them. Me? My name means absolutely nothing. I remember when I started playing, I liked pocket jacks. I decided to make it my handle, but only with a "z" in it for no good reason at all. I wanted a number, too, so 101 seemed to work. Really, the name means nothing at all, which I guess makes it a little unique in a bizarre way.
The picture is of my friend "BradL", who got third in the SCOOP Main Event a few years ago. My friends and I started using pictures of each other as our PokerStars avatars a few years ago, and I thought that was a funny picture of Brad. I actually got a kick out of it when I reopened my stars account last week. I had forgotten my pic was of Brad, so I laughed pretty hard when I saw that.
Now that the WCOOP is done, what's next on you poker schedule?
I'm really not sure what's next for me. I'll probably lay low a little bit while trying to figure out which direction to go next. I don't think I'll change too much about where I go on the circuit. I'll obviously be in Canada a lot, but when I travel the circuit in the U.S. I'll probably stay in the Midwest. I know a lot of the guys who travel in the area and I like the people for the most part. You won't see me playing $10,000 buy-ins every week or trying to be a superstar. I'll still be the same short, chubby, happy Midwest guy I've always been. Now, I'll just have to pay for drinks more often.
Get all the latest PokerNews updates on your social media outlets. Follow us on Twitter and like us on Facebook today!
*Pictures courtesy of the PokerStars Blog.
Executive Editor US, PokerNews Podcast co-host & 2013 WSOP Bracelet Winner.