Where Are They Now: Eric Crain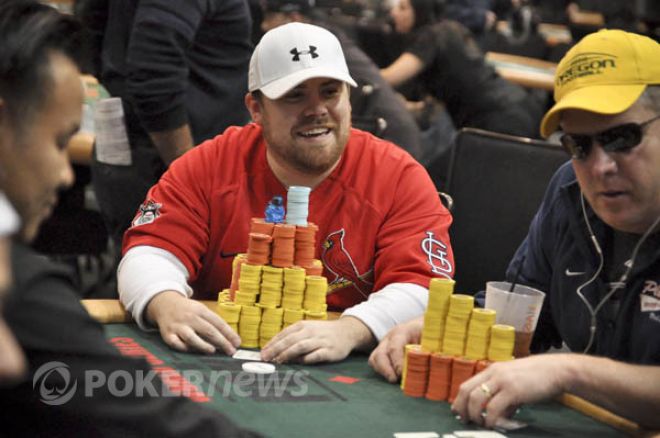 If you're a poker buff, you may recall episodes of the Trump Taj Mahal's U.S. Poker Championship. If so, you no doubt remember the boisterous Eric Crain, who was one of the primary players featured on the program two years in a row.
In both years, Crain amassed a big stack early and entertained viewers by playing lots of hands and interacting with other players. Unfortunately for Crain, he didn't cash in either event.
The USPC may have been Crain's first exposure to mainstream poker, but he didn't stop there. For the past seven years, Crain has been traveling the circuit and playing low to mid buy-in events with quite a bit of success.
In September 2006, he scored his first major win by topping a field of 834 in the $300 no-limit hold'em event at the World Series of Poker Circuit at the Grand Casino in Tunica, Mississippi, good for $63,105.
Other highlights of Crain's career include a win in the $200 NLHE Six-Max event at the 2007 Scotty Nguyen Poker Challenge IV for $11,032; sixth in the 2009 WSOP $2,500 Mixed Event for $38,074; first in the $300 H.O.R.S.E. event at the 2010 WSOP Circuit Harrah's St. Louis for $7,129; and fourth in the 2012 WSOP Circuit Hammond Main Event for $139,815.
In addition, Crain just notched his first cash outside of the United States by finishing 32nd in the 2012 Aussie Millions Poker Championship AUD$1,500 NLHE — Bounty.
If you still need to jog your memory a bit, have a look at the following clip, which features Crain squaring off against Michael DeMichele at the 2006 USPC:
PokerNews caught up with Crain at the World Series of Poker Harrah's Tunica to find out what he's been up to since 2006 and about his missed opportunity to buy a piece of a friend in this year's PokerStars Caribbean Adventure.
How did you become involved in poker?
I was like most everybody else, and saw it on TV. I was a Moneymaker baby boomer. I started playing a home game with people I worked with — some college friends — and we ended up playing once a week, which turned into twice a week, which turned into like 15 times a week.
I played a lot online. The online ride was crazy, let's just say I won and lost tons and tons of money. It's weird though, since Black Friday I don't miss it that much, I really don't.
Do you have any money tied up on Full Tilt?
I was lucky. I got off Full Tilt in February. I was running bad on there and Tilt closed my account. I bought a little bit after that, but nothing substantial. I have two friends who both live in St. Louis and are low-stakes pros. One of them backed the other in the $600 multi-entry FTOPS, and they ended up chopping it three ways, so they got $250,000 between them. I think they only got $30,000 off, so they have over $200,000 sitting on there. What can you do?
Tell me about the U.S. Poker Championship back in 2006?
That was my first exposure, my first Main Event that I started off well and didn't cash in, which I'm really getting good at. [Laughs] I kind of went up there on a whim. I went up there with a few buddies to the first one and I did well enough to get some TV time, but didn't cash. So I decided to do the exact same thing next year, but I haven't been back since they stopped filming the USPC because Atlantic City is so far out of the way for me, I live in the Midwest still.
What was it like to get TV exposure during the peak of the poker boom?
It's neat. I remember one time I was at a bar in Carbondale, Illinois, where I live. I'm going to the bathroom and a guy looks over and says, "Hey, you're Eric Crain." It doesn't happen a lot outside of the poker room, but it happens enough to the point where it's still kind of weird. I'll be in a tournament and I'll hear, "Oh, you're that guy from a few years ago that played that one hand." I had a guy do that in a cash game a few days ago. I always joke now that I'm 27 and already on ESPN Classic. I'm old news now.
What have you been up to since the 2006 USPC?
I do some traveling. I tried school about four different times. I finished one semester, so the over hit on the number of semesters I would finish. So I did some school, I travel around the Midwest a lot. I live in Vegas every summer. Right now I'm living in Carbondale. I moved back home and got a place there. I see a lot of my old friends from high school, we go out quite a bit. When I'm not traveling on the road, my life is pretty normal.
Speaking of traveling, we recently saw you down at the Aussie Millions. What inspired you to take that trip?
I'll tell you what inspired me. I wasn't going to go, I was going to go to the PokerStars Caribbean Adventure, but at the last second I decided I didn't want to go. I actually turned down buying a piece of Faraz Jaka in the PCA Main, so I tilted when he took third, and I decided to go to Australia and get it back, which of course I didn't. I ended up rooming with Faraz down there. I was also there with Tom Koral and Matt Woodward.
It was so much fun because I had never taken a trip outside North America, that was my first time. So getting to Australia and seeing the sights, meeting people, and really just doing cool things. It was a lot of fun.
Jaka, Koral, and yourself are all Illinois boys, correct?
Right. I had never met Faraz before then, but we had enough mutual friends where we talked on Facebook and ended up rooming together. Tom I've known for six years or so. He won the $10,000 8-Game event down there. They're all from Chicago and I'm from Southern Illinois. I'm about six hours south of there, but we've met at various tournaments and have a lot of mutual friends. I really do have a great poker crew out there.
How much of Jaka's action could you have bought in the PCA Main?
I could have bought about 15 percent. He posted a thing on Facebook about selling it, and I had 15 to 20% of him in the Epic Poker League — the one where Joe Tehan played like a champ and jammed
like an all star. So I was still a little sour from the four-deuce episode, and decided to take that one off. Of course he binks three-quarters of a million. That was fun.
What's in store for your poker schedule in the coming months?
I'm going to Hammond in a week for the Chicago Poker Classic because the value there is just sick. They're giving away something like $550,000. It's just insane. They're giving away $50,000 to the overall points leader. If you're a pro who likes value, I can't find a better place to go.
After that I'll probably play the [WSOP] Circuit Main Event in St. Louis. You know, Harrah's in St. Louis was the first casino I ever went to, so that's been my home base for years. Aside from that, I think I'm going to take a few months off and just hang out with my buddies before the World Series this summer.
Stay up to date on all the latest news by following us on Twitter and liking us on Facebook.
Executive Editor US, PokerNews Podcast co-host & 2013 WSOP Bracelet Winner.